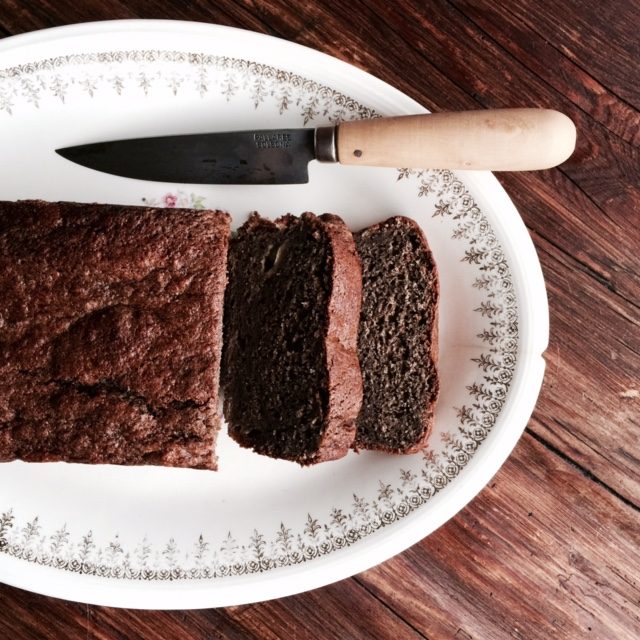 "I wonder if the neighbors think the guy in 720 and I are having some tawdry affair, as we wander to and fro each other's apartments in the early morning hours. He brings me coffee at 5:30am, and I stroll over when I'm done for a refill. The fact that I tiptoe down the hall in my nighty, covered up with a sweater, must make it even more intriguing."
I shared this thought with my friends on Facebook last week. It illicited a few chuckles, and talks of writing a screenplay. I'm sitting in Woodstock writing this post but my heart is back in Maryland. Settling in has not come without some bumps in the road; life has taught me to expect them, even though the height of each hurdle is still unknown as I thrust myself towards them. But, yes, we're settling into routines, finding our footing as we delve deeper into becoming an "us".
When I glanced at the overripe bananas sitting on my kitchen counter last week, it was only natural to make two loaves instead of one. I turned on the oven, and began to pluck ingredients from the cupboards. This recipe is a departure from the dairy-free and refined sugar-free cooking style I spent  perfecting the last few months.
The main reason for the using dairy was because I'd run out of grapeseed oil the afternoon I decided to bake this quick bread. If you want to swap in an equal amount of oil in place of the melted butter, go for it. Grapeseed, sunflower, and safflower should all work fine. Coconut oil may be a little too dense, and might need to be reduced (4 to 6 tablespoons, instead of the full 8, is my suggestion). I'd be cautious of olive oil as its strong flavor might not play so nicely with the bananas. As for the sugar, my experience tells me that coconut sugar would work as an equal swap, but please share your results in the comments if you give it a try.
I realize not everyone stocks buckwheat flour in their pantry, but I really think it's worth buying to use here. The buckwheat adds a layer of depth to the flavor of this cake; and in a different way than whole wheat flour, in case you were wondering about it. Buckwheat flour has a toasty, bold earthiness to it.
A word about the "00" flour. I realize this is typically used for making pizza dough. I wanted a flour light in weight to counter the heft of the buckwheat, and I didn't want to use whole wheat pastry flour. Again, I was looking for something to balance the buckwheat's strong flavor. So, I grabbed a bit of the "00", figuring "what the heck". Cake flour would be a fine enough substitute.
As you might have already gleaned, this is what life is like in my kitchen when I'm not officially working. Baking like this is so freeing, and how I restore my creative well. Cooking on instinct, and inspiration. I scribbled the recipe down in case I liked it, but had no real intention of posting it here. I mean, really. Do we need yet another banana bread recipe in the world? Since everyone in our family raved about this banana bread, I figured the answer is yes. If five of us could all agree this banana bread was a winner, then it was worth sharing with the rest of the world.
Need some more ideas for those overripe bananas?
Brown Butter Banana Nut Muffins
Banana, Walnut & White Chocolate Chunk Scones
Buckwheat Banana Bread
Makes two 8-inch loaves
Music Pairing: Heatwave by Martha & The Vandellas
1 cup (200 grams) brown sugar
2 large eggs
1 teaspoon vanilla extract
1 cup (150 grams) 00 flour
1/2 cup (60 grams) buckwheat flour
2 teaspoons (10 grams) baking powder
1/4 teaspoon baking soda
1/4 teaspoon salt
1/2 cup (112 grams) butter, melted
4 very ripe bananas, mashed (340 grams)
Preheat the oven to 350ºF. Line two 8-inch by 4-inch by 2-inch loaf pans with a piece of parchment long enough to hang over the sides (this helps to lift the cake out of the pan easily).
In a large bowl, add the sugar, eggs, and vanilla. Beat with a whisk until well combined.
Add the flours, baking powder, baking soda, and salt. Stir with a wooden spoon or spatula just long enough until blended, and there are no visible signs of flour in the batter.
Fold the butter and bananas into the batter.
Divide the batter between the prepared pans. Bake 40 minutes, until a metal skewer inserted in the center comes out clean. Set the pans on a wire rack, and let cool for at least one hour before slicing. The cake will stay fresh, wrapped tightly in parchment paper, for up to three days.
SaveSave