grain-free chocolate chip cookies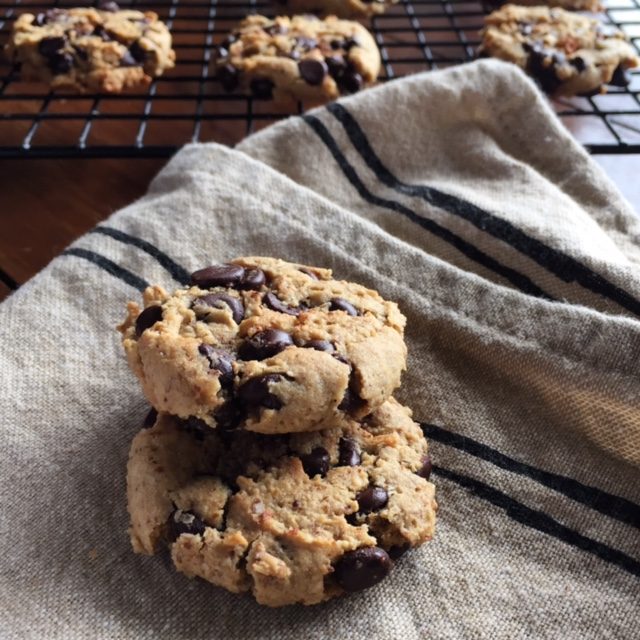 A funny thing happened while writing this post. My finger brushed the keyboard, hitting the delete key ever-so-lightly, and voila!—the whole post was gone. Nothing like losing an hour's worth of work to keep it real (at 5:30am, no less). The magic combo of Apple key + z was no match for the cosmic forces intervening at that moment. I'm trying to let life not seem so loud these days, and if I can't channel that zen approach while talking about chocolate chip cookies, then I may as well close up show now. To know me is to also know that I'm anything but a quitter. I'm too damn stubborn.
Besides, chocolate chip cookies are at stake here. Not just any ol' cookie either. These here little fellas are grain-free chocolate chip cookies, and make me smile just as I write the words. See, Des can eat these cookies, and I'm thrilled for that fact. While working on recipes for that epic cookbook project (not mine, but I promise to share when I can), I shared a photo of grain porridge on Instagram. Des commented how lovely it looked even though she couldn't eat it. Due to health issues, she has to avoid grains.
Her words stayed with me while developing these dairy-free chocolate chip cookies for the project (that version is made with spelt flour). Once I nailed the recipe I needed for the book, I decided to work on a grain-free version as an option for the publisher. In the end, we all agreed that the spelt flour might be more aligned (i.e. more accessible) with the readers for the book. That's good news for anyone wanting the recipe right now, since it's not under contract anymore.
Funny enough, the kids raved about these cookies. They aren't normally chocolate chip cookie fans (I know, so un-American). My hunch is it had less to do with the cookies being grain-free, and more to do with the chocolate chips I used. Obsessively reading labels was a requirement for this last project, and not all dairy-free chocolate chips are created equal. Sweeteners vary from cane syrup, to grain-sweetened (barley malt syrup), and then there's this one brand, called Lily's, sweetened with Stevia.
My limited experience with Stevia had me a little wary of trying the chips. Glad I didn't let it stop me, though, because these are by far the best tasting dairy-free chips on the market. I might even go so far as to say they're my favorite chocolate chips for making cookies. Period. If you see them on sale (I found them at Whole Foods), snag a few bags for the pantry. They're pricey, no surprise, but definitely worth the splurge if you need an excellent dairy-free and refined sugar-free option for baking.
Six Years Ago: Almond-Coconut Butternut Squash Soup
Five Years Ago: Pear & Ricotta Crepes (with a dairy-free version)
Four Years Ago: French Onion Soup
Three Years Ago: Roasted Pepper Salad
Two Years Ago: Marcella Hazan's Tomato Sauce
One Year Ago: Black & White Cookies (with a spooky twist!)
Grain Free Chocolate Chip Cookies
Makes 36 two-inch cookies
1/3 cup (60 grams) coconut sugar
1/3 cup oil (grapeseed or safflower)
1 large egg, at room temperature
1 teaspoon pure vanilla extract
1 1/4 cups (128 grams) natural almond meal
2 tablespoons plus 1 teaspoon (32 grams) coconut flour
1 teaspoon (5 grams) baking soda
1/2 teaspoon (3 grams) fine sea salt
9 ounces (252 grams) Lily's chocolate chips
Preheat the oven to 350ºF. Line two 11×17-inch baking sheets with parchment paper.
In a medium bowl, add the sugar, oil, egg, and vanilla. Whisk until well mixed.
Add the almond meal, coconut flour, baking soda, and salt. Using a wooden spoon or rubber spatula, stir just until combined, and there are no visible traces of flour.
Scoop tablespoons of the dough onto the prepared baking pans (I use a cookie scoop for this to make sure the cookies are all uniform in size). You can space them 1-inch apart since the cookies don't spread much while baking. Using the flat bottom of a glass cup, gently press the dough to flatten the cookies a bit.
Bake for 8 minutes, until lightly golden around the edges. Let the cookies rest on the pan for 5 minutes. Serve warm, or transfer to a wire rack to cool completely before storing in an air-tight, covered container.