almond + coconut topped butternut squash soup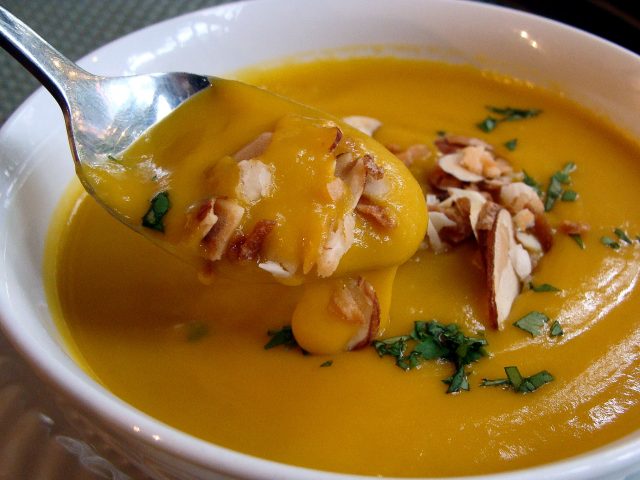 There's no doubt that improvisation leads to inspiration in the kitchen. What started as an idea to make a spicy cocoa nib streusel topping for my butternut squash soup was quickly thwarted when I went to the pantry and found to my surpise that I was out of cocoa nibs. I was not going to be defeated and forged ahead with the base for the soup. I had roasted the squash the night before, so that was ready at a moment's notice. I had also put up a pot of vegetable stock earlier in the day. A quick saute of leeks and a simmer with the chunks of butternut squash and stock, and dinner would be ready in a jiffy…except I really had my heart set on a crunchy topping. That's when I spied the toasted coconut and almonds I had leftover from recipe testing some desserts. In the end, keeping an open mind and not giving up defines success in the kitchen. Or, at least it did on this one Brooklyn evening at my dinner table.
Velvety Butternut Squash Soup
Serves 4
This soup is so remarkably smooth, you'll be tempted to call it creamy butternut squash soup—except there's not a spot of cream. Start by roasting the squash in a 400ºF oven, until it's nice and tender, about 30 minutes (split lengthwise and scoop out the seeds first). Then the your blender does the magic of whipping the soup into a light and airy puree.
1 tablespoon butter
1 tablespoon extra virgin olive oil
2 leeks, white parts only, thinly sliced
1 small butternut squash, roasted, flesh scooped out
2 cups vegetable stock
1/4 mixed toasted sweetened coconut and almonds
1 teaspoon chopped cilantro
Heat butter and oil in a 2 quart pot over medium heat. Add leeks and saute until soften and fragrant. Add roasted butternut squash and stock. Bring to a boil, then reduce to a simmer and cook for 20 minutes. Pour contents of pot into the glass bowl of a blender and puree until smooth, about 2 minutes. Divide among four bowl and
garnish with toasted and almond mixture and a sprinkle of cilantro.
And for dessert, here's a peek at my latest segment with Role Mommy for Better TV (yes, as in Better Homes & Gardens—they have their own network too). Hope you enjoy my tips for fun, healthy treats this Halloween.