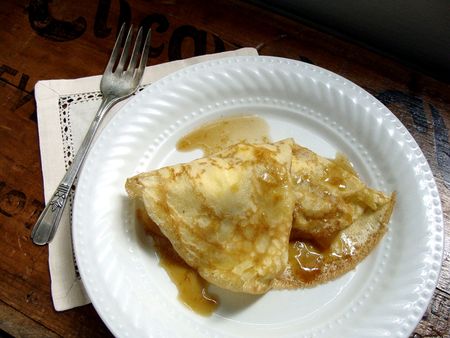 Anyone who knows me, understands I'm a gal who goes after what she wants. One doesn't get to this point in life, when faced with so many challenges, unless they're brimming with determination, drive and a true passion and belief in something, or someone.
For me, it's a mix of both. I believe in myself. That's not my ego talking, either. It's my inner voice, because lord knows we all need someone whispering "you can do it" in our ears.
Coming off three business trips, two to the west coast, in 16 days, left me at a crossroads.
For the first time, I feel uncertain. I'm not quite sure it's about my path. I'm excited of where I'm heading. Perhaps it was sharing a glimpse into my personal life, beyond that as mother and wife. I must confess it left me feeling a little exposed.
But I don't regret it. We're all broken to some degree. What matters is how we put ourselves back together.
Cooking has been my salvation. It is the one thing I can control. No matter what is going on in the world outside,  I'm guaranteed the same result everytime I mix together proper proportions of flour, baking powder, baking soda, salt, butter and buttermilk.
Last week someone commented why I felt the need to include a recipe with such a soul-bearing post. Simply stated, because I can. This is my place to let my hair down. I like to think of our relationship here as a reciprocal one. Come for the food, stay for the conversation.
Recipes aren't just about the ingredients and final dishes. They're about the stories. Each one comes along with a tale of how it came to be. They're all mini chapters in my life—not just about nourishing our bellies. I hope each story shows that we can still take the time to do what matters most.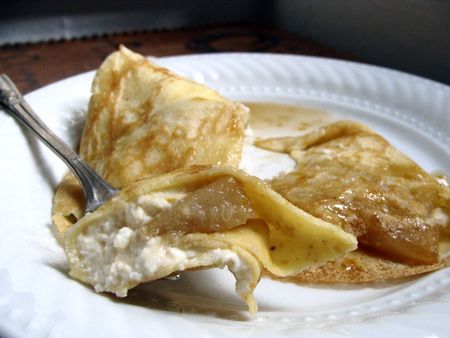 pear ricotta crepes with an orange brown sugar sauce
makes 8 to 10 crepes
I suddenly found myself thinking of crepes a few weeks ago. Really, my mind had wandered to manicotti, the Italian version of crepes. Most people don't realize that manicotti are not made from pasta. The thin pasta-like wrap filled with ricotta cheese and topped with sauce is actually called a crespelle.
Well, one thought led to another, and I wondered why not make a French crepe batter and use ricotta cheese in place of Gruyere. Still unsure of whether to make savory or sweet crepes, I decided to compromise and make a not too sweet pear filling.
For the Filling:
2 pears, peeled
1 tablespoon butter
1/4 cup (1.65 ounces/46 grams) packed dark brown sugar
1/4 teaspoon (2 grams) sea salt
Juice and freshly grated zest from 1/2 an orange
1/2 cup fresh ricotta cheese, at room temperature
For the Savory Crepe Batter:
1 large egg
3/4 cup (6 ounces) milk
1/2 cup (70 grams) flour
1/8 teaspoon freshly ground pepper
1/4 teaspoon sea salt
2 tablespoons melted butter, divided
Visit my Cuisinart blog to get the directions for preparing these pear ricotta crepes.