raspberry croissant bread pudding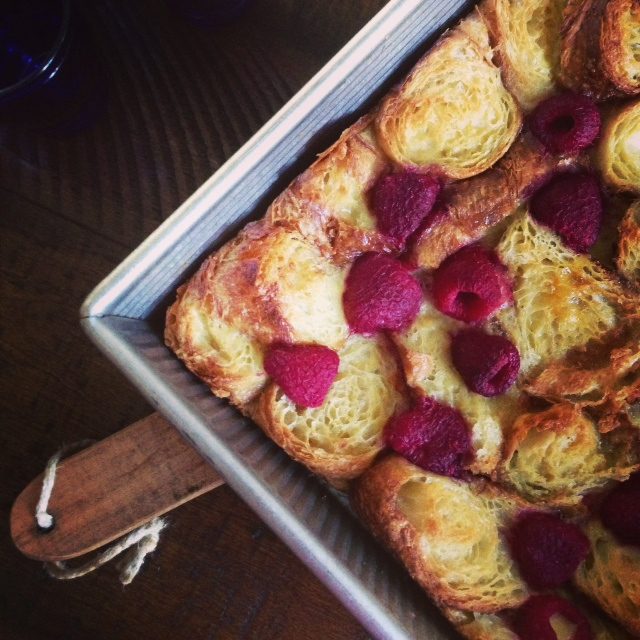 The love and gratitude I feel from this past weekend is still washing over me, settling into my consciousness in waves. They nicknamed themselves the Core. What they represent is my past, present, and future. They're a group of women who have held my hand through triumphs and tragedy. They cheer me on, and are able to see a side of me that's invisible to myself. The strength and beauty of their love is what buoys me to safe shores when I'm not sure of myself. Their laughter is electric, and ignites a smile deep within. And for that, I'm both humbled and eternally thankful.
This is 40.
Really.
Four decades wiser. Four decades richer in love, and friendship. Bring it on.
I went a little croissant crazy at the French shop up the block last Friday, as we began a weekend of birthday celebrations. Determined to not have day-old croissants go to waste, I turned the leftovers into a breakfast bread pudding for us all to enjoy. It was no doubt decadent, and definitely not an everyday meal. What I love most about this recipe is that it's incredibly easy, yet elegant. I sprinkled some fresh raspberries on top before baking, and have since made it with little dollops of raspberry jam scattered in their place. Frozen wild blueberries would be great too, I imagine.
Raspberry Croissant Bread Pudding
Serves 6 to 8
Music Pairing: Stand by Me by Ben E. King
Four (239 grams) day-old croissants, cut into 1/2-thick slices
2 large eggs
1 cup (250 ml) milk
2 tablespoons (25 grams) granulated natural cane sugar
Handful of fresh raspberries, or 1/4 cup (68 grams) raspberry jam
Coat the bottom an sides of an 8-inch square pan with butter or cooking spray. Arrange the cut croissant slices in the pan.
In a medium bowl, lightly beat the eggs. Whisk in the milk and sugar. Pour the egg mixture over the croissant slices. Use a rubber spatula, to press down the croissants, and absorb the liquid. Sprinkle the raspberries on top (or drop the jam in dollops), and cover with aluminum foil. Place in the fridge, and let sit overnight.
When ready to bake, preheat the oven to 350F. Meanwhile remove the pan from the fridge so it can come to room temperature while the oven is heating. Bake, covered, for 30 minutes. Remove the foil, and bake for 20 minutes more, until puffy and golden.
Serve warm, with maple syrup if eating for breakfast. I'm betting this would be a great not-too-sweet dessert, as well, served with a  dollop of fresh whipped cream.
SaveSave