Brown Butter Bourbon Banana Bread
Something about the heat and humidity in my apartment creates a tropical setting, making it impossible to keep bananas from over ripening. One day, they're perfect and sweet, the next—mush. I often have the best intentions to make banana bread, and well, life gets in the way and it doesn't make the cut onto my recipe testing schedule. Besides, I created a really delicious one for Cuisinart two years ago, so there also didn't seem reason to mess around with it. That is until Sassy Radish went and posted about her Brown Butter Pound Cake.
Even since, I'd had brown butter on the brain and couldn't shake the thought, let alone the taste that was on the tip of my tongue. Then I got to thinking about these over ripe bananas. My "home office" is basically the kitchen and my desk is the island. And the bananas, spotted and browning, sit there laughing at me. This week I had the last laugh. The wheels started turning, out came the old recipe, and it was time to get baking.
I just so happened to have a bottle of bourbon on the counter (okay, so it was two bottles). One was, a lovely gift from my local cattle and chicken farmer (yep, you guessed it Grazin' Angus Acres!). We got talking bourbon one day and he showed up last week with a bottle of Hudson  Baby Bourbon Whiskey. Dan also killed a special chicken for me—they've been on the big side these days and he knows I like smaller, four pounders. A man who kills a chicken for ya and brings bourbon? Well, I'd a proposed if he wasn't married and I didn't have a pretty wonderful Mr. myself. Talk about digressing?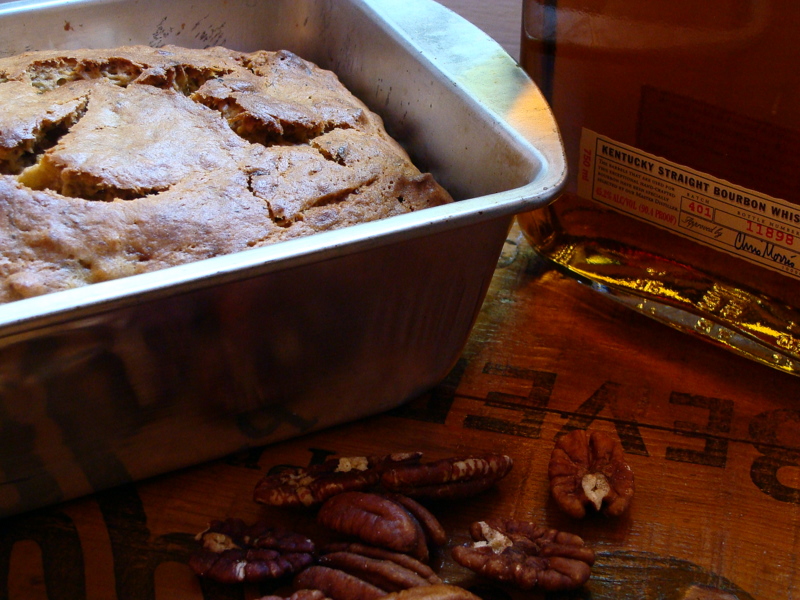 So, where was I? Oh yes, how did the bourbon get in the banana bread? It was on the counter, and since it couldn't run faster than me, I decided to add some. (actually used Woodford Reserve in the recipe. I had spiked some spiced apple cider with it the day before). On the Mr.'s request, I added chopped chocolate in the first round of testing. I also diced one of the bananas to add texture and real chunks of flavor. He liked the chocolate (semi-sweet chopped Scharffen Berger) but it wasn't for me. And the banana bits didn't blend into the batter as nicely as I'd hoped. They were just these raw pieces. Hmmph! Back to the drawing board.
I wondered what would happen if I caramelized the diced banana in some brown sugar before adding to the batter. Oh, baby! What happens is my toes wiggle with excitement just thinking about it. Each bite surprises with a warm, toffee-coated bit of gooey banana. Pecans stood in for the chocolate, and they lent an earthy balance to the candy-like banana flecked throughout. Here's a sneak peek at the recipe I created for my weekly blog at the Cuisinart Stand Mixer site.
Brown Butter Bourbon Pecan Banana Bread
makes one 9-inch loaf
2 cups flour
1/4 teaspoon baking soda
1/2 teaspoon baking powder
1/2 teaspoon salt
8 tablespoons butter
3 very ripe bananas (258 grams)
2 large eggs
3/4 cup plus 1 tablespoon brown sugar
1 teaspoon pure vanilla extract
1 tablespoon bourbon
1/2 cup buttermilk
2/3 cup toasted, chopped pecans
Preheat oven to 350º.  Grease the bottom only of a standard size loaf pan with butter or nonstick cooking spray.  Combine flour, baking soda, baking powder and salt in a medium-sized bowl.  Set aside.
Melt butter over medium heat in a small heavy bottomed pot. Cook until it begins to brown, but not burn; it will smell nutty and fragrant. Remove from heat, and let cool for 10 minutes.
Peel and dice one banana. Mash the remaining bananas in a small bowl; set aside. Heat 1 tablespoon of brown sugar in a small skillet over medium heat until it begins to melt and turn golden. Add diced banana pieces and saute until well coated and caramelized. Remove from pan and set aside.
Beat eggs on medium speed in your Cuisinart Stand Mixer.  Add brown sugar and beat until foamy and combined. Add mashed very ripe banana, cooled browned butter, vanilla and bourbon; beat until mixed welll. Scrape down sides of bowl again with rubber spatula.
On low speed, pour in 1/3 of the flour mixture.  Increase mixer speed to medium and mix until just blended.  Pour in 1/3 of buttermilk and beat until just blended.  Repeat this process with remaining flour and buttermilk. fold in pecans and caramelized banana pieces. Pour into prepared loaf pan and bake for 55 to 60 minutes or until a toothpick inserted in center comes out clean.
Afterthought: well, it seems the hazards of cooking with alcohol was omitting a very important step—when to add the browned butter! Thanks to Mark for bringing it to my attention, and my apologies if anyone tried the recipe and was left wondering what the heck to do with it too.
SaveSave