cacio e pepe, italian comfort food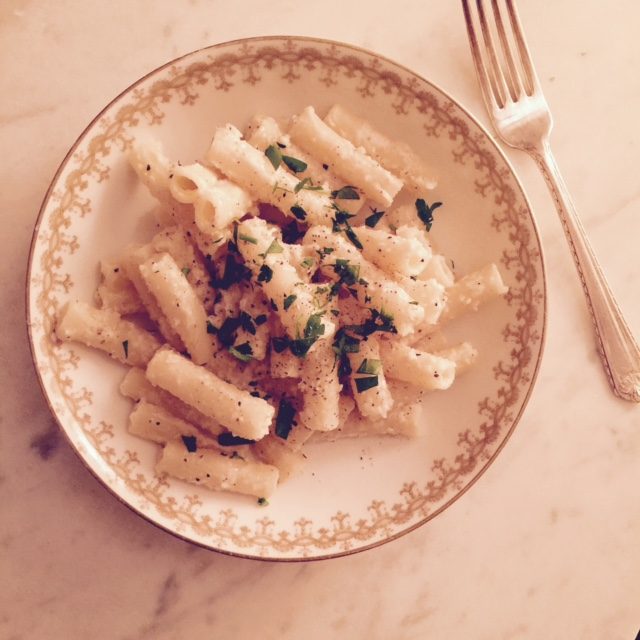 Day 5. No School. All family members are safe, but not very sound. The walls of our three-room apartment feel like they're closing in, but that is really just our sanity slipping away. That is what my journal entry would like, were I keeping a blizzard journal. Suburban life has been an adjustment, and one that doesn't always feel like the right fit. Weathering suburban life after a blizzard is enough to make me scrawl redrum on the walls.
Montgomery County encompasses a large area (more than 500 square miles), so while things seem relatively okay on the main roads where we live, parts further west and north, are still dealing with snow removal issues (we had 27 inches here in North Bethesda). And then there's the schools—as of Tuesday afternoon they only them 60% cleared. I've almost lost hope on there being any school this week, but we shall see what tomorrow brings.
In the meantime, there has been a lot of baking going on. I can't wait to share the recipe for this Red Velvet Devil's Food Cake. I'm not quite sure if it'll make the blog, or the winter issue of my magazine (new look, and name are in the works!). It was AMAZING. Two thumbs up from everyone, and thankfully a little 6-incher so we can't indulge too much.
Last night I decided to take a break from cooking. Virginia and I were curled up on the sofa, watching the telly, and nursing our colds (still!). I'd settled my mind on making them boxed mac n' cheese. Quick. Easy. No brainer. I always keep Annie's in the pantry as my dinner back up when I just don't feel like cooking. The girls were super excited for this treat. I didn't think I was hungry, and had figured I'd just cobble something together from the fridge.
Then I decided to use the opportunity to make something I wanted that I knew they would never, ever, eat—cacio e pepe. Think of it as an Italian mac n' cheese, with a
double

triple dose of freshly ground black pepper.

I also tried a different approach for cooking my pasta. A few months back a few friends on Facebook were talking about a method for cooking pasta in a skillet with just enough water for it to mostly absorb while the pasta cooks. I liked the idea of turning two steps into one—no more waiting for the pot of water to boil, and then adding the pasta. Cacio e pepe is usually made with spaghetti, but I was craving rigatoni. Using whatever pasta shape you want is another perk to cooking at home. In went the uncooked rigatoni into a 10-inch skillet, with enough water to rise about 1-inch above the pasta. I cranked the stove up to high, and when the water came to a boil, the heat got reduced to low for a feisty simmer. I didn't set a timer, but if pressed for an answer, the pasta (8 ounces dry) was ready in about 15 minutes.

The ease of starting the pasta in cold water felt seamless, and a more efficient use of time. That might just be all in my head, but hey, to each her own, right? Another bonus to cooking pasta this way was the resulting cooking water, once the pasta was done, seemed more thicker. My hunch is the starch content was more concentrated, hence providing a greater thickening agent when adding a bit of it to my cacio e pepe to create a sauce just thick enough to help the cheese melt, and coat the pasta. So, there you have it, a mac n' cheese I finally love. No surprise this reigns from my Italian roots, even though my family never made it.

Seven Years Ago: Seriously Delicious Ribs

Six Years Ago: Caramelized Onion Dip

Five Years Ago: Vanilla Bean Syrup + Homemade Yogurt

Four Years Ago: Slow Roasted Tomato Soup

Three Years Ago: Day 518

Two Years Ago: Magic Custard Cake

One Year Ago: Waffle Pressed Pizza Pockets
Cacio e Pepe
Serves 2 to 4, depending on appetite
8 ounces dry, uncooked pasta
2 tablespoons butter
1 cup (56 grams) grated Pecorino Locatelli or Grana Padano cheese
Freshly cracked black pepper, about 1 teaspoon, but go with your comfort level
Sea salt, to taste
Few teaspoons of fresh chopped flat-leaf parsley, optional
Cook the pasta according to the package directions, making sure to reserve ¼ cup of the cooking water (see post for my method on cooking the pasta).
Drain the pasta, and add it back to the pot. Add the butter, and stir until it's melted. Add the cheese and pepper. Stir until the pasta is well coated. Drizzle in the pasta water, stirring constantly, until a thick sauce forms (you may not need it all). Season with salt, if desired (remember the cheese, especially if using Pecorino, is salty, too).
Divide the pasta between deep serving bowls. Give a few twists of the peppermill over the top, if desired. The parsley is totally optional, and not at all traditional, but I like the herbaceous flavor it adds to the final dish.