waffle pressed pizza pockets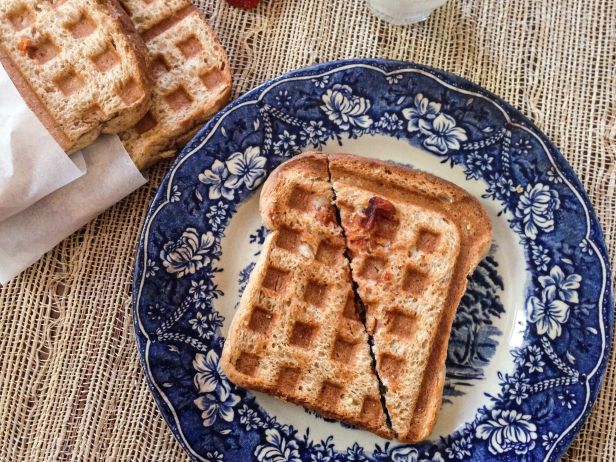 I take a deep breath when people ask me about the best pizza in New York City. My desk may be an overrun pile of papers, my cupboards an exercise in organized chaos, but my mind is a neatly organized rolodex of pizza, classified according to type (gas oven, coal oven, and wood-fired). So, I'm going to need some clarity on what kind of pizza you want my "best" opinion about. And you need to be willing to travel for it, because I don't satisfy my pizza cravings based on proximity.
Then there's this pizza I'm sharing with you today. It fits into none of the above categories. The pizza purist in me wants to slap myself, while the recipe developer side is giving a pat on the back. A few years back, Jennifer Carden wrote The Toddler Cafe cookbook. Her recipe for waffle grilled cheese was a total game changer, and fueled my quest to see what else I could use my waffle iron for besides simply making waffles. My girls love Amy's pizza snacks (gasp, yes, I occasionally buy frozen food!). I used to buy them once a week as a treat for their lunch, but they're pretty pricey. Then one day last spring I had the idea to use a few staples I always have in the house to make my own version of their beloved pizza pockets. As simple as that sandwich looks, it took a few tries to get the filling just right. Too much cheese, and you risk it oozing out. Too much sauce, and you're stuck with a soggy sandwich. Don't skimp on the Pecorino or Parmigiano cheeses either—they give it that sharp, salty tang kids love (at least my kids). I had to resist the urge to use a fancy country bread. A soft, sandwich style bread works best to create a seal to keep the filling inside. In a perfect world, I'd make my own pizza nuggets, as we call those Amy's ones they love, from scratch (that's been on my To Do list for a few years now). Until then, they're quite happy with this ad hoc version.
You know, I have to admit that as I'm writing this, I feel a change in the air. The last few years you've all followed along on such a personal journey. It sounds odd, maybe even uncomfortable to say this, but I gained something in my loss. The way I let words flow from my mind, to my fingers, and then to these pages over the past three, almost four, years—it made me recognize myself as a writer. Perhaps I felt like there was nothing more to lose, so I just bared it all. But then I have moments like today where I really just want to share a recipe without much of a back story, or at least not a deeply moving story. I struggle with how to share those, having put myself in a box of sorts. Not every day can be prolific writing, but I don't want that to stop me from sharing.
One last thing before I go. I'm working on the spring issue of Simple Scratch Cooking, and would love your feedback. It takes a good deal of effort to send out the print version, mainly because I'm a bit of a control freak. I like writing each label, and getting to know where all my readers live. That said, I'm seriously considering only offering a digital version starting with the spring issue next month. Another thought I had was to only offer print copies for annual subscribers (a few of you have inquired about this option, instead of ordering individual issues). Please chime in, and leave me a note in the comments with your thoughts about this.
That's it for now folks. I'm working on my first loaf of gluten free sandwich bread, and need to go tend to that—fingers crossed!
One more, one last thing…thank you for all the enthusiasm and kindness you've shared in the comments on the last few posts. I've got the best cheerleading section ever, and could feel the love with every word.
Okay, now I'm off to work on that bread, for real.
Waffle Pressed Pizza Pockets
Serves 4
Music Pairing: Don't Sweat the Technique by Eric B. & Rakim
Pizza in a pinch is how I usually describe these easy-to-make sandwiches.

8 slices soft white or whole wheat bread
3/4 cup shredded mozzarella cheese
2 tablespoons marinara sauce (I use this recipe)
2 teaspoons grated Pecorino-Locatelli or Parmigiano cheese
Preheat a waffle iron.
Lay 4 slices of the bread on a counter or cutting board. Sprinkle 3 tablespoons of mozzarella on each slice, leaving a 1/4-inch border. Spread 1 1/2 teaspoons of sauce over the cheese. Sprinkle 1/2 teaspoon of Pecorino or Parmigiano on top. Top with the remaining slices of bread.
Place the sandwiches into the waffle iron (you may need to do this in batches depending on the size of your iron). Close the lid, and cook until the sandwiches are golden, 2 to 4 minutes, depending on the temperature setting of your waffle iron. Serve hot, or wrap in foil to pack in school lunch.
Prep Time: 5 minutes
Cook Time: 2 to 4 minutes
Ease of preparation: easy
Active Time: 5 minutes
Total Time: 7 to 9 minutes
Check out more inspiring twists on grilled cheese sandwiches from my friends participating in Food Network's #ComfortFoodFeast this week:
The Heritage Cook: Gluten-Free Croque Monsieur Sandwiches
In Jennie's Kitchen: Homemade Pizza Pockets
Food for 7 Stages of Life: Best Caramelized Mushroom and Pineapple Grilled Cheese Sandwich
Dishing With Divya: Egg and Mushroom Cheese Sandwich
The Cultural Dish: Croque Monsieur and Madame
Weelicious: Grilled Cheese Pickle Panini
Swing Eats: Mind-Blowing Grilled Cheese: Sriracha Ketchup, Kettle Potato Chips, Pickles, Sharp Cheddar (gluten-free)
Red or Green: Cheddar, Peppadew & Basil Panini
Napa Farmhouse 1885: Inside/Outside Grilled Cheese with Bacon, Avocado & Sundried Tomatoes
Taste with the Eyes: Grilled Halloumi Cheese Salad, Savory Meyer Lemon Whipped Cream
Creative Culinary: Inside Out Grilled Cheese with Tomato
The Mom 100: Fork in the Road: Great Grilled Cheese Sandwich
Daily*Dishin: Grilled Cheese Italian Style: Pepperoni and Parmesan Crust
FN Dish: 6 Gooey Grilled Cheeses You Can't Live Without