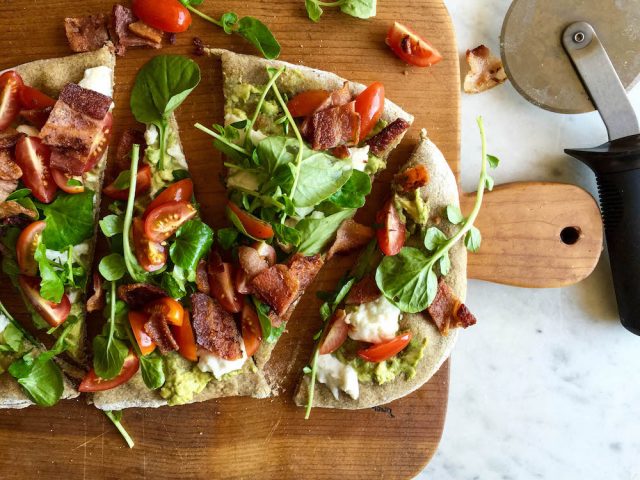 I love pizza, and I love BLTs so it made perfect sense to make a mash up of them. There's a little twist here, which won't seem unfamiliar to at least a few of you, I'm sure—avocados. Some time ago, there used to be a restaurant called Duke's, in the location where Danny Meyer's Daily Provisions now resides. Mikey and I went to Duke's often on the weekends, and while he always got something eggy or fried chicken, it was the BLAT that always won me over.
I loved how they used a deli shredder to prepare the lettuce, filling the sandwich with a pillowy mound of iceberg lettuce. The bacon was always thick, and extra crispy, on request. I've never seen the point in bacon that isn't crisp. Tomatoes will always make or break a BLT. Too thick, and you're in for a landslide with that first bite. 
This BLT pizza is an open-faced approach to making my favorite sandwich.
The crust is thin, more of a flatbread, but with a good balance of crisp crust, and a little bit of chew. A super ripe avocado, soft enough to spread along the baked crust, provides some traction to hold all the toppings on. I've also opted to add some diced mozzarella here but if you want to stay truer to the classic, feel free to leave it out.
Watercress has a peppery punch, and takes the place of plain old lettuce. You can use arugula, too, or if you want something more mild, baby spinach, mixed greens, or even chopped romaine hearts would be great. Grape tomatoes have a sweeter flavor—a chopped up plum tomato will also get the job done.
One thing you won't find on this BLT Pizza is mayonnaise.
Despite the fact that I have two recipes for homemade mayo, it's one of my least favorite foods, and I absolutely shriek if it's on my BLT. If you insist a BLT isn't complete without mayo, I'd suggest whisking some with a little cream to thin it out into a sauce you can drizzle over the top of the pizza. Just don't ever add it to my BLT Pizza, and we can still be friends.
BLT Pizza
I've included instructions for baking this crust. If summertime has you thinking about the grill, you can totally grill the crust, a few minutes each side, over a medium-low flame, and then add the toppings.
Ingredients
1/2

recipe of Whole Grain Pizza Dough

recipe is here

Extra virgin olive oil

1/2

avocado

smashed

Sea salt

to taste

2

ounces

56 grams fresh mozzarella cheese, torn into chunks

1/2

bunch watercress

Handful

8 to 10 grape tomatoes, cut into quarters

4

slices

thick-cut bacon

cooked & crumbled
Instructions
Adjust the rack in your oven to its lowest position. Place a pizza stone on top of the rack, and turn the oven on to 500F (260C). Make sure to do this step while your dough is at the last 30 minutes of its rise, so the oven has enough time to get nice and hot.

Turn the dough out onto a lightly floured wooden or metal peel. Press or stretch the dough out into an 8-inch (20-cm) circle, whatever method you prefer (I start by pressing from the center, then switch to stretching). Brush a bit of olive oil over the dough.

Slide the formed dough onto the stone. Bake for 6 minutes, or until the edges and bottom of the crust are golden.

Remove the crust from the oven, and immediately spread the avocado on top. Season with salt. Scatter the chunks of mozzarella over the avocado (the heat will cause them to melt slightly). Evenly lay the watercress on top, then scatter the tomatoes and bacon over it. Cut pizza into 4 to 6 pieces, and serve immediately.
SaveSave
SaveSave