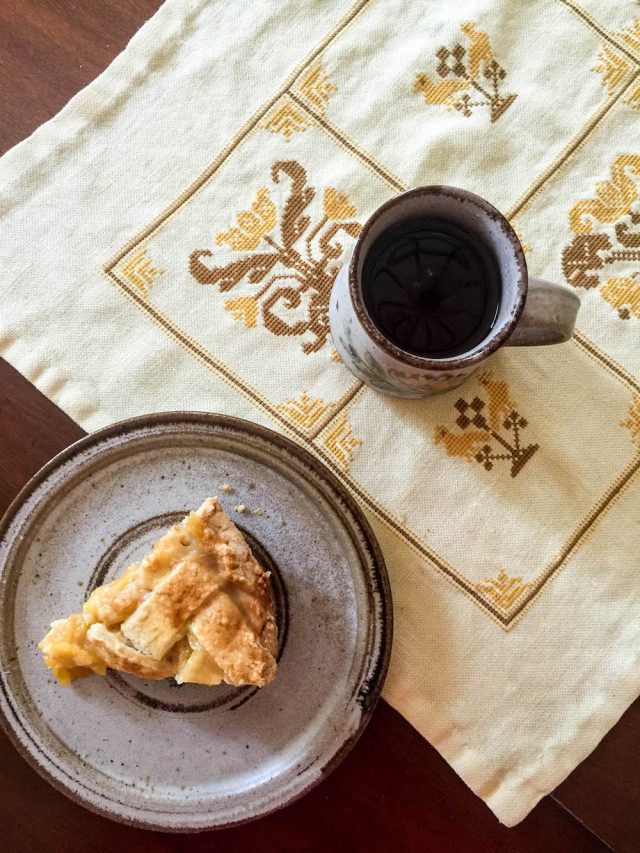 Choosing a favorite pie seems impossible when asked, but once August rolls around, and local peaches abound at farm stands, the answer is clear. I didn't realize this until I ate a forkful of just-cool-enough-to-eat peach pie a few days ago. It was the first one I made this summer, and to fully explain my feelings about it would tip us into shady, romance novel territory. I know—it's only pie, but while strawberries make me swoon, and cherries provide proof that summer is really here, it's peach pie that makes my heart melt every.single.time.
The only companion a perfectly ripe peach needs is a sturdy, yet flaky piecrust. Sturdy feels like an odd word to use regarding piecrust, though I'm sure you know what I mean. Save your flip-floppy crusts for someone else. Like pizza, I want my piecrust to defy gravity. And yet, it shouldn't be so stiff as to detract away from any buttery, flaky goodness. I discovered the real secret to achieving pie greatness, and it rests at your fingertips, literally.
Skip the food processor if you're up for the challenge, and have a few extra minutes to spare. This isn't a practical approach when I'm baking pies for the restaurant because there's a lot of multitasking that goes on during those days. In the comfort of my kitchen, at my own leisure, gently, but quickly, working the butter into the flour with my fingertips, in the same manner way you'd make biscuit dough, is therapeutic. Whenever I have the time to make my crusts completely by hand, those yield the best ones.
When it comes to the filling, as with any fruit-based pies, taste your fruit first. I can't stress this enough, and was just talking to a friend about it. Recipes, at least baking-related ones, are only a science to a certain point. The sugar is negotiable, and how much you use depends on the sweetness or tartness of your fruit. For this recipe, I used some extra juicy peaches from the seconds bin at the farm stand—a deal at only $1.29 per pound. They needed minimal effort to coax out their potential, with just ¾ cup of sugar. I could've probably used just 2/3 cup if I wanted to push the boundaries. The point is to ensure the fruit is the star in the finished pie, not the sugar.
There's just a dash of cinnamon, enough to make the peaches sing a bit, but not so much that you'll likely notice it's in there. A squeeze of fresh lemon juice serves the same purpose. The only thing that comes close to rivaling a homemade peach pie in the summer, is leftover homemade peach pie for breakfast the next day (and maybe even dinner if you're feeling too tired to cook).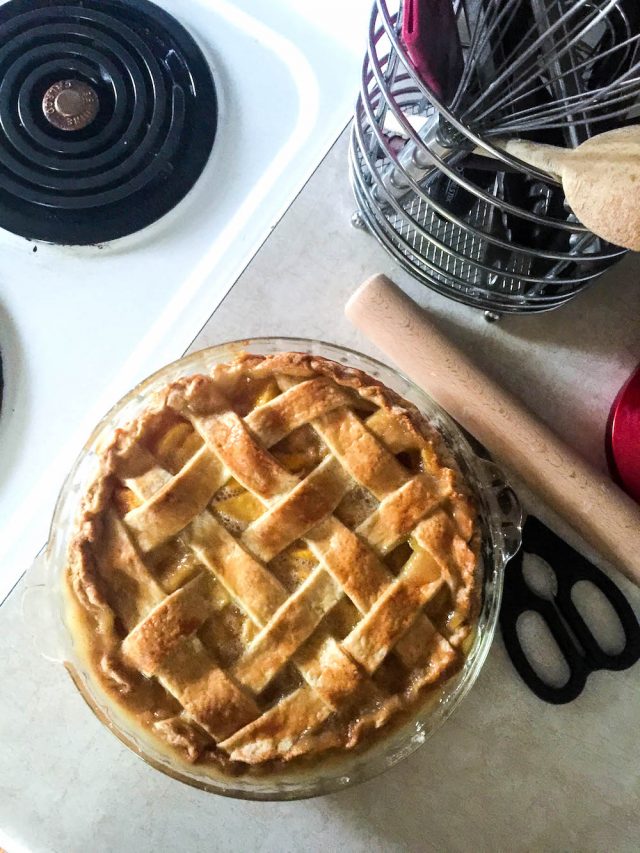 Good Eats From the Archives
Eight Years Ago: Peach Raspberry Tart
Seven Years Ago: Ginger Soy Marinated Steak
Six Years Ago: Cherry Slushies
Five Years Ago: Smoky Watermelon Gazpacho
Four Years Ago: Easy Peach Jam
Three Years Ago: Crispy Buttermilk Fried Chicken
Two Years Ago: Roasted Beet Greens
One Year Ago: No-Cook Tomato Basil Sauce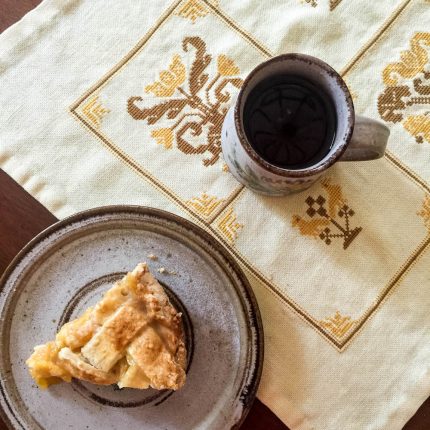 Homemade Peach Pie
Ingredients
6

medium-large peaches

peeled & sliced

¾

cup

granulated natural cane sugar

Freshly squeezed juice of ½ lemon

Dash of ground cinnamon

3 to 4

tablespoons

flour

depends on how much juice peaches release

Perfect Pie Crust

recipe here
Instructions
Preheat the oven to 425ºF (220ºC).

Combine the peaches, sugar, lemon juice, cinnamon, and flour in a deep bowl. Stir until the flour is mixed in, and juices begin to thicken. Set aside.

Prepare the piecrust.

Roll one crust out into a 10-inch circle. Fit into a 9-inch pie plate (not deep dish). Spoon the filling into the crust.

Roll the remaining crust into a 9-inch circle. Use a small cutter to cut out vents, or cut into strips to make a lattice topping

(here's a great tutorial

). Arrange the crust on top, flute the edges, or press with the back of a fork.

Bake for 15 minutes. Reduce oven to 350ºF (180ºC). Bake until golden, and juices are bubbly, 40 to 45 minutes.

Let pie cool completely on a wire rack before serving.
SaveSaveSaveSave