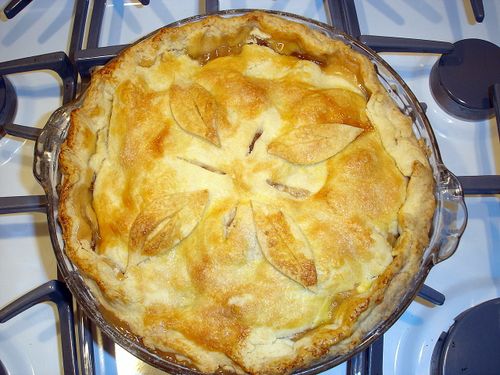 I made this lovely looking pie with apples from Bensonhurst. Yes, in Brooklyn. A sweet, smiling Italian lady gave them to me for free after I asked if I could buy some from her tree gloriously waving hello with the help of a summer breeze in her front yard. I'm sure it was a funny site to watch her whack the tree with a long metal rod as I did my best to catch the apples before they plummeted to the ground. I'm sure many of you know by now that my escapades were mentioned in today's New York Times Dining In section.
Here's a picture of the very apple tree in question.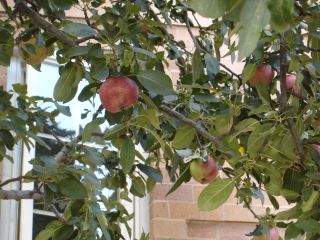 While the folks in Bensonhurst harvest their fruit, much of the fruit from the trees in my Carroll Gardens' neighborhood—pears, figs, Italian plum and apricot, simply fallls to its demise.
There's one apple tree I pass everyday as I walk my daughter to school. I've watched it flower and there are now ever-so tiny green apples on it. The brownstone seems to be a series of apartments and I never see anyone out there to ask about buying or bartering. Guess I'll have to ring one of the bells randomly. Here's my apple pie recipe below to use now—many farmer's markets have apples still that have been in cold storage since the last harvest, or if you're a purist, tuck it away until apple season comes around again.
Oh, and mind if I ask a favor? If you love reading and eating your way through In Jennie's Kitchen, then take a minute to vote for it is the Tastiest Blog over at SocialLuxe Lounge. And don't forget about that great Calphalon giveaway. It ends at 11:59pm tonight.
JENNIE'S ULTIMATE APPLE PIE
Makes one 9-inch pie
A quick blast of high heat and thinly sliced apples (no more than ¼-inch thick) is the way to guarantee a golden crust and tender fruit in this classic dessert.
1 double recipe Never Fail Pie Dough, divided (or any favorite piecrust recipe)
6 medium apples, peeled, cored and thinly sliced
2/3 cup sugar
1/2 teaspoon salt
3 tablespoons flour
3/4 teaspoon cinnamon
2 tablespoons freshly squeezed lemon juice
1 large egg
1. Preheat oven to 425ºF. Roll out one piecrust into a circle large enough to fit into the bottom and up the sides of a glass or ceramic 9-inch pie plate. Let chill in refrigerator for 10 minutes or freezer for 5 minutes.
2. Meanwhile, add apples, sugar, salt, flour, cinnamon and lemon juice to a large bowl to prepare the filling. Toss to coat well; set aside.
3. Roll out remaining piecrust large enough to cover the top. Spoon the filling into the chilled piecrust. Top with remaining rolled out piecrust. Fold overhang under and crimp with fingers to create a decorate edge. Beat egg with 1 teaspoon water and brush the top and crust of pie. Using a sharp knife,cut two or three slits in the top to create a steam vent.
4. Bake on the next to lowest oven rack for 15 minutes. Reduce heat to 350ºF and bake for 35 more minutes, until crust is golden and juices are bubbling.