Apple Streusel-Topped Pumpkin Cake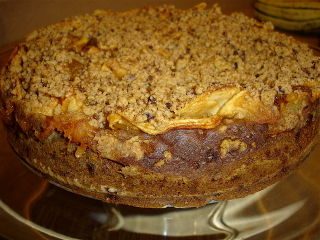 When my husband and I started dating, his mother would invite us to celebrate Rosh Hashanah every year. Now that she's almost 80 and we have two children, I've taken on the role of hostess (not a small task for a gal raised Italian-Catholic). Apples and honey are two foods used to celebrate Rosh Hashanah. Honey was used as a sweetener during biblical times. It was also a symbol of wealth. On the Jewish New Year apple slices are traditionally dipped in honey after a blessing is said for wishes of a sweet new year.
I came across a delicious recipe a few months ago for an apple-streusel pumpkin cake in Robin Asbell's The New Whole Grains Cookbook (Chronicle 2007). It seemed the perfect ending for this year's Rosh Hashanah meal. I did a little tweaking, including using honey in place of sugar in the apple topping and added raisins to the batter. The original recipe calls for whole-wheat flour (hence, the whole grains theme) but I decided to use regular, all-purpose flour. If you prefer to use whole-wheat flour, just scale back the amount by 1/4 cup. The end result is a delicious dessert, sure to serve as a sweet ending any day of the year.
Apple Streusel-Topped Pumpkin Cake
Serves 8
Thankfully apples are available at farmer's markets year-round (they're kept in cold storage), so you can make this fragrantly spiced cake for any occassion. This "cake with a pie on top" is the best of both dessert worlds.
3 tablespoons plus 1/2 cup unsalted butter, divided
4 large Granny Smith apples, peeled, cored, and thinly sliced
2 tablespoons honey
2 teaspoons ground cinnamon
1 1/2 cups flour
3/4 cup brown sugar
1/2 teaspoon salt
1/4 teaspoon allspice
1/4 teaspoon ground ginger
1/4 teaspoon freshly grated nutmeg
1 teaspoon baking soda
3/4 cup canned pumpkin
1/3 cup sour cream
2 large eggs
1/2 cup raisins, steeped in boiling water & well drained
Butter and flour a 9-inch, 3-inch-deep springform pan. Heat oven to 350F. Dice 1/2 cup of butter, and let it come to room temperature.
 In a large sauté pan, melt the remaining 3 tablespoons of the butter, then sauté the apples over medium-high heat until softened and golden, about 5 minutes. Stir the honey  and 1 teaspoon of the cinnamon into the apples and cook until the liquids are thick and bubbly. 
In your Cuisinart stand mixer, combine the flour, brown sugar, salt and the remaining spices and mix. Toss in the diced butter and mix until the butter is broken into pea-sized pieces. Reserve 2/3 cup of the mixture for the streusel topping. Add the baking soda to the mixing bowl and mix; then add the pumpkin, sour cream, and eggs, beating until smooth. Stir in the raisins. Scrape the batter into the prepared pan.
Spread the sautéed apples over the batter, then sprinkle the streusel on top. Bake for 40 to 50 minutes, until a skewer inserted into the center of the cake comes out with no batter clinging to it. May be served warm or cooled to room temperature. Best served the same day.
Adapted from Robin Asbell's
The New Whole Grain Cookbook: Terrific Recipes Using Farro, Quinoa, Brown Rice, Barley, and Many Other Delicious and Nutritious Grains