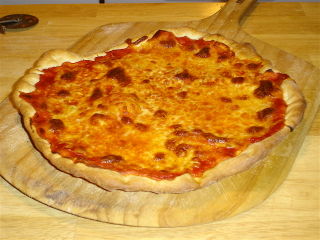 The daily juggle of work, school and extra curricular activities means family time doesn't always happen as planned. On such nights, my dinner solution is pizza—and I'm not talking take out. This meal is a family act even the youngest can help prepare.
Start by making the dough in advance. It comes together in minutes with a quick pulse in the food processor and is a delicious edible "craft" project for the whole gang. The basic ingredients are flour, yeast, salt, water and olive oil. Kids can channel their playdoh-days kneading the dough and once it's ready the fun continues. Let them help shape or press the crust into the pan. I keep small trays on hand so everyone can make their own personal-size pizzas and there are no fights over what topping to add. My five-year old loves creating silly faces with hers. The best part about this meal is it means extra time spent together. It's a meal that nourishes your family's bond as well as their appetite.
BASIC PIZZA DOUGH
Makes two 16-inch round thin-crust pizzas or one thick-crust 9×13 sheet pan
You can make the dough in the morning and take it out as soon as you get home to begin the rise.  If you have a terracotta baking stone, use it for an extra-crispy crust.  The final amount of flour will vary each time you make the recipe depending on humidity and the temperature in your kitchen.
2 ¾ to 3 ¼ cups all-purpose flour
1 ½ tsp yeast
½ tsp salt
1 Tbs olive oil
1 cup warm water
non-stick cooking spray
1 ½ cups tomato sauce
16 ounces shredded mozzarella cheese
any desired toppings
Preheat oven to 425º. Spray two pizza pans or one 9X13 sheet pan with non-stick cooking spray and set aside. If using a pizza stone, place it in the oven to preheat. Coat a glass or ceramic bowl with non-stick cooking spray or olive oil and set aside.
Add two cups of flour, yeast and salt to the bowl of your food processor. Pulse for 15 seconds to combine. Mix warm water and olive oil in a measuring cup. Pour liquid mixture into food processor using the feed tube and pulse just until dough comes together in a ball. If dough is still wet or sticky, add additional flour one tablespoon at a time and pulse again briefly to combine.
Sprinkle one-half cup of flour on a clean counter or large cutting board and knead dough.  Continue kneading additional flour if necessary, ¼ cup at a time, until the dough holds a fingertip impression. If it immediately pops back into a ball, then you need to add more flour. Place dough into coated glass bowl and cover tightly with plastic wrap.  Place in a warm, dry place and let rise until doubled in size, about one to one and half hours.
Once dough has doubled in size, divide evenly into two balls if using round pizza pans or leave whole for a 9×13 pan. Gently press dough into a circle in the coated pizza pans or towards corners of the sheet pan, being careful not poke any holes in the dough. Bake plain crust for five minutes. (TIP: you can prepare pizza to this step and freeze the prebaked crusts. When you're ready to make just take the frozen crust out and begin at step 5.)
 Remove from oven and divide tomato sauce and spread on top of each crust. Evenly sprinkle shredded mozzarella cheese over sauce and add desired toppings and return to oven. Cook for an additional 15 minutes or until crust is golden brown and cheese is golden and bubbly. Let sit for a minute or two before cutting. Serve immediately.