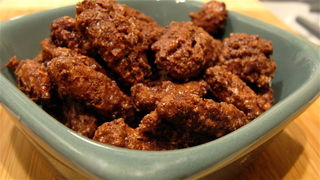 Need a healthy snack that also satisfies your sweet tooth? While talking to a neighbor this past holiday season, I realized the perfect one was in my kitchen all along. I usually make dozens of cookies to spread edible holiday cheer. Two kids left little time for cutout cookies, so I opted to make candied nuts. It turns out this sweet and savory combination also packed fiber, protein and antioxidants.
You're wondering about the fat and calories, right? Choose the right nut and the health benefits outweigh the numbers when eaten in moderation. Almonds, pecans, pistachios, and walnuts make the grade according to the Mayo Clinic and the FDA. While I didn't consult with top medical advisors before tossing the nuts in some sugar, surely they make for a healthier treat than butter-laden cookies. The holidays may be gone but this tasty mix is sure to be a year-round regular in my home.
Cocoa Candied Nuts
Makes 3 cups
One taste and you'll be glad to know this recipe can easily be doubled or tripled. You can even swap cumin or curry for the paprika for a Middle Eastern spiced treat.
½ cup brown sugar
½ cup granulated sugar
½ teaspoon salt
1 teaspoon cinnamon
1 teaspoon sweet paprika
2 Tablespoons cocoa powder
1 large egg white, at room temperature
1 Tablespoon cold water
One pound assorted nuts
Preheat oven to 300ºF. Line two rimmed baking sheets with parchment paper; set aside.
Add the sugars, salt, cinnamon, paprika and cocoa to bowl of the food processor attachment of your Cuisinart Stand Mixer. Pulse until there are no chunks remaining.
In a large bowl, whisk egg whites and water until frothy but not stiff. Add nuts and stir to coat well. Sprinkle sugar mixture over nuts and toss, or stir with a rubber spatula, until evenly coated.
Divide nut mixture onto prepared baking sheets. Bake for 30 minutes, stirring halfway through. Let cool for a few minutes; break up any large pieces. Store in an airtight container in a cool, dry place, for up to two weeks.