candied nuts—an easy homemade gift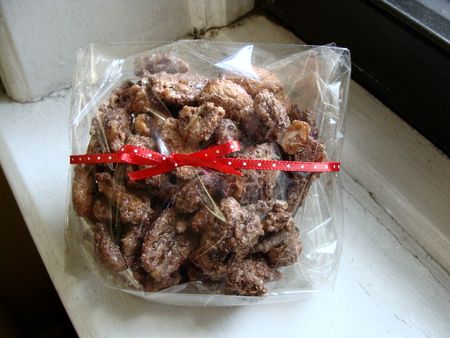 About a decade or so ago I remember spying a tin in between cookie baking breaks at auntie's house. This wasn't one of her tins, so like Curious George I couldn't resist the urge to open it and take a peek. Ever more like George, it is no surprise that I had to try one of the glistening, candied coated nuts I found inside.
When she later told me a friend had made them I thought it was truly amazing. Sure we'd bake more than 100 dozen cookies that weekend, but candied nuts? Well, those seemed like a real feat. I suppose my former self is what my present self would now call a novice.
Candied nuts are perhaps the easiest homemade treat you can gift this year. Beat an egg white, toss with some seasoned sugars and bake for 30 minutes. Turn once halfway through, and you're done.
Although I tend to mix up the varitety of homemade goodies I give out each year, this is one recipe that always stays at the top of my list.
Cocoa Candied Nuts
makes about 3 cups
This year I upped the fun factor on this mix and used a combination of pecan, almonds and Spanish peanuts. The last one making it taste like a handful of Cracker Jack, minus the popcorn, with every bite. I usually add a teaspoon of paprika for a mild spice, but decided to leave it out this year and keep this a 100% sweet snack. Feel free to add it back in (I've listed it as optional), or swap it out for cayenne or chipotle powder as I did for my Relish blog this month. For gift packaging ideas, take a look at this article I wrote for Cuisinart.
These are also gluten free provided you use a gluten-free cocoa (I use Guittard).

1/2 cup brown sugar
1/2 cup granulated sugar
1/2 teaspoon salt
1 teaspoon cinnamon
1 teaspoon sweet paprika, optional
2 tablespoons cocoa powder
1 large egg white, at room temperature
1 tablespoon cold water
One pound assorted nuts
Preheat oven to 300ºF. Line a rimmed baking sheet with parchment paper or a silicon liner; set aside.
Add the sugars, salt, cinnamon, paprika, if using, and cocoa to a bowl and stir with a fork to mix well.
In a large bowl, whisk egg whites and water until frothy but not stiff. Add nuts and stir to coat well. Sprinkle sugar mixture over nuts and toss, or stir with a rubber spatula, until evenly coated.
Spread nut mixture into a single layer on prepared baking sheet. Bake for 30 minutes, stirring halfway through. Remove from oven and let cool for 10 to 15 minutes; break up any large pieces. Store in an airtight container in a cool, dry place, for up to two weeks.