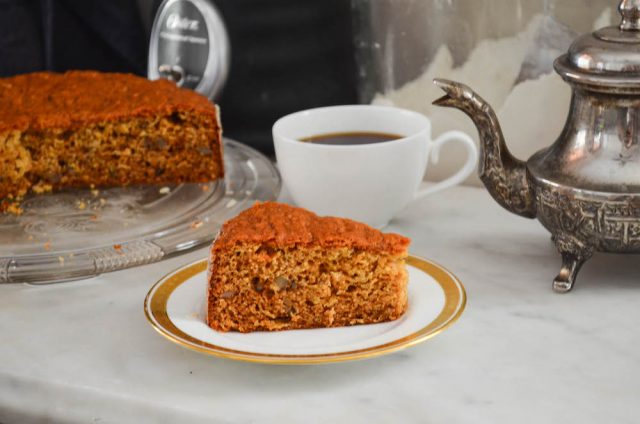 My friend Ethan shared a version of this recipe for Bella's Honey Cake with me a couple of weeks ago. It's mere coincidence the cake shares the same name as my first born, or perhaps it was fate? I'd put out a call to friends for some kugel recipes and Ethan sent along the cake recipe, too, saying it was worth trying. I made some tweaks, mainly cutting out the raisins, nixing the whiskey, and scaling the ingredients down a bit to make a round version of what was supposed to be a sheet cake.
We're going to talk about kugel again in the future. I didn't grow up with kugel, and maybe I've no right to even write about it, but seriously, where has kugel been my whole life? Oh, yes, I was raised Catholic…I guess our equivalent of kugel is lasagna, a conversation for another time.
This cake doesn't seem like much when you see it. And then you take your first bite. And wow. Your tastebuds are abuzz with hints of citrus, a delicate sweetness, and an earthy nip from the walnuts. It's dairy-free, making it pareve if you're keeping kosher. I served it as dessert on Rosh Hashanah, and then we had some for breakfast the next day (and the day after that one).
It's a cake that holds the test of time, its crumb staying soft, and the flavors deepening with each passing day, depending on how long you make it last. Sometimes a sliver is all you want, and yet if it's a thick wedge you desire, it won't weigh you down. Bella's Honey Cake is comforting with tea in the afternoon, but when sipped with coffee, the citrus notes pop, a symphony in every bite. All that from one humble looking cake.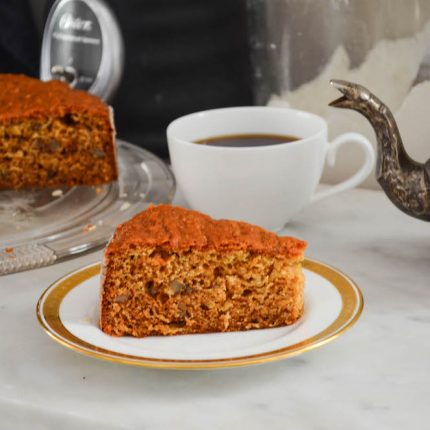 Bella's Honey Cake
Ingredients
6

tablespoons

oil

neutral, like canola or grapeseed

2/3

cup

sugar

2

eggs

6

tablespoons

120 grams honey

Pinch

of sea salt

1

small to medium apple

peeled & grated

1 3/4

cups

260 grams flour

2

teaspoons

baking powder

Generous ½ teaspoon baking soda

¼

teaspoon

sea salt

4

teaspoons

orange juice

preferably fresh squeezed

Freshly grated rind of 1 small orange

zest & white pith

Freshly grated rind of ½ lemon

zest & white pith

1/3

cup

walnuts

toasted & chopped
Instructions
Preheat the oven to 325ºF. Grease & flour the sides of an 9-inch springform pan or round cake tin; line the bottom with parchment.

Add the oil, sugar, eggs, and honey to a deep bowl. Whisk until well blended.

Add the apples, flour, baking powder, baking soda, salt, orange & lemon zest, and walnuts. Stir to mix; the batter will be a bit thick.

Spoon into the prepared cake tin. Bake until golden, edges pull slightly away from the side, and a skewer inserted in the center comes out clean, 55 to 60 minutes.
SaveSaveSaveSave