I want to say it took me a full two weeks to get used to the back to school schedule, but truth is I'm not even close. I simply tolerate it, and consider the juggle associated with the school year to be one of those things in life I can't avoid (like death and taxes). After a lazy summer of no alarm clocks, the early morning routine has completely thrown off the girls' eating habits. They're simply not hungry for breakfast at 7:30am. Even their favorites, like pancakes and waffles, have been met with a lukewarm reception. The pep talks about needing their energy, and how it's not good to go to school on an empty stomach weren't cutting it either.
That's how these apple breakfast bars came to be. The girls love granola bars, so I started tinkering around making my own version of soft homemade cereal bars. They come together pretty quickly, are super easy to make, and filled with ingredients that don't require a dictionary to decipher. In a pinch, you can skip making the apple filling, and swap in store-bought jam or preserves (the photo below is a version I made with strawberry jam I canned this summer). The bars are pretty low in sugar, and flecked with bits of flax seeds and old-fashioned oats. They've been a big hit with my girls, and Virginia has already asked me to make them when it's her turn to share snack in her class.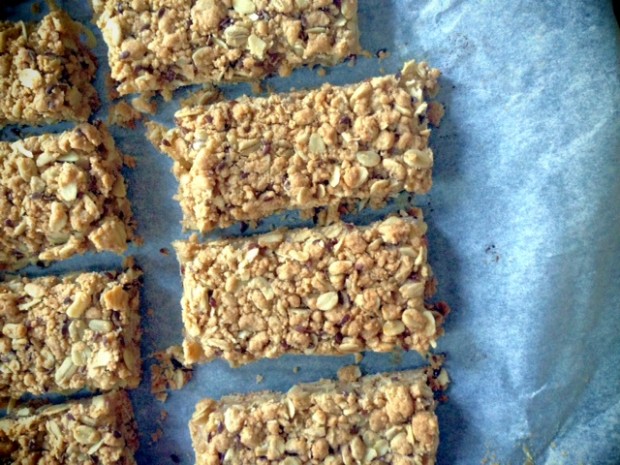 This recipe is now part of my new site, Simmering. It can be found here.