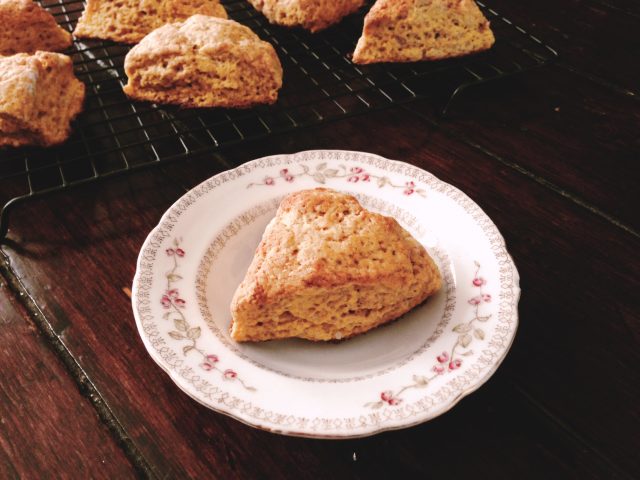 Like the quick snap of a finger, October is upon us. Is it me, or did that seem to come out of nowhere? My mind is a jumble of confusion, not having settled into all the realities of 2013, and now there's only three months left to it. If only we could press pause, and take a moment to catch up, but time is relentless.
I must confess, I felt downright annoyed when I saw people pinning pumpkin recipes in September. I wanted to scream from the rooftops to cut it out. Time pushes forward fast enough, with no need for us to nudge it along. And yet, what am I sharing with you today—a recipe for pumpkin scones. Thankfully I adore all of my shoes, making it easier to digest the proverbial foot in my mouth. In my defense, though, October is a perfectly acceptable month to talk pumpkin. Oui?
I just wanted to pop in here for a quick hello. Life has been one big rush since I got back from Paris last week. My feet barely touched the ground in Brooklyn, and I was packing a couple of days later to leave for Baltimore. It was a whirlwind 36 hours, doing a cooking demo at the Baltimore Book Festival on Saturday, and then up bright and early on Sunday for a 6:30am call time at WBAL where I made my apple breakfast bars on-air. I'm going to catch my breath a bit, and play around with some more new pumpkin recipes before I blink and the calendar turns to 2014.
Pumpkin Scones
Makes 12
Before you ask, no, I don't recommend using all whole wheat pastry flour, or straight all-purpose flour for this recipe. If you've been reading this blog for a while, then you'll know I generally have an unfussy approach to creating recipes. That said, baking is an art, and there are just sometimes where the extra ingredients, or steps are vital to making the best-tasting pastry possible. After many years of making scones, I've decided that a blend of whole wheat pastry flour and all-purpose flour makes incredibly light scones, with a delicately textured crumb. If you swap in all whole wheat pastry flour, they become TOO delicate. If you use only all-purpose flour, the crumb is too structured, and well, not crumbly enough for my taste.
Music Pairing: Side A Landslide by Steve Nicks / Side B Landslide by Smashing Pumpkins
1/2 cup (117 grams) pumpkin puree
1 large egg, lightly beaten
1/4 cup (59 ml) buttermilk
1 cup (145 grams) whole wheat pastry flour
1 cup (150 grams) all purpose flour
1/3 cup (67 grams) natural cane sugar
1 tablespoons (15 grams) baking powder
1/2 teaspoon (2 grams) ground allspice
1/4 teaspoon (1 gram) fine sea salt
6 tablespoons (84 grams) cold butter, cut into bits
2 teaspoons (10 ml) heavy cream
2 teaspoons (10 ml) pure maple syrup
Preheat the oven to 425ºF.
Using a fork, lightly beat the pumpkin, egg and buttermilk together in a small bowl; set aside.
Add the flours, sugar, baking powder, allspice and salt to a deep medium-sized bowl. Whisk to combine. Scatter the butter on top and rub together quickly with your fingers, until it forms a sandy-looking texture with some pebble-sized pieces.
Pour in the buttermilk-pumpkin mixture, and use a wooden spoon to stir together until it forms a crumbly-looking dough. Turn the dough out onto a lightly floured counter. Gently knead it a few times until the dough is a somewhat smooth ball.
Divide the dough in half, and shape it into two 1/2-inch thick circles. Use a sharp knife to cut each circle into 6 triangles (as if cutting a pizza). Place the scones on an ungreased baking sheet.
In a small bowl, beat the cream and maple syrup until combined. Brush the tops of the scones with it. Bake for 11 to 12 minutes, until the bottoms are lightly browned and the tops are golden. Remove from the oven and set the tray on a wire rack to cool a few minutes before serving. Leftovers may be stored in an airtight container and heated in the toaster the next day.
Here's some more pumpkin inspiration from everyone sharing recipes on Food Network's Fall Fest this week. You can also follow the Fall Fest on Pinterest.
Napa Farmhouse 1885: Thai Pumpkin and Coconut Soup
Red or Green: Pizza with Red Chile Pumpkin Sauce, Black Beans and Fresh Corn
Devour: Easy Pumpkin Cream Sauce
Feed Me Phoebe: Creamy Vegan Pumpkin Soup
Virtually Homemade: Starbuck's Pumpkin Spice Frappuccino
Weelicious: Pumpkin Cinnamon Rolls
The Lemon Bowl: Healthy Baked Mac and Cheese with Pumpkin
The Heritage Cook: Chile-Pumpkin Hummus
Dishing: Pumpkin Browns/ Pumpkin Hash Browns
Cooking With Elise: Hearty Pumpkin Pasta
And Love It Too: Paleo Pumpkin Pie Oatmeal
Blue Apron Blog: Baked Pumpkin Stuffed with Millet and Caponata
Dishin & Dishes: Pumpkin Pancakes with Maple Cinnamon Pecan Syrup
Domesticate Me: Harvest Pumpkin Soup with Candied Bacon
The Sensitive Epicure: Pumpkin Panna Cotta with Pumpkin Seed Brittle
FN Dish: Cook Pumpkin from the Patch
Taste With The Eyes: Sweet and Spicy Pumpkin Apple Soup with Dried Fruit, Pine Nuts and Ancho Chile
Creative Culinary: Pumpkin Beer Bread with Pumpkin Butter Spread