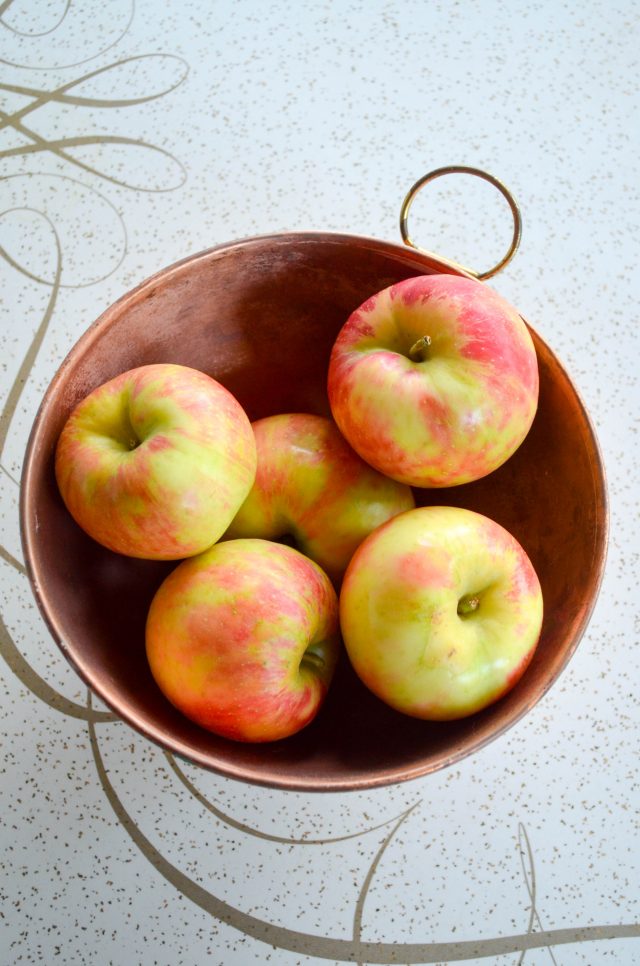 The change in seasons feels so abrupt from a farm stand perspective. One day you're greeted with bountiful supplies of peaches, berries, and zucchini. Then, poof, seemingly just like that, it's gone. So much hustle and bustle for a few months, and then it's time for the land to fall back into a slumber.
Things are still rather busy at Montgomery Place Orchards. My last visit yielded fresh lima beans, eggplant, arugula, a ton of tomatoes pleading to be canned (that will hopefully done by time you read this post!), corn. And apples.
My girls are delighted to no end about this. They love apples, and since we I try to eat seasonally, it's rare to find an apple in our house during summertime, unless it comes from a farm that keeps them in cold storage from the previous season. They get a little persnickety about this sometimes, but for the most part they're used to it, or I should say used to me, and my food philosophies.
And whether they know it or not, they're learning a valuable lesson. Food tastes better when you eat it close to the source, which means eating seasonally based on what grows where you live. They're in apple heaven right now. Me? I'm researching ways to try and store them beyond a few weeks. I'm not 100% confident I can pull this off. The cooler method in this Kitchn article sounds promising. Has anyone had success with this?
For now, I'll be content to break out some of my favorite apple recipes. Isabella asked just the other night if I would make apple muffins. So, I'll add that to her Practical Arts curriculum for homeschool. She's keeping a recipe booklet, and cooking meals once a week. Apple muffins are pretty special in our house. I've been making them since she could eat solids.
When Mikey was alive we went apple picking every year. Part of our ritual was to come home and make muffins together. They're also what I brought to the pre-K meet and greet picnic 9 years ago this month. And they were the star of a cooking show Isabella and I once did. Somewhere on Mikey's old drives there's a video. Looking through his old drives to find it has been on my To Do list for a while now. I will get to it, one day.
These days, though, we're focusing on living in the moment. And that means it's time to make apple muffins. I'll share that recipe in coming weeks. For now, here's a few of my favorite apple recipes from the archives to keep you happily busy in the kitchen. If you own Homemade with Love (you can order a personalized copy here), there's an awesome Apple Cheddar & Pancetta Panini in there, too. I created that recipe with Mikey in mind, knowing his love for gooey grilled cheese runs deep, even in the afterlife.
9 Amazing Apple Recipes
Brown Butter Apple Pie (Isabella's favorite pie!)
Apple Breakfast Bars (Virginia asks for these ALL the time.)
Apple Allspice Crumb Muffins (My vote for best apple muffins EVER.)
Zucchini Apple Whoopie Pies (A very unique & yummy recipe.)
Apple Cranberry Crumb Cake (So smitten with this cake.)
Shredded Cabbage, Apple & Toasted Sesame Seed Salad (Salad because we can't live on sweets.)
Brown Butter Apple Crepes (for when you're too tired to make pie crust.)
Star-Anise Spiced Apple Cider (Great for fall parties—set it up in you slow cooker!)
Oven-Dried Apple Chips (Perfect snack for school lunches.)
Here's some more apple inspired recipes from my friends at Food Network's Fall Fest:
The Lemon Bowl: Tuna Salad with Apples
Creative Culinary: Boozy Snickerdoodle Cake with Apples
The Fed Up Foodie: Green Apple Butterscotch Macadamia Nut Cookies
Hey Grill Hey: Skillet Bacon Apple Crisp
A Mind "Full" Mom: Salted Caramel Apple Butter
Dishin & Dishes: Chicken with Cider Sauce and Apples
Foodtastic Mom: Ketucky Apple Skillet Cake
Healthy Eats: 6 Lighter Ways to Cook and Bake with Apples
In Jennie's Kitchen: 9 Amazing Apple Recipes
Mom Loves Baking: Chocolate Turtle Apple Slices
Taste with the Eyes: Red Lentil Penne, Apple, Walnut, Mint, and Gorgonzola Sauce
Swing Eats: Apple Roses (gluten-free)
FN Dish: Kick Off Fall with Food Network's Favorite 5-Star Apple Desserts