apple allspice crumb muffins
I have a habit, a compulsion really, of always tinkering with my recipes. It's not so much that I think they need improving—more the quest to always use new ingredients and techniques. Take my apple muffin recipe for example. It came about two years ago after a day of apple picking. There's only so many pies one can make, and eat (or so I try to tell myself).
Well, a few weekends ago, I was wondering what would happen if I used shredded apples instead of diced chunks. I imagined they'd kind of melt into the batter, adding lots of moisture as well as flavor. Almost like adding apple sauce. I also wanted to play around with the spices. I'd had allspice on my mind too since the Tuesdays with Dorie folks had selected her allspice crumb muffins last month. What if I replaced the cinnamon with allspice? This fragrant flavor always plays back up to cinnamon, but this time I'd let it be the star. And so, my apple allspice muffins were born. I've already made them a few times, including one Sunday morning when I brought some to Dan at Grazin' Angus Acres (after all, his eggs make everything I bake taste better and produce a rich golden color too).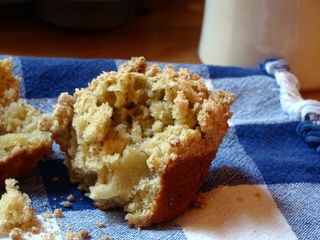 Melted butter makes a fool-proof crumb topping.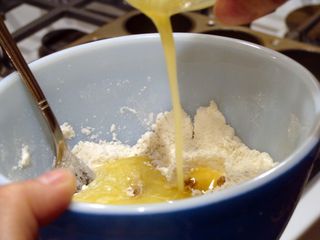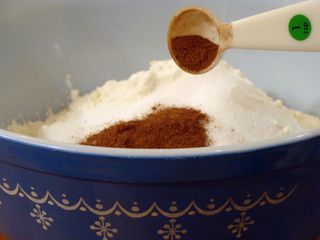 I've become smitten with The Pioneer Woman's photos of dry ingredients cascading into the bowl.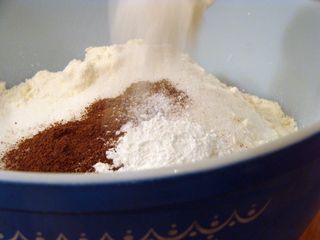 This new Ninja Master Prep (courtesy of Euro Pro) did a great job producing "shredded" apples.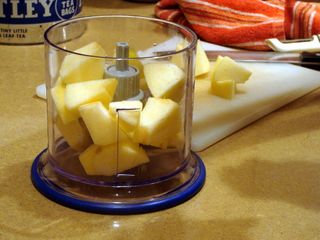 See, no need for a box grater or shredding disc on the food processor.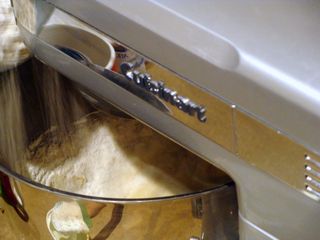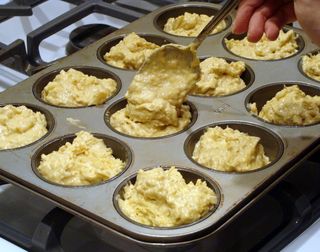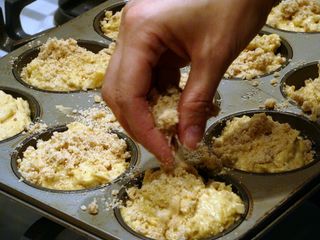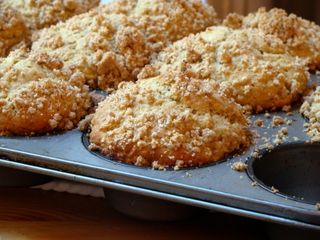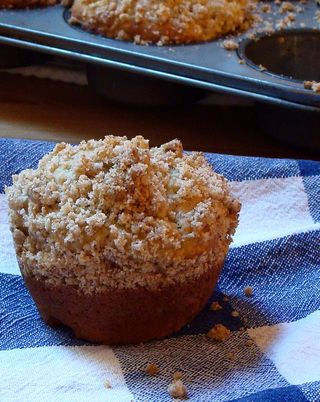 Apple Allspice Muffins
makes 12
For Crumb Topping

2 tablespoons butter, melted
1 tablespoon granulated sugar
2 tablespoons brown sugar

1/2 cup all purpose flour
For Muffins
1 tablespoon baking powder
1 teaspoon allspice

8 tablespoons butter, softened
1 cup sour cream

2 cups peeled, shredded apples
Preheat oven to 375º.  Grease or line a 12-cup muffin tin with liners.  For the topping, mix all ingredients in small bowl with a fork  until combined; set aside.
For the muffins, mix flour, baking powder, baking soda, salt and all spice in a medium-size bowl; set aside. In a medium-sized bowl, cream butter and sugar on medium-high speed until light and fluffy, about three minutes.  Add eggs one at a time, beating well after each one.

Beat in one third of the dry ingredients, then add one-third of the sour cream. Alternating between dry ingredients and sour cream, repeat until all ingredients have been incorporated.  Using a wooden spoon or rubber spatula, stir in the diced apples. 
Evenly divide batter into the muffin-tin cups.  Sprinkle tops evenly with the crumb topping.  Bake for 20 to 25 minutes, or until golden brown and toothpick inserted comes out clean.