In the News – November 2009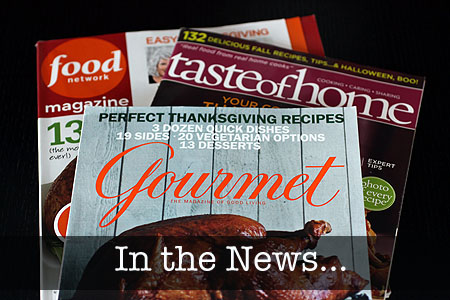 by Jen Schall
As I was perusing the airport news stand a few weeks ago, looking for something to read on my flight to Boston, I spotted the November issue of Gourmet on the shelf.  I felt a bit sad, knowing it was the last issue, but also knew that I had to have it – immediately.  
I cannot resist news stands, especially those in airports.  I am not a huge fan of planes (or sitting still), so I always pick up a new shiny magazine or two (or three!) to occupy myself on my flight.  By the time I returned from my four day trip to Boston, I had accumulated two more magazines in addition to Gourmet – the November issues of Taste of Home and Food Network Magazine.
Talking Turkey
As you would expect, the November issues of all three magazines pictured a turkey on the front, indicating that all of the recipes for the perfect Thanksgiving could be found within.
In Gourmet, my favorite Thanksgiving feature was the rural Pennsylvania Thanksgiving (perhaps because I am from Pennsylvania).  I love apples, and the cider-glazed turkey stuffed with apple,onion, and thyme paired with a delicious rye bread stuffing (also made with apples) sounds wonderful to me.  The sauerkraut with apples sounds like a tasty new addition to Thanksgiving, as well!
Beautiful sage leaves add both color and flavor to the herb-roasted turkey featured in Taste of Home.  Placing the fresh herbs under the skin of the turkey creates an earthy design that peeks through the golden skin.  This is a technique that I will definitely try – I think it would be beautiful on any Thanksgiving table!
If you're cooking for a smaller group or just looking for something different this Thanskgiving, consider giving the turkey roulade with swiss chard from Food Network Magazine a try.  This turkey breast stuffed with arborio rice, swiss chard, pancetta, and gruyére is sure to be a new Thanksgiving favorite!
All the Fixin's
Now that the turkey's covered, be sure to take a look at the other great recipes on my must-make list. 
Whole Wheat Apple Pancakes (Food Network Magazine, November Issue) – These are pancakes you don't have to feel guilty about!  Whip up a batch of these for breakfast and your holiday guests will thank you!
Turkey Focaccia Club (Taste of Home, November Issue) – Save this recipe for your Thanksgiving leftovers! Topped with cranberry pecan mayonnaise, this is not your ordinary leftover turkey sandwich!
Pumpkin Gingerbread Trifle (Gourmet, November Issue) – As a pumpkin lover, I try to stretch pumpkin season out as long as I can.  Made with gingerbread and pumpkin mousse, I think this dish would be a perfect dessert for holiday parties right up through New Years.
Deep-Dish Apple Pie (Food Network Magazine, November Issue) – Made with her perfect pie crust, this beautiful apple pie from entertaining expert Ina Garten is sure to be a favorite at any get-together.
Cheddar Corn Muffins with Jalapeño Butter (Gourmet, November Issue) – This new, flavorful twist on corn muffins is sure to liven up your Thanksgiving dinner table.  I think they would be great with soup, too!