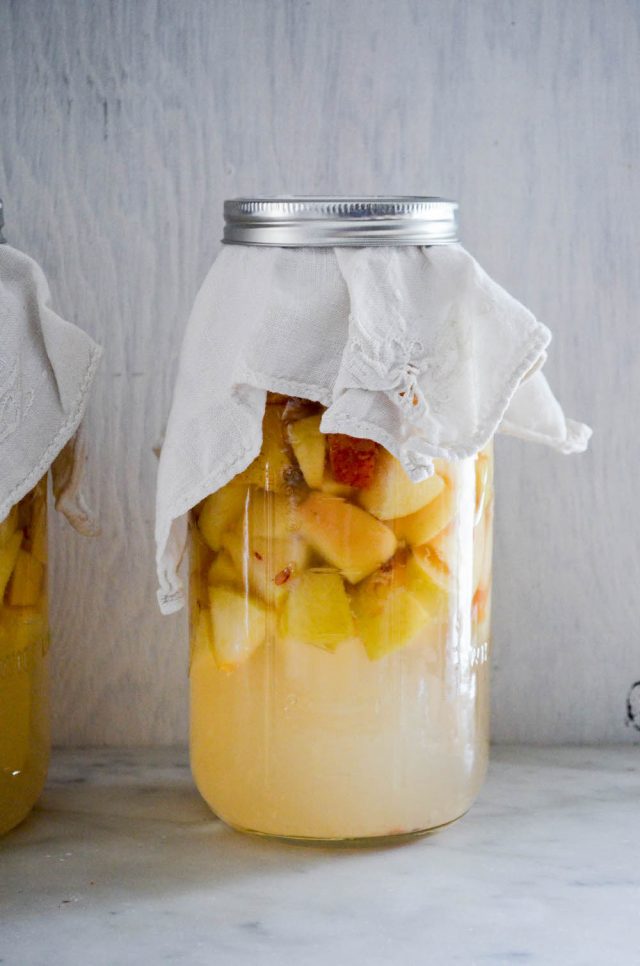 Before you say anything, I'm two steps ahead of you, listening to Michael's laughter echo through the chambers of my mind. I know, who in their right mind makes apple cider vinegar when you can buy a jug of it for a few bucks at the grocery story?
Well, the brief answer is me. One day Michael smirked at me, and said, "when you are going to make your own water?" It took a few years after he died to make that one happen, and it was quite accidental. One of the girls had to answer a science question for school, "do water and ice weigh the same".
Rather than have them do a Google search, I directed them to put a few ice cubes in a bag, weigh them, leave the bag out in the sun for the ice cubes to melt, and then re-weigh the bag. I love how science fits into our everyday lives, often without us really stopping to take notice. When all was said and done, I looked towards the sky, and said, "Ha, I made water, Mikey!"
And so, when I saw a post on Instagram a few weeks ago with a photo of homemade apple cider vinegar in the works, I said aloud, "wait, you can do that?" Yes, my mind was blown. It sounds amateurish to admit that, being one to make so many things from scratch. Still, the thought that I could make apple cider vinegar myself felt revolutionary, and quite fun.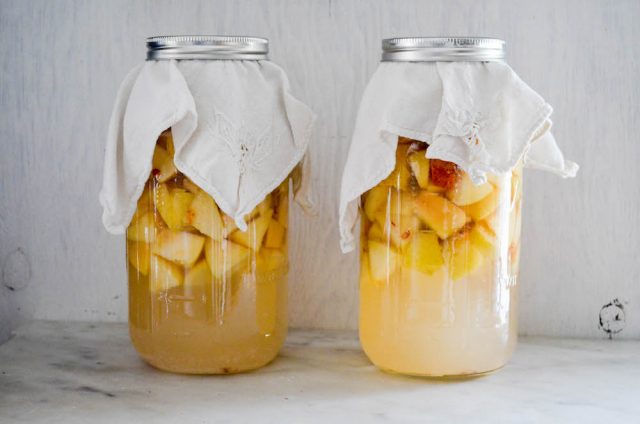 You might already know this, but good quality apple cider vinegar with the "mother" can be pricey. Making it yourself is a fraction of the cost.
Apple seconds (the slightly imperfect ones) at the farm stand cost 99 cents a pound. You only need about 1 1/2 pounds of apples plus a smidge of sugar (pennies) and water (free) to make a liter of apple cider vinegar. And there's no waste involved—you use the entire apple, peels & cores, too. Should you find yourself on an apple sauce and pie making bonanza, you can even just use cores and peels.
Intrigued, I did a little more research. The basic formula is pretty much the same—about 1 1/2 apples + 1 tablespoon of sugar + 1 cup of water to make one cup of apple cider vinegar. I decided to scale my experiment to a much larger proportion. The sugar only sounds like a lot in the recipe below. Don't stress out, as it "cooks off" so to speak during the fermentation process. Plus, the recipe make an entire gallon, 16 cups of apple cider vinegar (don't worry, you can scale it down, too).
Fill a jar compactly with cut up apples (or bits and bobs, peels and cores), dissolve a tiny bit of sugar into water, pour it over the apples, cover the jar with a piece of cheesecloth or fabric (I used cloth napkins) so the gasses can escape, and then wait.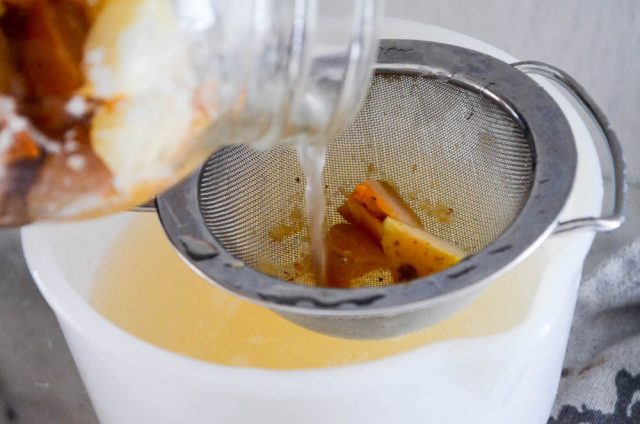 So many recipes are written with just the number of apples. Maybe I'm overthinking it, but apple sizes are so varied, depending on variety and if you're buying them from a farm stand or grocery store (try to use organic, or buy no-spray apples if possible to avoid pesticides). With that in mind, I've written my recipe with metric measurements. Listing "x" number of apples may sound convenient, but I prefer accuracy here.
I read on one site to keep them in a warm, dry place. I've never heard of keeping fermenting products in a warm spot, so went with what I know, and tucked them in the family room closet, a not too cool, not too warm, dark spot. Every few days, eager with excitement I'd check on them. When the two week mark arrived, I decided to strain them (I think they could've gone one more week—live and learn).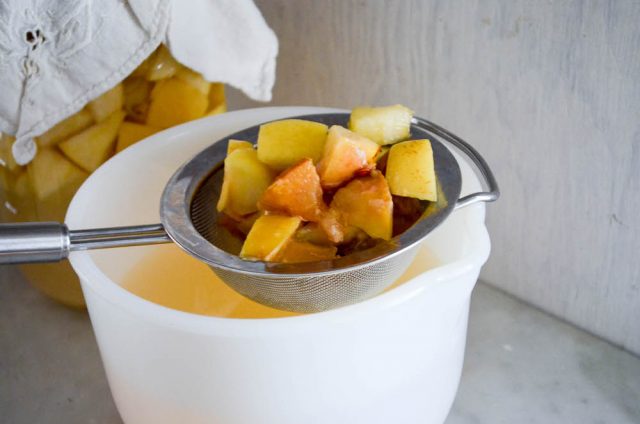 Once strained, cover the jars again with fabric, tuck them back in your cozy, dark place (um, that sounds odd), and sit back for another month. At that point you can start tasting to see if it's reached the acidity level you prefer. I've not gotten to the taste test phase yet, though I did taste a spoonful just after straining out of curiosity. It was definitely shaping up to be apple cider vinegar, albeit on the weak side since it still had weeks to go.
I'd normally wait to see this experiment through, but I thought it might be fun for us to take this journey together. Everyone's Instagram feed seems to be filled with lots of apples from weekend picking, so I figured a few of you might be looking for something beyond apple pie to make (not that there's anything wrong with pie).
I'll be sure to come back and update this post as my vinegar continues to ferment. Call me crazy, but I think this could be a very cool homemade holiday gift (plus super easy & inexpensive). Maybe I should get another batch going…
Here's to a peace-filled week. xx-Jennie
This recipe is now part of my new site, Simmering. It can be found here.
SaveSave
SaveSave
SaveSave
SaveSave
SaveSave