wilted kale salad & warm shallot vinaigrette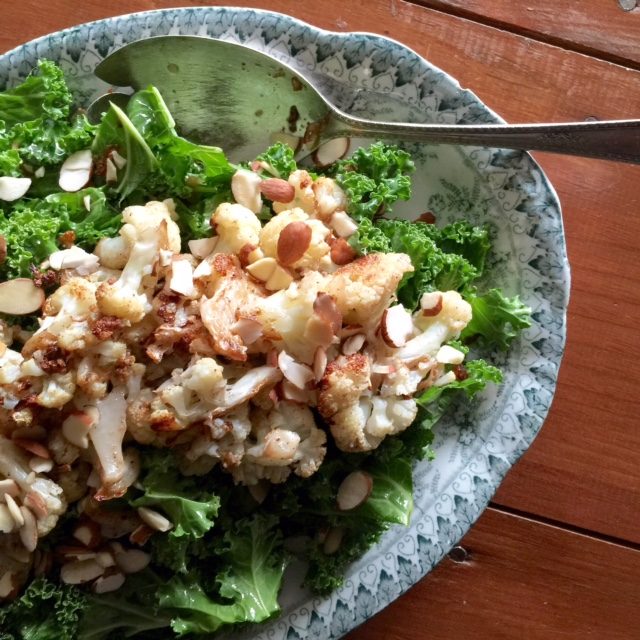 "How a cookbook is marked, by handwritten notes or physical evidence that a recipe was prepared over and over, tells much about the intent and life of the cook." –Kim Severson
Perhaps this quote is the best place to begin the discussion about recipe writing. I spend my days creating a myriad of recipes, no cuisine is off-limits, and I get an extra special thrill when pushed to the perimeters of my comfort zone, as with the project I recently wrapped up. When it comes to cooking, I'm a "can do" girl all the way.
At some point my job ends, and yours begins. The recipes leave the comfort and care of my kitchen, floating into yours, and it is you, the reader that gives them life. So, yes, perhaps this is just the right point at which to ponder what is considered good recipe writing. I firmly believe it is an art to translate a bunch of ingredients and technique into layman's terms, so cooks of any level can successfully make them at home. The job of the recipe writer is to weave the wings with which homecooks need to take flight.
There are some in my line of work who think detailed explanations are too cumbersome, leaving no room for the homecook to make it their own. Trust me on this when I say that while we've gained a generation of curious, knowledgable cooks, there are still many people out there who freeze with fear at the sight of a stove. That's where a calming voice, friendly tone, and well-written recipe are essential.
When I talk about this skill at conferences, I use this as an example.
Heat the oil in a skillet over medium heat.
Heat the oil in a 10-inch skillet over medium heat until shimmering.
One description infers experience, and the other one offers clarity to novice cooks (pan size and a visual cue for what heated oil looks like exactly). Both deliver the same results. I love using headnotes, and sidebars when working on articles to help nudge readers to dip a toe towards improvisation. And you can surely be creative within writing the recipe, itself. When it comes to bones of the recipe, though, I always prefer to be inclusive when writing them, even it irks my colleagues. The tides may change, cooks' comfort levels will change, but a well-written recipe will always stand the test of time.
And as for those splattered, marked up cookbooks—they are treasures, indeed. My girls, and their children, will have plenty of them to peruse long after I've sauteed my last batch of onions.
Wilted Kale Salad & Warm Shallot Vinaigrette
Serves 2 to 4
I know, does the world really need another kale salad? The short answer is no, but I'm sharing one with you anyway. I love the way this particular salad straddles the line between cooked, and not cooked. The greens are barely kissed with heat, and it's residual at that, since the salad is tossed in the pan once it's removed from the stove. You can't see it all that well from this photo, topped with roasted cauliflower, but it wilts ever so slightly.
Feel free to leave it in the pan longer, allowing the greens to further surrender their structure, if you like. I would so love to share the cauliflower recipe with you, but we'll leave that for another day; I accidentally deleted it from the notes on my phone (sigh).
2 to 3 tablespoons oil (extra virgin olive oil or grapeseed)
1 shallot, thinly sliced
2 tablespoons freshly squeezed orange juice
2 teaspoons Dijon mustard
1 teaspoon honey
Splash of apple cider vinegar
Splash of soy sauce
Sea salt (I prefer coarse for a crunchy contrast, but fine works well, too)
1 head of curly leaf kale (leaves only, roughly chopped)
Sliced almonds or croutons, to garnish (optional)
Heat the oil in a 12-inch skillet over medium heat until shimmering. I start with 2 tablespoons, and add a bit more at the end if the dressing seems too skimpy to coat the kale. Add the sliced shallots to the pan, and cook, stirring occasionally, until deep golden and tender, 5 to 7 minutes. You can crank the heat a little higher to crisp them up, but keep a closer eye on them. You don't need to stir them like crazy, but you want to be sure they don't burn.
Once the shallots are cooked, whisk in the juice, Dijon, honey, apple cider, and soy sauce. Bring the dressing to a boil while whisking constantly, then remove from the heat. Season with salt. Using tongs, toss the kale in the pan until it's well-coated. If serving immediately, garnish with almonds or croutons (or any other favorite topping that adds some crunch and texture to the salad, if you like). Bring the pan to the table, and serve family style.
This salad is also great at room temperature, so you can make it a few hours ahead. Just be mindful that the acid in the dressing (juice & vinegar) will encourage the kale to wilt even further (or "cook" as my friend Marina always says).