I've no less than a dozen things I want to share and write about. On that list includes some new natural living recipes (homemade cough syrup, cough drops, DIY furniture cleaner, kitchen & bath scrub, and room freshener—the laundry soap is still in the testing phase).
I've also been torn about sharing my recipes for homemade vanilla & devil's food cake mixes because, truthfully, all too often my recipes are "borrowed" by other blogs & websites (read: reprinted without permission), and while I shrug it off most of the times, these homemade cake mixes feel revolutionary. They were vigorously tested, and can be made traditionally (with gluten, dairy & eggs), gluten-free, dairy-free, and even vegan. I even perfected using the mix to make mug cakes in the microwave. 60 seconds to divine chocolate cake? Yes, please!
I've been considering an e-book with the base mix recipes, and recipes to use making them. Does anyone have thoughts about this? I'd love to know how many of you actually use e-books. I must confess to preferring paper copies of cookbooks so I can write notes in them.
Now onto the real business at hand, for today's post, at least. Somewhere between the hot humid days of summer, and the now barely 40ºF temperatures we're experiencing, fall graced us with its presence for a few seconds. And during that time, I managed to beat the squirrels, chipmunks, deer, raccoons, bears, and heaven nows what other wildlife inhabits my property, to a nice stock of chestnuts from the tree in the backyard.
After more than two decades of cooking with them, I finally cracked the code on how to roast chestnuts perfectly. Every time.
I didn't grow up eating chestnuts, even though they're a beloved ingredient in Italian cooking. I do have fond memories, though, of my aunt roasting a mix of walnuts, Brazil nuts, almonds, and filberts to serve between dinner and dessert on Thanksgiving. Side note: it was only in my 20s that I realized filberts were just another name for hazelnuts. Please tell me I'm not alone in this; I still feel stupid admitting it, although this Serious Eats article eases my feelings of ignorance to the fact.
Unlike all those other nuts where roasting simply involves putting them on a pan, and baking until toasty, chestnuts require two extra steps.
First, you need to score them. This simply means cutting an "X" into the shell. Of course simply is objective here. Without a sharp paring knife the task is anything but simple (you can also buy a special tool for scoring them, but I'm not one for gadgets that aren't multi-function).
Once the chestnuts are scored, the next step is an absolute must. The scored chestnuts need to soak in water. The soaking period allows the shells to fill up with water. The water in turn produces a steaming effect when the chestnuts roast, forcing the shells to burst away from the nut.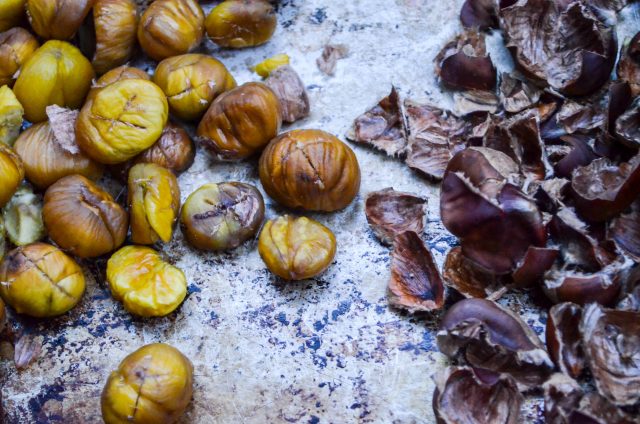 Many recipes and tips I've encountered throughout my cooking life call for a brief soak, 30 minutes or so. That's how I'd been roasting chestnuts since I met Michael, which is also when chestnuts became a apart of my cooking life (they're an ingredient in his Thanksgiving stuffing recipe).
The problem with such a brief soak is it doesn't allow enough water to penetrate, so while it helps loosen the shells, it still makes for a finger-numbing experience trying to peel them.
With this in mind, I wondered what would happen if I left the scored chestnuts to soak longer, much longer. I left them in a bowl for more than an hour, but less than two (I can't remember exactly how long). After draining the water, I spread them single layer on a sheet pan, and roasted them in a preheated 325ºF oven for 30 to 40 minutes.
I immediately noticed the shells had burst open better. Once cool enough to handle, 90% of the chestnuts peeled perfectly, surrendering both the shell, and that papery film. 90% was good, but after these stunning results, I set my sites on 100% shelled chestnut perfection.
On my next harvest, I decided to score the chestnuts and soak them overnight. Yes, a good eight hours! When I woke the next morning, I turned the oven 325ºF, puttered about washing my face, brushing my teeth, and grinding coffee beans while I waited for the oven to heat up. The drained chestnuts went onto a sheet pan, and this time I roasted them close to an hour, figuring the extra hydration might require more time in the oven to ensure they roasted properly. Let me say, the scent of chestnuts roasting at 6:00am is a lovely.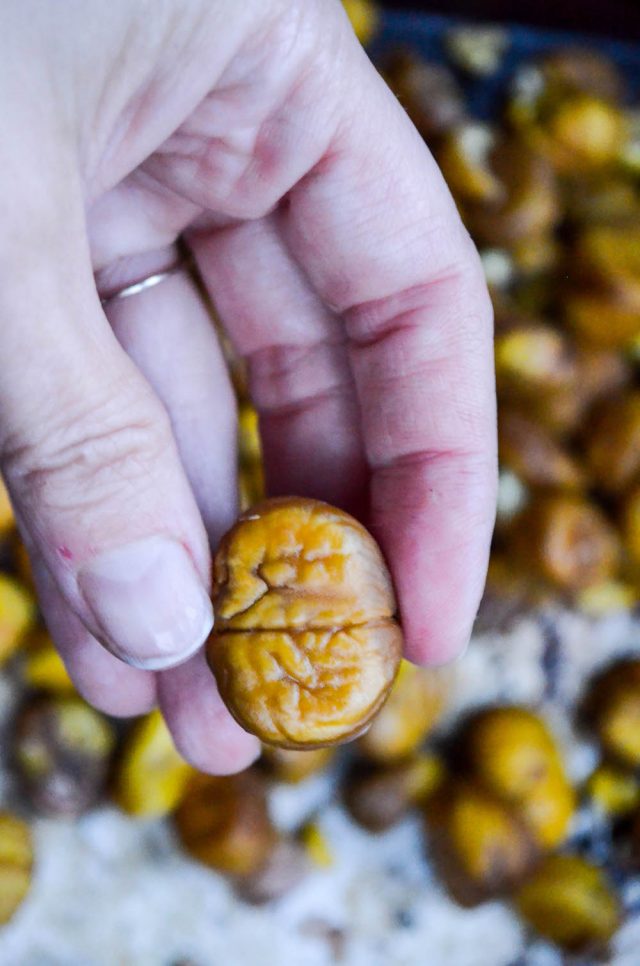 100% success was mine. Every single chestnut released from its shell with nary a bit of papery film attached.
Even better? the shells practically fell off, so no red fingertips from peeling them. A word of advice, don't try to rush this, and crank the oven up hotter. A nice, slow roast is imperative to ensure the chestnuts dry thoroughly, or else you'll end up with soggy nuts (insert grade school humor here). If you've access to a firepit or grill, you can also cook them in a cast iron skillet over the flame. In that case, a shorter cook time is fine, and would probably only take about 30 minutes (be sure to shake the pan every so often so they cook evenly).
SaveSave
SaveSave
SaveSave
SaveSave
SaveSave