homemade chestnut spread—two gifts in one
I love winter. Having grown up in NYC, I don't fear these frigid temperatures. I just wish they would stay consistent.
What I do detest this time of year is the darkness that descends come 4:30pm. By five o'clock all chances of decent photography are totally eclipsed. I prefer natural lighting, so all my photos are at the mercy of Mother Nature.
Why does any of this matter? Well, I was going to share some peanut butter bon bons with you all, but there was no time to get a good shot today. It will have to wait for another day, though I promise before Christmas, so you can spread some yummy peaunt butter cup inspired, no-bake cheer with friends and family.
There is a very acceptable consolation prize, though: homemade chestnut spread. A friend gave me a can she bought back from France, and I'm embarrased to admit it sat on the shelf of my pantry for months since I had no idea what to do with it.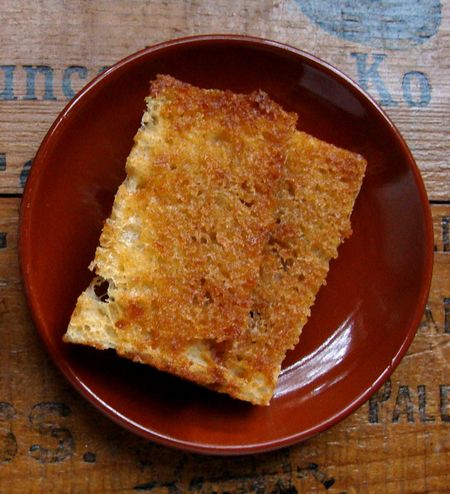 Then one day, while peeking through the cupboards for inspiration, I spied the can. I decided to make a variation on Molly's grandmother's cinnamon toasts. The anticipation of the first bite of a new recipe is one of my favorite parts about cooking in general. I imagine the drumroll as I taste to see if my idea was a success or will send me back to the cutting board.
The chestnut orange crisps transformed a very humble, albeit wonderful, recipe for toasted bread into something extra special. So special, in fact, I decided to add them to my gift-giving list this year. Hesitation gripped me, wondering if people would think I'd lost my mind, giving away little rectangles of toast. I dismissed it, knowing these were no ordinary crisps, crackers, cookies, call them what you like. Come tea time, any doubt would be replaced with cravings for more.
While running errands I happened to pick up some chestnuts on Sunday. We were decorating the tree that night, and though there was no open fire to roast them, 20 minutes in a 350ºF oven would do the job nicely.
Then it happened as I was peeling them. I wondered why not make my own chestnut spread to use on the crisps? No one else would know besides me, but sometimes that's just enough.
After peeling the chestnuts, I simmered them in some water and sugar, then pureed them. Not only was it a resounding success, at $3.99 a pound for the chestnuts, it was also much less expensive than the little $10 can I saw at the local gourmet market.
And yes, I intend to put up some chestnut spread in jars and give that as gifts too.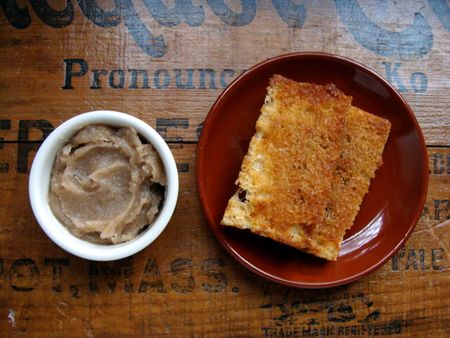 Before You Get Started
1. Look for the freshest chestnuts possible. The shells should be firm, yet soft enough to dig the tip of your fingernail into them. If you happen to live in Carroll Gardens, Brooklyn, the Korean market on Court Street between 3rd and 4th Place sells excellent ones from Italy for only $3.99 a pound. Please be sure to leave some for me—I'm no where near done with chestnut season.
2. To roast chestnuts, cut an "x" in the center of the rounded side, and place them on a rimmed sheet. Bake in a preheated 350ºF oven for 20 minutes, or until the shells and interior skin have popped open. They don't always roast evenly, so you may need to remove them in batches as they are done, to avoid burning any.
3. I normally don't remove the crusts from the bread when making the crisps, but decided to do so for a prettier presentation given the occassion. Don't throw them away, especially if you're making two loaves worth as I did. Set the crusts out on a baking sheet to stale (dry out), then give them a whizz in the food processor for homemade breadcrumbs (which I'm actually seasoning with parsley, garlic, salt and pepper to give as gifts too).
Homemade Chestnut Spread
makes one pint
Don't forget, in addition to the shell, chestnuts have an inedible skin that must be removed before eating or using in recipes. Provided they are fresh, the skin should pull away easily when properly roasted.
7 ounces roasted, peeled chestnuts
1 1/2 cups (337 ml) water
1/2 cup (4 ounces) sugar
Add ingredients to a 2-quart pot. Bring to a boil, then reduce to a simmer and cook for 20 minutes, until chestnuts are tender. Remove from heat and let cool for 10 minutes in the pot.
Pour contents of the pot, including the water, into the bowl of a food processor. Process until a thick, smooth paste forms, about 3 to 4 minutes. After the first minute, it will look like this will never come together, then magically, you'll have the right consistency, and be on your way to make these chestnut orange crisps.