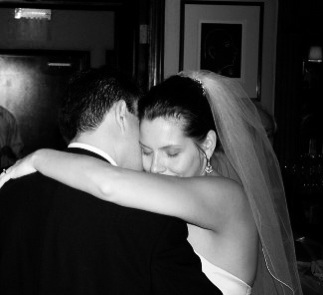 As years pass, responsibilities increase, and time becomes an often elusive commodity, I wonder how many couples realize that love is a living, breathing thing. The heart does not stand still, suspended in that moment of devotion at the alter. Love needs care and attention, it needs to be nurtured to stay fluid and continue growing. This holds true for any long term relationship, regardless of any legal document.
A fatigue settled into my bones as I thought about October 16th, and facing my second wedding anniversary without Michael. I've been thinking a lot about the expectation of dates like this—not just for myself, not just on an anniversary. When it comes down to it, the care and consideration with which we show those we love on an ordinary, arbitrary day wields much more power.
One Thursday about a year and a half ago, I found myself passing Russ & Daughters on the way to our weekly date night. I showed up at Lil' Frankies with a stash of whitefish in my purse so he could have it for breakfast the next morning. A surprise "I love you" email or call in the middle of the day; knowing how your honey takes their tea or coffee—those are moments you can capture every day of the year. Why wait for one designated day when you have the chance to make every day special?
Mikey was milk, one sugar in his tea, and black, one sugar in his coffee, except for iced coffee which he drank with milk. After he passed away, I stopped drinking milk in my coffee, and adopted his black with sugar habit. Maybe one day I'll go back to steamed milk, and maybe I'll always drink my coffee this way. All I know at this moment in time is that I'm so thankful I paid attention to that little detail of his everyday life.
Music Pairing: Tupelo Honey by Van Morrison