ricotta & mascarpone cannoli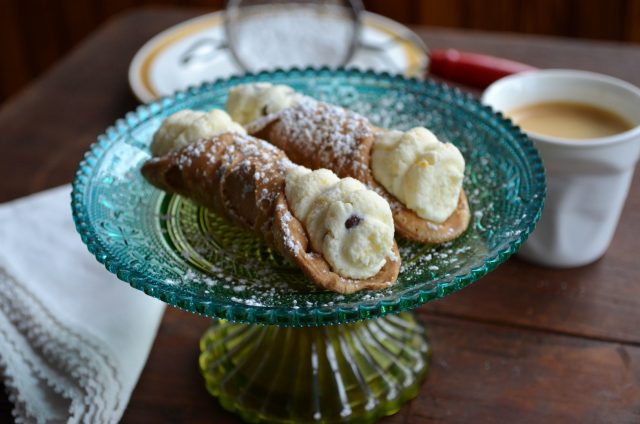 When I got back to New York last week, I had a few hours to get things done in Brooklyn. My trips to the city these days usually don't take me beyond midtown. The kids stayed with my mom while I was away, and one of my best friends watched Miche, so before collecting the kiddos and the pup, I made sure to hit up Caputo's. If I had to name one thing I miss most about Brooklyn, it would be mozzarella. I know, I know. It should be my mom, or my dear friends who have seen me through it all.
Alas, a warm, milky, ball of fresh mozzarella, is what I long for most. Honestly, the thought makes me ache, and small sighs stumble from my lips. I challenge anyone to find a better mozzarella in all of New York City (I've tasted many).
But the recipe I'm here to share today has nothing to do with mozzarella. See, while I was at Caputos's scanning the store for provisions, I impulse bought a package of cannoli shells. Frank also sells the filling, frozen in ready to serve bags. Last year I was so caught up in making baked ziti for New Year's Eve, I bought the whole kit and caboodle to my best friend's house for dessert. Yes, even I take a break from making everything from scratch. Especially when it comes to cannoli.
I attempted making them years ago. Like light years ago, long before having children. The whole process was enough to make me decide never to try them again. In likelihood, it was probably not a great recipe. All I remember is too-thick shells, copious amounts of oil, and a filling that left me wondering why I hadn't just walked a few blocks to the Italian pastry shop.
Living in an Italian neighborhood, or what's left of it after years of gentrification, there was no lack of good pastries. Cannolis are a funny pastry, though, and depending on where you go, the filling will vary. Court Pastry holds a dear place in my heart. My nana used to buy savoiardi cookies for me and my sister every Friday, on her way home from the beauty parlor. Their regina cookies, every millimeter of the crisp surface covered in sesame seeds, are perhaps my favorite cookie, ever. The cannolis, though. They're just okay. When I bite into one it isn't the tooth achingly sweet cream that I long for; it's a connection to my childhood. I don't eat their cannolis to enjoy the here and now. No, they serve as a time machine, transporting me back to what now feels like a few lifetimes ago.
So, when I saw the boxes of cannoli shells in Caputo's, I figured I'd take a stab at making them again. This time in baby steps. I'd focus on the filling first, and if all went well, then I'd tackle the shells in the future. We could talk all day about what should and shouldn't go into the filling. Candied orange peel is a must for some, but not for me. Frankly, I can't stand it in my cannoli. Those chewy little bits totally harsh my mellow, as I burrow my tongue inside the shell to dig out the creamy filling. I do like an orange essence, though, so opted for orange zest.
I wasn't planning on adding mini chocolate chips, but the girls really love them. And you know what? After one bite, I realized they really do make a cannoli complete. Just a few bits to nibble. Don't ask me why they don't bother me like candied orange peel. I can't explain it myself. Now that I've got the filling down, conquering the shells can't be too far behind.
This recipe is now part of my new site, Simmering. It can be found here.