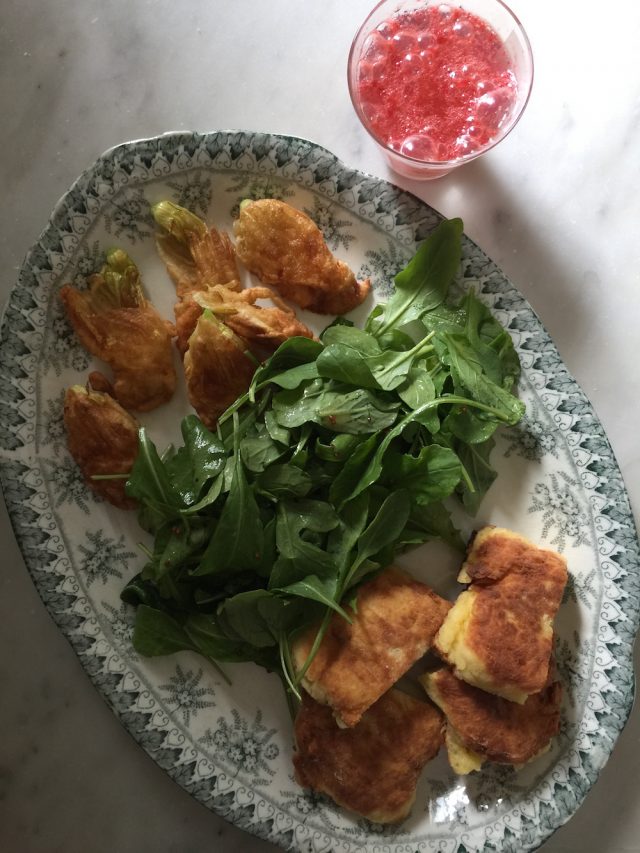 Yesterday was a roll with the punches kind of day. Everything seemed to be going smoothly, and then it wasn't. Trivial delays set my afternoon off course, and then a power outage threatened to totally derail dinner.
I chose to be the hero of my own story, at least for this seemingly ordinary Monday in July, though it did come with a little stress, and deep breaths before I made the mental switch to grab at a silver lining. It turns out losing power was what I needed to feel reconnected to the kids.
I've been a bit lazy when it comes to family dinner these days. Not lazy in the sense of swinging by the drive-thru, but even a homemade meal needs some work to be more than simply food to satiate hunger. The ritual of sitting down to the table, instead of around the television is so important.
We talk all the time, probably more so than many families I know, but the quality of the conversation around the dinner table is often different. Not necessarily better—it just draws out a different part of our personalities. Perhaps it's the act of gathering, and breaking bread that dictates the way we talk.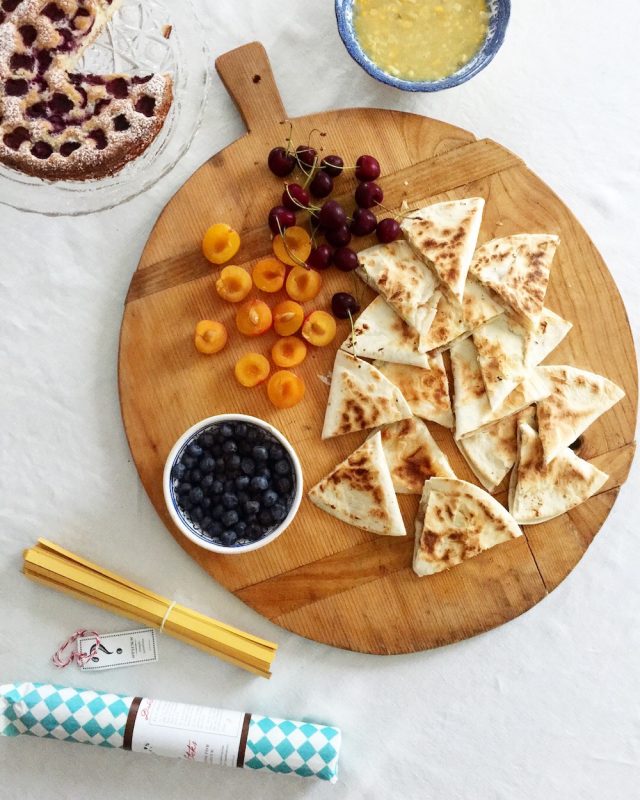 And so, I shifted gears, made this sweet corn chowder for dinner, and cobbled ingredients from the fridge to make bean & cheese quesadillas. We played a game called Talking Stick, that although it seems geared as a conversation starter between adults, it's a great way to gain insight into how your kids see the world. what's worth fighting for? Human being vs. human doing—discuss. Do you have beliefs outside of popular thought? Do you think about your grandparents?
Those were all questions we drew randomly from the stack. Pulling myself away from the table was no small feat; we were having such a good time. The generator tank ran out, prompting me to switch to a new one. Still, I ran back to the table for a few more minutes, not wanting to let the moment go.
Nine Years Ago: Chocolate Peanut Butter Cupcakes, Zucchini Parmesan Hummus
Eight Years Ago: Zucchini Coffee Cake, DIY Cold Brewed Coffee, Cherry Lime Biscuit Muffins
Seven Years Ago: Milk-Braised Zucchini, Homemade Nut-Free Nutella, 20-Minute Marinara Sauce
Six Years Ago: Rustic Lemon Cake
Five Years Ago: Blackberry Old Fashioned, Raspberry & Chocolate Mint S'mores
Four Years Ago: Cantaloupe & Lillet Sparkler, Sweet Corn Ice Cream, Mixed Berry Muffins
Three Years Ago: Basil Pistachio Pesto, Raspberry Sorbet, Sour Cherry Jam
Two Years Ago: Chickpea & Fennel Tartine, Cherry Cashew Milk, Sweet Cherry Coffee Cake
One Year Ago: Summer Peach Cake, Penne Primavera, Sweet Summer Corn Soup, Roasted Peach Scones, The BEST Chocolate Cake Ever, Chocolate Cherry Banana Bread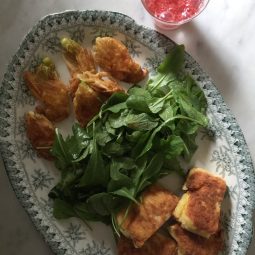 Mozzarella in Carozza
After seeing a photo of mozzarella in carozza on Instagram, I couldn't get it out of my mind. My mother never made them growing up but we always ordered them when we went out to eat, and for the record, you can never order enough to satiate an entire Italian-American family. So, what is it? Imagine a grilled mozzarella cheese sandwich coated in batter then lightly fried. Yeah, pretty much makes every other grilled cheese seem inferior. Soft, squishy bread is essential. My homemade challah was perfect for it. Some people dip it in breadcrumbs, but I prefer dipping the sandwiches in some beaten egg-milk, then lightly coating in flour. And don't forget to pinch the edges closed or you'll end up with a cheesy mess in the pan. This is more of a guide than a recipe, per se. There are no exact ingredients, so you have to trust your instincts when making this. It's one of those simple meals I love dearly.
Ingredients
Soft

squishy bread, crust removed (I save these to make breadcrumbs)

Fresh mozzarella

Lightly beaten egg with a splash of milk

Flour

Grapeseed or sunflower oil

for frying
Instructions
Assemble as many sandwiches as you like, filling slices of mozzrella between two pieces of bread. Squeeze all the sides shut so the cheese doesn't spill out while cooking.

Heat a shallow pan with a bit of oil.

Dip the sandwiches into the beaten egg mixture, shaking off any excess. The amount of eggs and milk you need depends on how many sandwiches you're making.

Press the sandwiches into the flour, gently shaking off any excess.

Fry until golden underneath. Flip and fry until golden on the other side. Serve hot.
SaveSave
SaveSave
SaveSave