asparagus & arugula panzanella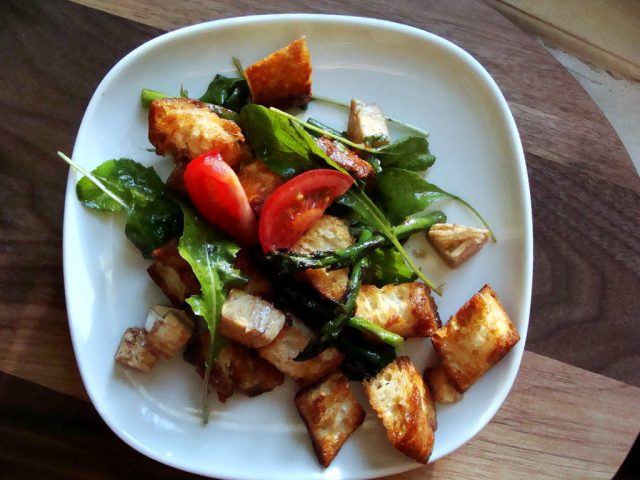 Asparagus is akin to childhood—its season is fleeting and by time you realize how good you had it, the moment has passed. I especially like asparagus because it's a sure sign the growing season is gearing up. After a winter of root vegetables, the first glimmers of green stalks are like seeing old friends again.
Since spying it at Maxwell's Farm Stand a few weeks ago, we've enjoyed creamy lemon asparagus risotto every week. Then last Thursday, I decided we needed to add a new recipe to the mix.
Somewhere between waking up and dinner time, I began thinking about panzanella. It might have been the leftover mozzarella cheese in the fridge. Or, maybe it was the stale bread on the counter. I don't really know how it happened, but along the way I got the idea to make an Italian bread salad, usually reserved for tomato season months down the road.
Come 5:00pm I was toasting cubes of bread, roasting asparagus and plucked a handful of rocket arugula from the backyard. I added a bit of honey to the salad dressing—my secret ingredient, well, not anymore, I guess. This sealed the deal for the kids, and Isabella gobbled up the sweet vinaigrette-soaked bits of bread while the baby ate her weight in asparagus.
I took some leftover roasted asparagus to our friend's house the next night, for a dinner playdate, along with all the ingredients to make her this salad. She went crazy over it. She's also one of the loveliest ladies I know, inside and out, and seeing the smile on her face was the perfect way to wind down from a long week of work and school. This recipe is a keeper, just like our friendship.
asparagus & arugula panzanella
serves 4 to 6
3 cups cubed baguette—day old is fine
1 bunch pencil-asparagus, rough ends trimmed
1 small tomato, cut into 8 wedges
3 ounces fresh mozzarella, diced
handful rocket arugula or other spicy green, rinsed & patted dry
4 tablespoons extra-virgin olive oil, plus more for roasting asparagus
2 tablespoon balsamic vinegar
a few drops of honey, to taste
salt and freshly ground pepper, to taste
Preheat oven to 400ºF. Spread bread cubes single layer on a rimmed baking sheet. Toast toast until very golden, about 8 to 10 minutes.
Meanwhile, add asparagus to a cast iron skillet, drizzle with some olive oil. Season with salt and peppers. When croutons are done, remove and set aside to cool. Add the skillet to the oven and roast until asparagus is just tender, about 5 to 7 minutes—make sure not to overcook. Remove from oven, let cool for a minute or two, then cut into 2-inch pieces.
In a deep bowl, whisk together the olive oil and balsamic vinegar. Add the honey and season with salt and pepper. Add the toasted bread cubes, asparagus, tomato, mozzarella and arugula to the bowl. Toss to coat well. Pile onto a large platter or divide among 4 to 6 small plates and serve immediately.
SaveSave