Asparagus & Pecorino Bruschetta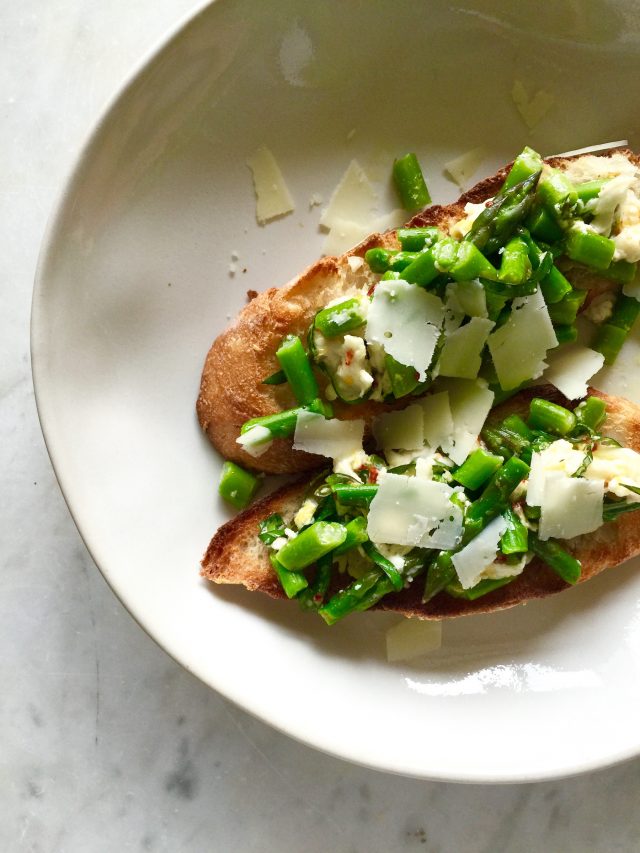 I'm the only asparagus lover in my family, and by lover, I mean that lightly. I love when it appears at the farmers' market because it's a reminder of what's yet to come—tomatoes, corn, berries, melon, and such. Asparagus, like strawberries, is one of the first spring crops to wake my palate from its winter slumber. Now, when I say love, my fondness with asparagus is more akin to a summer romance. Um, I guess I mean spring in this case. The season lasts just long enough for me to keep me from getting bored with it. Creating new recipes like this Asparagus & Pecorino Bruschetta are another way to keep my affair with it fresh.
One of my favorite ways to use it is in this Asparagus, Tomato & Fresh Mozzarella Panzanella. One of Mikey's favorites was pasta with a creamy lemon asparagus sauce. You basically blanch the asparagus, puree it with some of the pasta cooking water, lemon zest, and Pecorino cheese. It's a really basic and simple recipe, but since the kids aren't fans, I haven't made it in years. For that reason, you'll likely see me share asparagus recipes here that feed only 1 or 2 people, max, depending on how hungry I'm feeling.
That's how this Asparagus & Pecorino Bruschetta came to be recently. I wanted a new (to me) way to appreciate asparagus. One that was quick and easy, and would yield just enough to feed little ol' me.
Before we get into making the bruschetta, let's talk about buying and storing asparagus. It seems like a no-brainer, right? You buy a bunch, take it home, and store it in the fridge. Nope. I'm partial to thin-stalked asparagus, more commonly called pencil stem asparagus. I like the tender, more mellow flavor, as opposed to the tougher, sometimes fibrous stems of thicker ones. Unless we're talking about a shaved asparagus salad—you need thick stalks to shave it into ribbons.
Regardless of size, though, the best way to store your asparagus is how you see it at the farmers' market—standing in a bowl or pot of water. I use a mason jar. I always prefer to buy loose stalks. This way I can buy just what I need, and choose those on the thinner side. It's not always easy to find it sold loose, even at the farmers' market, and I've never seen it sold this way at supermarkets.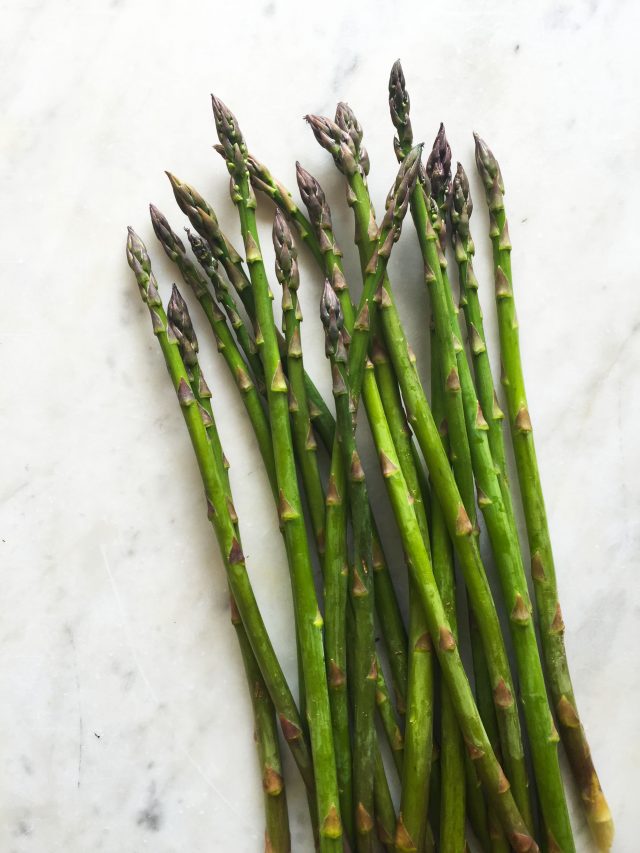 Now that we've gotten that out of the way, let's talk about these Asparagus & Pecorino Bruschetta. The stalks had been sitting in a mason jar on my counter for a couple of days. They were the first I'd bought to kick off the season. Come noon on this particular day my tummy started rumbling signaling lunchtime. I needed something fast since there never seem to be enough hours in the work day, but I also wanted to something fresh (i.e. new). I wrinkled my nose, and furrowed my brows, giving a thought to what was already in the pantry.
One perk for cooking for just myself is that I can season dishes as I like—no tempering flavors for finicky palates. That's where the chili flakes come in—they add a bit of heat, and pair so nicely with the lemon zest and Pecorino. If you really don't want to be bothered with quickly steaming the asparagus, then use the thinnest stalks possible. A few minutes sitting in the dressing, and the acid in the lemon juice will be enough to "cook" them. I devoured both bruschetta for my lunch that day, with no other accompaniments. It was the perfect serving for me. You can serve one each as a pre-dinner appetizer, or bulk up, and double the recipe to serve them with soup, salad, or even a grilled steak for a lovely summer dinner.
Some Favorite Summer Salads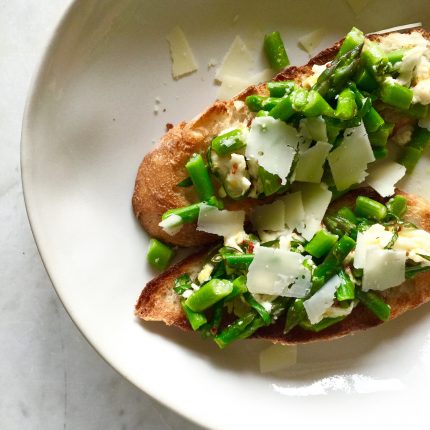 Asparagus & Pecorino Bruschetta
When cooking the asparagus, you want them to have some bite. Thin stalks should cook quickly, in about 1 minute. I add them to a ceramic bowl with a few drops of water, and steam in the microwave for 45 to 60 seconds. You can also drop them into a small pot of boiling water, and cook them for 1 minute.
Ingredients
4

steamed asparagus stalks

not too thick or thin

Fresh mozzarella

1 to 2 ounces

Freshly grated zest from ½ lemon

Squeeze of fresh lemon juice

Chili pepper flakes

to taste

Extra virgin olive oil

Sea salt

to taste

2

slices

baguette

cut on a diagonal, toasted

Shaved Pecorino Romano cheese
Instructions
Trim any tough bottoms from the ends of the asparagus. Cut the stalks into bite-sized pieces. Add them to a small bowl, along with the mozzarella, lemon zest, lemon juice, and chili flakes. Pour in a bit of olive oil, just enough to coat the ingredients. Season with salt, and give it all a good stir.

Spoon half of the asparagus mixture onto each of the toasted baguette slices. Using a vegetable peeler, shave a few pieces of Pecorino cheese on top. Serve within in 10 minutes.