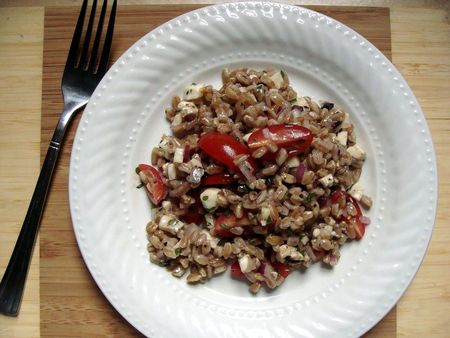 update 6.25.10—this recipe is up for best recipe using mozzarella over at Food52, so click here to vote for it if you love it as much as I do!
School is down to the wire with only five days left. That means Isabella only has 31 hours left as a first grader. How is that even possible? The first day of pre-K seems like it was just yesterday.
This week is about new beginnings for me too. At the end of the month, the amazing community of women I've come to know through my writing for NYC Moms Blog will go their separate ways. In fact, all the SV Moms sites will feature their last original posts June 30th.
And then, that world will go silent. We were scattered throughout the country  writing about life in New York City, DC, the Deep South, Los Angeles, Chicago, New Jersey, Ohio, Orange County, Philadelphia, Rocky Mountains and Silicon Valley, where it all started, and even stretched past the border into Canada. Through it all, though, we shared a special bond. One I can't quite put into words at the moment, but when I think of these women, my heart fills with warmth and joy.
We are not just mommy bloggers. We are thoughtful, creative and caring human beings, and with that comes many imperfections which we shared daily in hopes of discovering a little more about ourselves and hopefully helping and inspiring others along the way.
One such woman is Rebecca. Whenever I make gnocchi, I think of her. Her post about visiting Pitigliano brought the cookbook the recipe came from to life. Thankfully, even though NYC Moms Blog will soon close its virtual doors, I can still connect with Rebecca and her musings on life, motherhood and the constant juggle we all are trying to balance. You should too, you won't be disappointed, I promise. And while you're catching up on Rebecca's older posts, you can simmer and cool the farro for this easy vegetarian summer grain salad.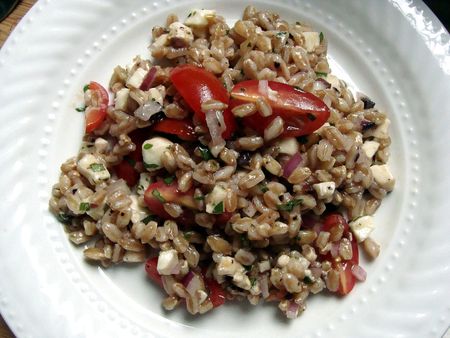 This post is part of a week-long series to help promote the Thank You Mom Reunions contest. The Motherhood invited 10 bloggers, myself included, to share our own personal thank you's to mom bloggers who have touched our lives.

summer farro salad
serves 8 to 10
The farro needs to cool completely before you can toss it with bits of mozzarella cheese, chopped onions, olives and tomatoes, so plan accordingly.
2 cups uncooked farro
1 medium red onion, cut in half
1 clove garlic
handful of fresh parsley plus 1 tablespoon finely chopped
1/2 teaspoon salt, plus more if needed
1 cup finely diced (about 1/4 "cubes) fresh mozzarella cheese
2 teaspoons minced pitted kalamata olives
1 pint grape tomatoes, cut into quarters
1 tablespoon finely chopped fresh basil
Freshly ground pepper, to taste
For the dressing
scant 1/4 cup extra virgin olive oil
1 teaspoon balsamic vinegar
1 tablespoon red wine vinegar
2 teaspoon mild honey
Add the farro, one onion half, garlic, handful of parsely and salt along with 2 3/4 cups water to a 2 quart pot. Bring to a boil, then cover, reduce to a simmer, and cook for 10 minutes. Turn off burner and let sit, covered, for 5 more minutes. Discard the onion, garlic and large pieces of parsley. Spread out on a rimmed sheet pan and let cool completely (do not skip this step or the mozzarella will melt into the finished dish).
Whisk together the olive oil, vinegars and honey to prepare the dressing. Chop the remaining onion half and add to a deep bowl with the  cooled farro, mozzarella, kalamata olives, tomatoes, remaining tablespoon of parsley and basil to a deep bowl. Pour the dressing over the ingredients and stir well to combine, using a long wooden spoon or rubber spatula. Season with salt and pepper. The salad is ready to serve, but can also be made and stored in the fridge, covered, one day ahead.