Best BBQ Ribs + 19 Recipes for 4th of July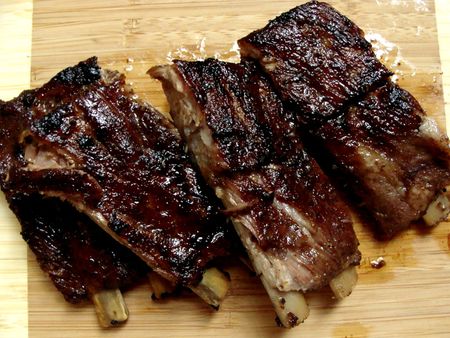 In just a few short hours, we'll be loading into the car for a trip to Montreal. I can't tell you how excited I am for this. Going to Montreal is a breeze from my house upstate—it's only 4 1/2 hours away. I love everything about this city, and I've yet to truly explore it. I'm a creature of habit, but do manage to discover something new each time.
The last few years I've been going to Petite Italie. I love this neighborhood so much. It reminds me of what Brooklyn used to be before it became an international icon. The change happening in Petite Italie is evident, with newer, trendy restaurants opening, but the area still has a rugged edge to it that I like.
We'll be back driving back home on Sunday, but our travels aren't done then. An overnight stay at our house, and then back to Maryland on Monday for a few days for work-related business. This will be our lives for the first three weeks of July—half the week in upstate NY, and the other half in Bethesda, MD. I'm exhausted just thinking about it, but it's also of my own choosing.
Since we'll be in the car, driving 317 miles to Maryland on Monday, that means no BBQs or picnics for us this 4th of July. I've been putting my grill to good use since getting back upstate, so don't worry about me. I figure many of you are planning get togethers, either hosting or being hosted, so I pulled together some recipes from the archives that would be perfect for such an occasion. The ribs shown above are award winning, so they are a sure bet. Best part is they don't require a grill (although you can finish them on there if you like). This is an oven-based method that uses the low and slow tenets of BBQ.
Okay, it's time for me to skeedaddle, and go finish throwing some things together for our trip. I hope everyone has a wonderful, long holiday weekend. See you next week! xo-Jennie
Salads
Strawberry, Tomato & Basil Salad
Snacks & Dips
Main Courses
Ginger Soy Marinated Flank Steak
Pies, Crisps & Crumbles
Some more rib inspired recipes from my friends at Food Network's Summer Soiree:
Devour: Add Asian Flair to Grilled Ribs with These 4 Recipes
The Lemon Bowl: 20 Healthy Marinades for Grilling Season
Homemade Delish: BBQ Jalapeno Poppers
Napa Farmhouse 1885: BBQ Beef on Toast
TasteBook: Skewered Grilled Prawns with Spicy Peach Glaze
Domesticate Me: 37 Foolproof Recipes for Your Fourth of July BBQ
Creative Culinary: Apple Cider and Brown Sugar Pulled Pork Barbecue
Healthy Eats: 6 Lighter Alternatives to Classic Slow-Cooked Barbecue
Taste with the Eyes: BBQ Shrimp and Grits with Lobster Butter
The Mom 100: Farro Arugula Salad with Orange Herb Vinaigrette
In Jennie's Kitchen: Best BBQ Ribs + 19 Recipes for 4th of July
FN Dish: Food Network's Top Recipes for Barbecue Favorites: Ribs, Pulled Pork and More