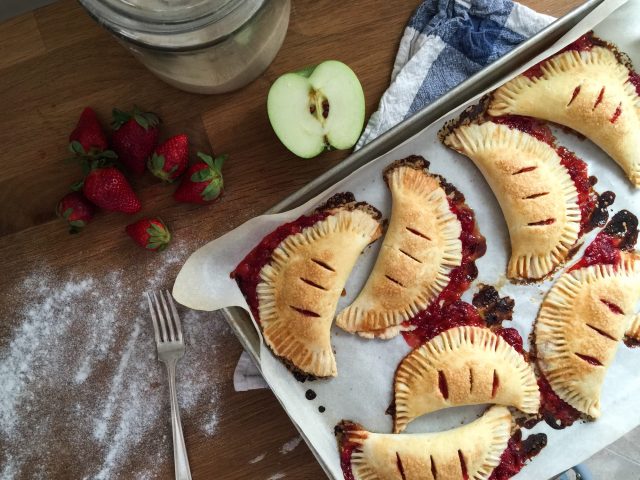 There's so much to catch up on, but first we need to talk about pie. One of the things I love about eating seasonally is the excitement that comes with the arrival of strawberries. Sure, I've been known to sneak them out of season, but I always regret it. Come May, one whiff of a freshly picked strawberry is enough to bring me to my knees.
I've had this jet lagged feeling since returning from Florida on Saturday evening which makes no sense. I mean, I didn't even change time zones. Still, I didn't let that stop me from hitting the farmers' market on Sunday morning. I'd seen strawberries strewn across Instagram from the Dupont Circle market the week before. There was no way I was going to miss one more week of what is always a shorter season than I wish.
If you bought last spring's issue of Simple Scratch Cooking, then these pies undoubtedly look familiar. They graced the cover (and my belly!). I showed up at Woodstock Day School with a tray of them last year, and let's just say, I was quite the popular mom that day. My original plan for this week's haul was strawberry pie. Much as I love hand pies, there's something borderline romantic about a whole fruit pie, where the filling is thickened just so that it quivers in place, threatening to ooze out, but maintaining it's composure when cut. I like to think of this kind of pie as a more mature love, restrained from years of experience.
Well, my plans for a whole pie were thwarted by my over zealousness. My friend was visiting to help get started with the move next month. Rosemary is amazing when it comes to organizing a move, and honestly, if I never move again after this, it'll be too soon. She's helped me get through the last few, and with me being gone last week for the girls' birthday trip, it was perfect timing to have her come and start the packing process. I left a small pile of things on the stove, labeled "do not pack", and told her she could wrap up the rest. She asked a few times, are you sure there's nothing else you need? Of course I said "nope".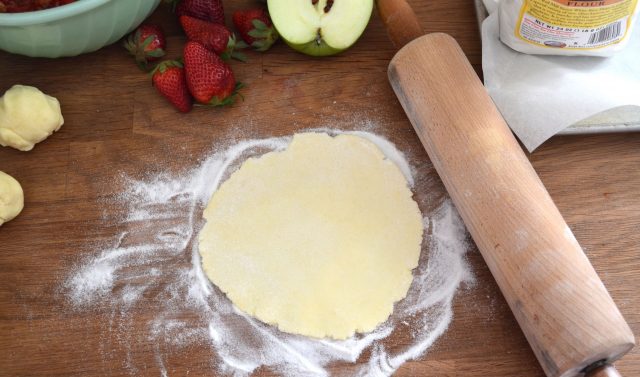 And then I came home to make pie, and guess what I forgot to leave out? Yep, the pie plate. Thankfully, I remembered hand pies were an easy work around (and a rather neat one, too). I love the way hand pies are self contained, and portable. They're a delightful breakfast on the go, as I run, coffee in hand to the garage to drive the kids to school. Be sure to read the recipe headnotes for a handy tip on keeping your freezer stocked with hand pies long after strawberry season is over. As for me, I'm going to tackle the mound of work that piled up from last week. Hope everyone's week is off to a peaceful (and delicious) start!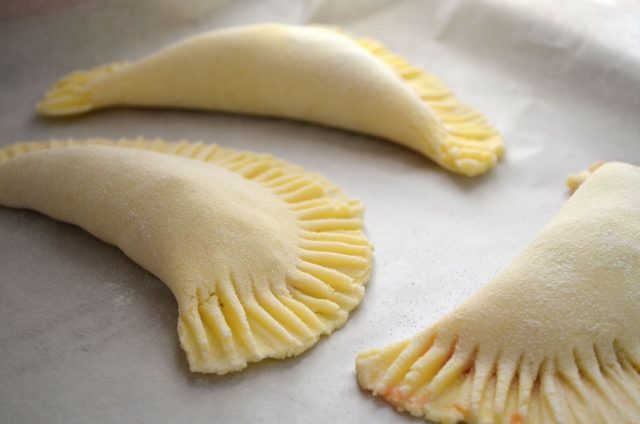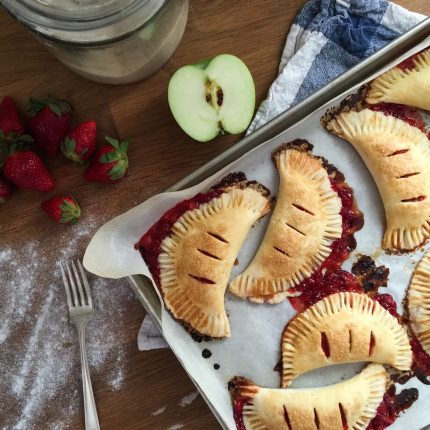 Strawberry Hand Pies
Strawberry pie is a summer favorite. This hand pie version is portable, and perfect for picnics or camp lunches. A note about making them ahead. They'll last up to 3 days, though I think they're best eaten within in 24 hours. If you want to prep a bunch in advance, prepare the pies completely, but do not bake them. Instead, you can set them on a parchment-lined tray in the freezer until they're set. Store the frozen, unbaked pies in a container for up 2 months. When ready to bake, take them straight from the freezer, and bake as directed.
Ingredients
For the filling:

1

pint

227 grams strawberries, stems removed & berries chopped

1/2

Granny Smith apple

grated

freshly grated zest of 1 lemon

freshly squeezed juice of 1/2 lemon

squeeze the half into an ice cube tray

1/2

cup

100 grams granulated natural cane sugar

2

tablespoons

22 grams all-purpose, plus more for rolling out dough

Pinch

of salt

For piecrust:

1 3/4

cups

260 grams all-purpose

1

teaspoon

6 grams granulated natural cane sugar

1/2

teaspoon

3 grams fine sea salt

1

sticks

8 tablespoons / 112 grams cold butter, cut into 24 pieces

1 1/2

teaspoons

7.5 ml white vinegar

1

large egg

2

tablespoons

30 m ice cold water

1

egg white

beaten with 1 teaspoon (5 ml) cold water

Coarse granulated natural cane sugar

for sprinkling (optional)
Instructions
Preheat the oven the to 425ºF (220ºC) with the rack adjusted to the upper center position. Line a rimmed sheet pan with a sheet of parchment paper long enough to extend over the sides (this helps prevent the juices from flowing onto the pan, making for quick and easy clean up).

Add the filling ingredients to a medium bowl. Stir until well mixed; set aside.

Prepare the pie crust: add the flour, sugar, and salt to the bowl of a food processor. Pulse to blend. Add the butter. Pulse a few times until it forms a sandy-looking mixture with some pebble-sized pieces.

Add the vinegar, egg, and 2 tablespoons (30 ml) very cold water. Pulse just until it forms a solid ball (may take up to 1 minute).

Divide the dough into 8 equal sized pieces. Gently roll them into balls. Place on a lightly floured surface. Flatten the balls slightly into a circle using the palm of your hand. Dust the tops with a bit of flour, then using a rolling pin, shape into 6-inch (15-cm) circles. Don't fret if they're not perfectly round—making pie should be fun, not stressful.

Spoon an even amount of filling onto one half of each pastry circle, making sure to leave a 1/2-inch (1-cm) border.

Fold the unfilled half of dough over the filling. Press the edges down to seal the pies closed into half moon shapes. Transfer to the prepared baking baking sheet. Use the tips of a fork to crimp the edges closed. Brush the tops with a bit of the egg wash. Sprinkle tops with sugar, if using. Use a fork to prick a few holes in the top so the pies don't explode while baking (the tip of knife works fine, too).

Bake for 20 minutes, then reduce oven temperature to 350ºF (180ºC). Bake for about 20 minutes more, until the pies are golden, and juices begin to bubble slightly. Let pies cool at least 15 minutes before serving. Once cooled completely, pies may be stored in an airtight container for up to 3 days.