Small Batch Strawberry Rhubarb Hand Pies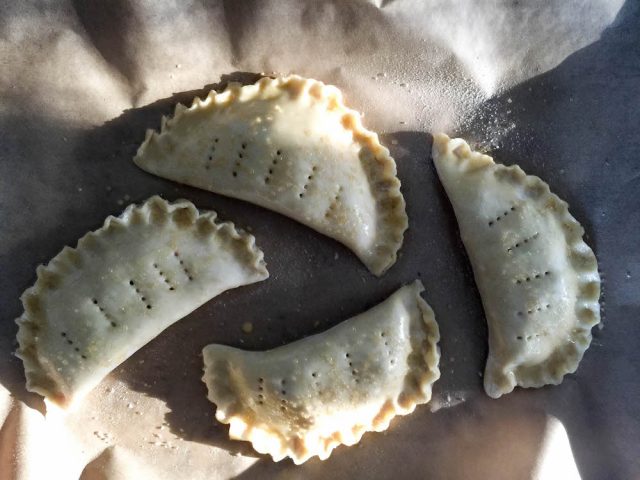 It's wet, grey, and downright dreary here this morning. April is one of those months with which I have a love-hate relationship. I long for the promise it brings as trees begin to bloom, and early spring crops start to pop up here and there. But the gloom of April showers totally takes its toll on my mind, and the temperature fluctuations—good heavens, folks. One day I'm wearing a tank top, and the next I'm huddled over my laptop, wrapped in a wool sweater. So, it's no surprise I broke with my seasonal eating habits, and gave in to the lure of sweet-smelling, scarlet strawberries at the food co-op recently to make these Small Batch Strawberry Rhubarb Hand Pies.
Now, if you know me well enough, then you realize this is quite the surprise to let strawberries and rhubarb co-habitate in a pie. The rest of the world might deem this acceptable, even normal, but I'm a straight up strawberry pie sort of gal. Still, I get lots of people who ask me for strawberry rhubarb pie recipes. I'll admit, I don't usually take requests, otherwise my recipe development queue would unfurl from my front doorstep to the Canadian border.
Inspiration comes from many places, though, and sometimes the people who touch you the most, are the ones you see the least (sometimes not at all). That was the case when I created these Grain-Free Chocolate Chip Cookies for Des. I've known her, in the online sense, for many years. I've had the pleasure of hugging her back when Homemade with Love was published, and she came to my book signing in Brooklyn.
And somehow, Des seems to see what's going on in my head when not even my closest friends realize something is up with me. We're just connected in that lovely, wonderful way, even though I'm an awful penpal. The real, old school letter she wrote me last year sits on my desk as a punishing reminder that I never wrote her back…I swear I'm still intending to do it, but I think a batch of homemade cookies are going to be needed, too.
What does any of this have to with these Small Batch Strawberry Rhubarb Hand Pies? I thought you'd never, and thanks if you've clung to every word while I meander on here, as usual. When I shared this photo of a Straight-Up Strawberry Pie I baked last weekend, Maura asked if I had a recipe for strawberry rhubarb. Funny enough, her comment came in at the same moment I replied to someone else, saying strawberry and rhubarb shall never come together in my kitchen.
Excuse me while I go pry the size seven shoe from my mouth…
Okay, I'm back. That was easier than I thought.
Now, about these hand pies. I decided to go with a small batch approach for a few reasons. Did I mention I don't generally like strawberry and rhubarb together? Also, I'm trying to pace myself with this Year of Pie project. On days when I know there's no one to share, or flat out give the pies away to, I need to shift my strategy. Also, hand pies are easy to put in your purse. I'm just saying'…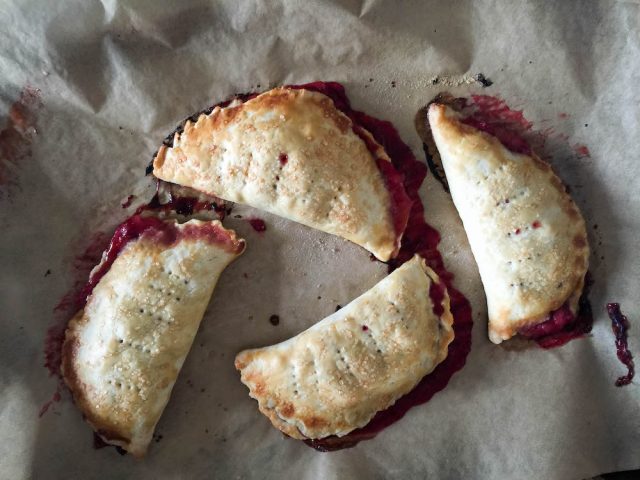 While I prepped my ingredients, it made me thoroughly happy to be doing this for someone who's brought me much cheer through our chats on Instagram. Maura always has kind words and encouragement. I love cooking, baking, and sharing recipes because I want to bring joy and happiness into kitchens beyond my own. Who am I to deny a classic pairing? Rights for Rhubarb is my new campaign slogan.
Both the kids loved this strawberry rhubarb variation from my usual pie proclivities, and that speaks volumes—they are a very tough crowd to please. As for me, I appreciated them, if it's possible to appreciate a pie. Okay, fine, I liked them, Sam I Am, but Straight-Up Strawberry Pie is still my all-time favorite (recipe coming soon).
One Year Ago: Crispy Potato Skin Straws
Two Years Ago: Shredded Cabbage, Apple & Toasted Sesame Seed Salad
Three Years Ago: Eggs in Purgatory
Four Years Ago: Orange Poppy Olive Oil Muffins
Five Years Ago: Roasted Rhubarb Jam
Six Years Ago: Traditional Cream Scones
Seven Years Ago: Gnocchi: a Love Story
Eight Years Ago: Zucchini Muffins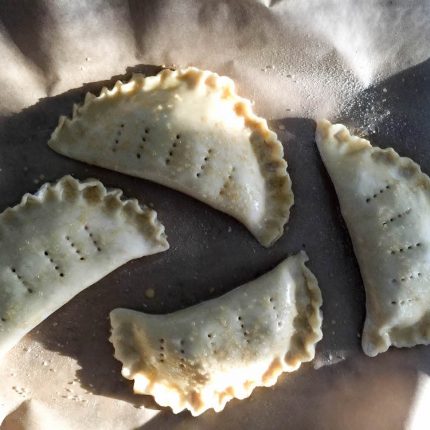 Strawberry Rhubarb Hand Pies
Ingredients
1/3

cup

coarsely chopped rhubarb

about 1/2 stalk

10

strawberries

coarsely chopped

3

tablespoons

sugar

Freshly squeezed juice of 1 lemon wedge

1

tablespoon

flour

Pinch

of salt

1

single pie crust

use 1/2 this recipe & freeze rest for a later use

1

egg beaten with a splash of milk

Coarse sugar

optional (like Sugar in the Raw)

Preheat the oven to 425ºF

220ºC. Line a rimmed baking sheet with a piece of parchment long enough to hang over the sides of the pan.

Add the rhubarb

strawberries, sugar, lemon juice, flour, and salt in a medium bowl. Stir until well combined. Set aside, and the fruits release some of their juices while you roll out the pie crust.

Divide the crust into 4 equal sized balls. Shape them into a circle. Roll one ball out into a circle

a little less than 1/4-inch thick.

Spoon 1/4 of the fruit filling onto one half of the circle

leaving a 1/2-inch border. Fold the unfilled side of the dough over the fruit, and pinch the edges closed to seal tightly. You should now have a half moon shaped pie. For a decorative finish, crimp the edges with the back of a fork, or flute them. Repeat with the remaining dough and filling.

Use a spatula to transfer the pies to the prepared pan. Brush the tops with the egg wash

and sprinkle with a bit of coarse sugar, if desired. Use the tip of a fork to poke holes in the top, about 1-inch apart so the pies don't burst open while baking.

Bake for 15 minutes

then reduce to temperature to 350ºF, and bake for 15 minutes more, until golden. Juices will bubble from the pies, that's a sign they're done, too. Let cool at least 15 minutes before serving.