Luisa's Mandelhörnchen (Chocolate-Dipped Almond Crescents)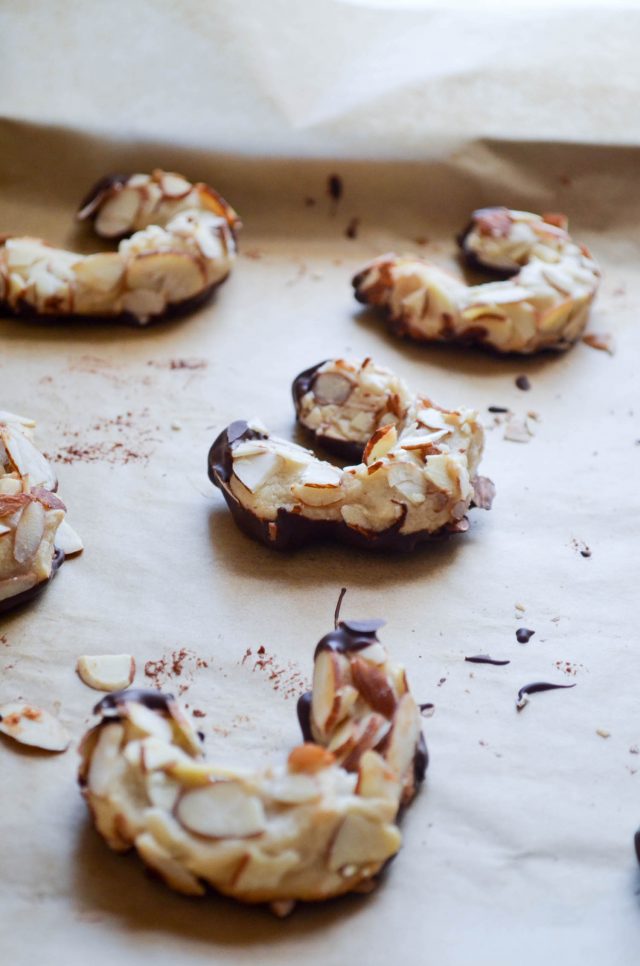 During November and December I was all hot and heavy with Classic German Baking, the way all romances first start. It's fireworks in the beginning, and then the romance needs nudging to keep it alive. So, I pulled it off the shelf again, remembering there were so many recipes that caught my eye, and I'd added to my mental "to bake" list. Funny enough, Luisa's Mandelhörnchen weren't one of them. For no particular reason, except that I was so smitten with all the Christmas cookies when I first got cozy with the book.
On cleaning out the fridge a few weeks ago, I discovered of the homemade almond paste I'd made in December. Yes, gulp. I opened the packaged, tore off a bit, and discovered it was still good. Yay for me, and must make note in that recipe about the extended shelf life.
I've got egg whites piling up in the fridge, and figured almond paste and egg whites go together like peas and carrots, with the obvious understanding you can make something much yummier to go with a cup of coffee (god did I just really write that?). I seem to be rather punchy with my writing here these days. My way of combatting the gloomy weather, perhaps?
These cookies look very fancy. Trust me, they are not. They're incredibly easy to make, take about 25 minutes, and according to Luisa, they're a typical German after-school snack. I took a few liberties with Luisa's recipe, but not enough to even call it an adaptation (it really irks me when people do that with my recipes). I wanted slightly smaller ones, so divided the dough into 12 pieces instead of 10. I used a hand mixer instead of stand mixer. But the tweaking ends there, so take note that if you make changes like this to a recipe, and call it adapted, I'm going to raise my eyebrows.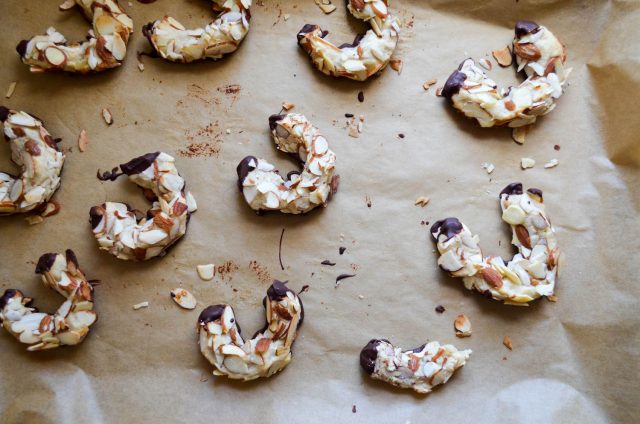 Now that we're clear on adapting recipes, which this is not, let's talk about the cookie itself. I absolutely love them. They're not overly sweet. In fact, I'd say they're barely sweet, which is why I can see them being a nice after-school treat. You get a boost of protein from the almonds and almond paste (too much of a stretch?), but there's that chocolate element that makes it feel a little more decadent than say, a granola bar.
I've still got a few lingering in a tin on my kitchen table, and I made them a week or so ago, so they have a nice shelf life, too, provided your house isn't too hot. They're a wonderful midday treat, and I might even confess to having had my first taste dipped into a cup of coffee one morning as an amuse bouche to breakfast.
One Year Ago: Crispy Potato Skin Straws
Two Years Ago: Shredded Cabbage, Apple & Toasted Sesame Seed Salad
Three Years Ago: Eggs in Purgatory
Four Years Ago: Orange Poppy Olive Oil Muffins
Five Years Ago: Roasted Rhubarb Jam
Six Years Ago: Traditional Cream Scones
Seven Years Ago: Gnocchi: a Love Story
Eight Years Ago: Zucchini Muffins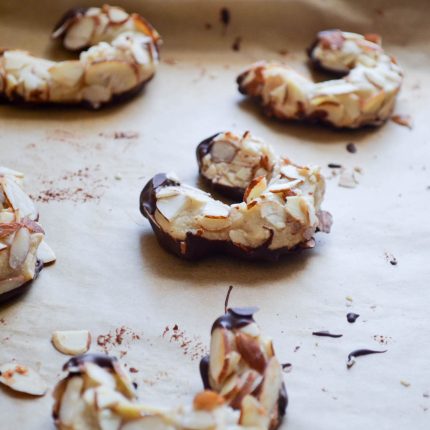 Luisa's Mandelhörnchen (Chocolate-Dipped Almond Crescents)
Ingredients
7

ounces

200 grams almond paste

¼

cup

50 grams granulated natural cane sugar

1

egg white

1

cup

85 grams sliced almonds

3 ½

ounces

100 grams bittersweet chocolate, melted (see notes below)
Instructions
Preheat the oven to 350ºF. Line a baking sheet with parchment paper.

Break the almond paste into small bits. Add them to a deep bowl, along with the sugar and egg white. Beat, using an electric mixer, until creamy and well mixed.

Spread the almonds into a shallow bowl.

Dip your fingers in a bit of water (keeping a bowl nearby is helpful), and divide the dough into 12 even pieces. Form each one into a 4-inch log. Roll them in the almonds, then shape into a half moon, and place on the prepared pad.

Bake 12 to 14 minutes, until they puff up a bit, and the almonds turn lightly golden.

Once cooled, dip the bottoms, and tips of the cookies (if desired), into the melted chocolate. Place them back on the baking sheet upside down (with the chocolate side facing up). Set aside in a cool, dry place until the chocolate is thoroughly hardened, anywhere from a few hours to overnight.

Double Boiler Method for melting chocolate

Fill a medium pot one-third of the way up with water. Set it over high heat, and cover with metal or glass bowl that fits securely on top of the pot. Bring the water to a boil. Once the water comes to a boil, add the chocolate, and reduce the heat to a simmer. Give the chocolate a stir with a spatula every now and again once it begins to melt. Remove from the heat, and let cool a few minutes before using.

Microwave Method for melting chocolate

Add the chocolate to a glass, microwave-safe bowl. Cook on high, in short bursts of 30 seconds, until the chocolate begins to melt. Give it a stir, and continue microwaving in short bursts until completely melted. Keep a careful eye, as it goes from melted to burnt quite quickly.