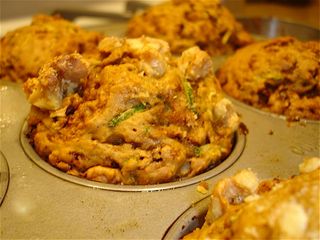 The Carroll Gardens' Greenmarket finally opened this weekend in Brooklyn. Sure it signals spring really is here, who'd know it from the freezing rain and arctic temperatures today? I'll leave you with this post and recipe I created for Cuisinart last year when squash of all types were abundant and the warm weather was a constant.
***
A GOOD START
by Jennifer Perillo
Zucchini is a plant that keeps on giving. It starts by yielding beautiful, orangey-yellow blossoms, which are perfect for eating stuffed, or chopped up and sautéed in a frittata. Soon after, the rewards continue with the vegetable itself. This past weekend I simply sliced it, dressed it with lemon juice, olive oil, salt and pepper, then grilled and served it as a side dish. My other favorite way to enjoy it is as zucchini bread. In the summer, though, I prefer to make muffins since they take less than half the time to bake.
The first thing you'll notice when researching zucchini bread recipes is that it's usually a sweet quick-bread, more dessert like in taste.  While I love this classic method, I wanted to let the flavor of this summer vegetable shine (and not feel guilty about eating it for breakfast).  It was easy to accomplish by scaling back the amount of sugar and adding more zucchini. Brown sugar also added a slightly deeper flavor than using regular white granulated sugar. The way you prepare the zucchini also makes a big difference.  The shredder blade on
the food processor attachment of your Cuisinart Stand Mixer
produces perfectly sized strands that look beautiful and taste delicious in the final product.
The best part about starting the day with one of these hearty, flavorful muffins is that zucchini is a great source of vitamin C, fiber and folate.  They're also portable, so pop one into your purse or briefcase for a healthy mid-afternoon snack. You're friends and family will think you're a magician because of how fast these delicious treats disappear.
Zucchini Muffins
Makes 12 muffins or 2 loaf breads
This recipe also bakes up great as a loaf bread. Just increase the cooking time to 50 minutes or until a toothpick inserted comes out clean. Use your Cuisinart Stand Mixer's food processor attachment with the shredder blade to prepare the zucchini.
1 ½ cup walnuts, coarsely chopped (optional)
3 cups shredded zucchini (about two medium squash)
4 tablespoons butter, melted
Preheat oven to 375ºF. Coat a 12-cup nonstick muffin pan with cooking spray; set aside.
Whisk the flour, baking powder, baking soda, salt, allspice, cinnamon, and sugar together in a large bowl. Add the zucchini, lemon zest and half of the walnuts (if using) and stir to combine.

In a separate small bowl, lightly beat the eggs, canola oil and melted butter. Pour over flour mixture and stir with a wooden spoon until mixed well with the dry ingredients (it will look more like a dough than a batter).
Spoon into prepared muffin tin and sprinkle tops with remaining walnuts. Bake 20 to 25 minutes or until a toothpick inserted comes out clean.
Originally appeared on the Cuisinart Stand Mixer blog July 23, 2008.