Apple Strawberry Cardamom Pie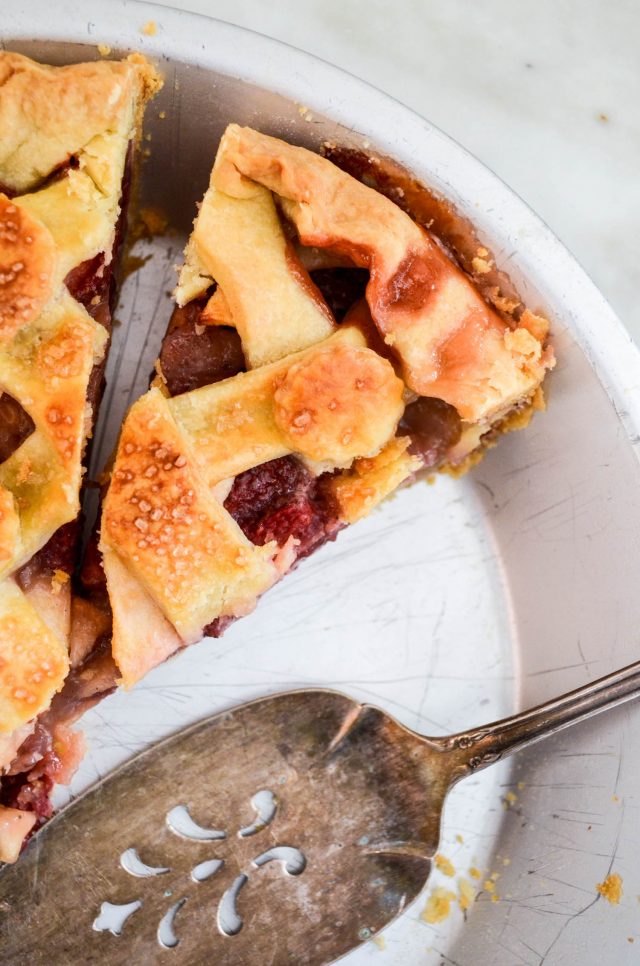 A few weeks ago I went rogue, and made a pie I was convinced the kids wouldn't like. I know, why would I set myself up for such defeat? Well, it began innocently enough. I didn't have enough apples for a pie, but there were some stray strawberries in the fridge. I decided mixing them together wasn't such a rebellious move. Except I didn't stop there.
I wanted an extra layer of flavor, and it wasn't going to be cinnamon. While I'll admit to growing somewhat fond of cinnamon with apples, a flavor profile I've been known to dislike for years, I didn't necessarily want apples, strawberries, and cinnamon together. A quick peek at my spice collection drew my eye to the cardamom.
I poked my nose into the cut up apples and strawberries. Took a deep whiff, then sniffed at the cardamom, closing my eyes, trying to imagine this trio together. The biggest surprise wasn't in how well the tastes all married together, it's that my kids both loved this Apple, Strawberry & Cardamom Pie. Isabella raved about it from the first bite, and when I make something she loves in particular, it really lights me up inside.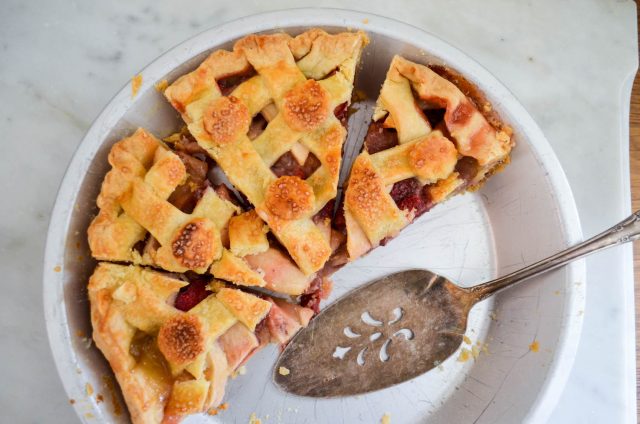 The cardamom is very subtle, a whisper really. It adds that question mark to your mind as you eat a slice of this pie, feeling like there's something more than just apples and strawberries, which is all I told my kids when I served it. My girls have incredibly sensitive palates, so I went with a generous pinch of cardamom, and no more. You might want to adjust the amount based on your own tastes. As for that pretty lattice crust, I haven't worked out the wording yet to describe it myself, so instead will send you over to Elise for a great description with photos on doing so.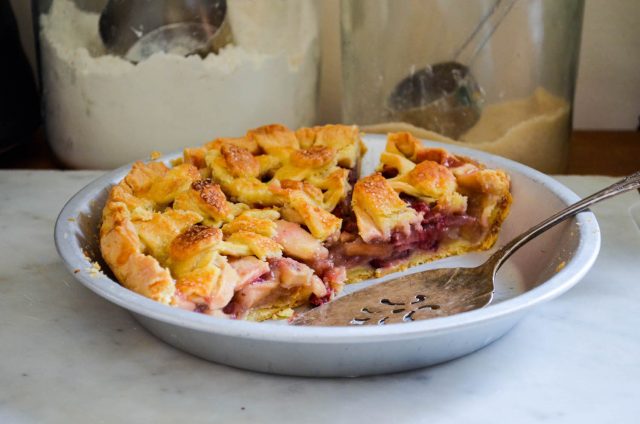 One Year Ago: Sparkling Skinny Margarita
Two Years Ago: Easy, Homemade Granola Bars
Three Years Ago: Eggs in Purgatory
Four Years Ago: All-Purpose Baking Mix
Five Years Ago: Roasted Rhubarb Jam
Six Years Ago: Traditional Cream Scones
Seven Years Ago: Lemon Poppy Olive Oil Muffins
Eight Years Ago: Easy Cheesy Crackers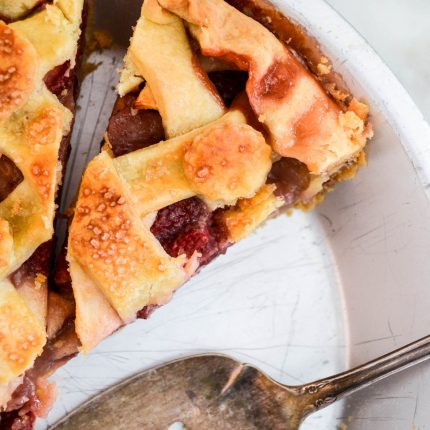 Apple Strawberry Cardamom Pie
A few things to know before you begin. Go with whatever apple you like, except for Red Delicious which I'd never use for pie, personally. I don't think you can go too wrong, and there's something about the readily available Granny smith that works well here. The cardamom seems such a small amount, and your hunch might be that the flavor is barely perceptible. It all depends on the sensitivity of your palate. My girls pick up flavors, be them ever so faint, so I went light-handed here. If you love cardamom, and want it to be more prominent, go for ¼ teaspoon, but I probably wouldn't suggest more than that. And a note about cutting the vents into the top. This should always be done after brushing with the egg wash, otherwise your vents will close up. I thought this was worth mentioning, so if you already know that, kudos, and if you didn't, then it's a good tip to remember.
Ingredients
3

apples

peeled & thinly sliced

1

pint

about 350 grams strawberries, sliced

3/4

cup

granulated natural cane sugar

3

tablespoons

30 grams flour

Freshly squeezed juice of 1 lemon

1/8

teaspoon

ground cardamom

Perfect Pie Crust

recipe here

1

egg

lightly beaten with a splash of milk
Instructions
Preheat the oven to 425º (220ºC).

Combine the apples, strawberries, sugar, flour, lemon juice, and cardamom in a deep bowl. Give it a stir to mix well, then set aside so the fruit can release its juices.

Meanwhile, lightly flour a counter or cutting board. Roll one of the pie crusts into a 10-inch (25-cm) circle. Fit it into a 9-inch (22-cm) pie plate, letting the crust hang over the sides—don't trim it just yet.

Roll out the second pie crust into a 9-inch (22-cm) circle.

Stir the filling, and spoon it into the pie plate. Cover with the remaining rolled out pie crust. Use a scissor to trim the edges, and flute them, or crimp closed with the tip of a fork. Brush the top with the egg wash. Use the tip of a sharp paring knife to slit vents in the top (or a small round cookie cutter works, too).

Bake for 15 minutes, then reduce oven temperature to 350º (180ºC). Bake for 35 to 40 minutes more, until the crust is golden, and juices begin to bubble from the pie.