lemon poppy olive oil muffins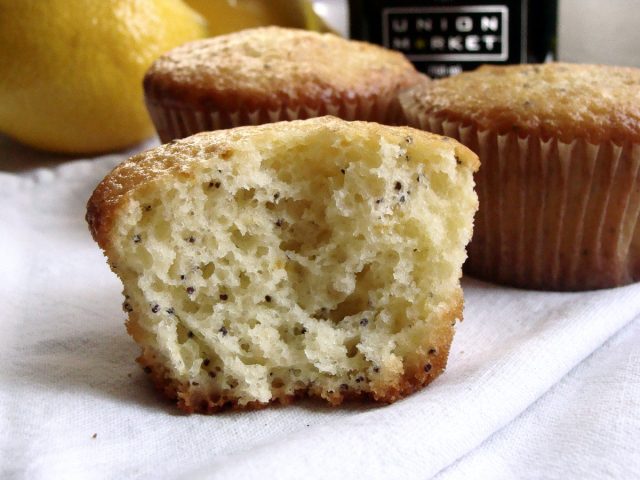 I love butter. And butter loves me. Well, my hips and thighs are really where it's true devotion lies. While baking with olive oil is nothing new, I just wasn't ready to let go of my grasp on my first true love. I've tasted some lovely cakes but none were enough to push me over the edge.
Until I met the olive oil muffin at Maialino. It was more like a brief encounter. Okay, really it was the equivalent to bumping into a friend, while you're with someone else and not getting an introduction. Five minutes later, said friend tells you they're really sorry for being so rude.
Last week, my girlfriend and I took our daughters to breakfast. Having been plied with more goodies than you can imagine (I will replicate those delicate ricotta pancakes), I decided the lone olive oil muffin sitting on the table would make a good snack for Isabella later in the day. She's normally a very generous kid, and sharing isn't an issue.
We parted ways with Julia and went to window shop and finally meet someone I've adored from afar. Right about then, the kid got hungry. And she was, as expected, very kind and sharing with that muffin. Oh, that is with everyone except dear old mom.
Yep, I carried her for 40 1/2 weeks. Labored for 36 hours and pushed for 3 1/2 more. Yet, I was left with nothing more than crumbs to lick from the liner. I didn't really do that, but sure Kim would've understood if I did.
Needless to say, I've had that darn muffin on my mind a lot since our chance encounter. I fell asleep a few nights ago thinking about it. The last thing I remembered thinking before I fell  was how good it would taste if I added lemon to the recipe I had yet to create. Mind you I never even tasted the silly thing.
I awoke the next morning, resolved to create a recipe, and decided to put the poppy seeds I'd recently bought to good use. Normally I test, and retest, and am always thinking about what could be done to improve upon a recipe. This one was a homerun on the first try. There was not one thing I would've changed. The crumb was tender. The top had a lovely, crunchy crust. And it was just the right size.
I decided to make another batch later that night and try it with regular olive oil—the first pass was with extra virgin olive oil. I was curious if there would be a difference in flavor. Aside from a faint fruity aroma from the extra virgin ones, the taste was very similar, so I'm going to let you decide which one to use.
Yes, you will be making this recipe very soon because it's so delicious and insanely easy. You don't even need an electric mixer. The batter can be prepared using a whisk and a wooden spoon. And it tastes yummy, so if raw eggs don't scare you, I highly recommend a swipe of the spoon with your finger.
A very sophisticated taste with little effort. I'm a big fan of this kind of recipe. And since I never stop testing and trying new things, don't be surprised if you see blueberry olive oil muffins here in the near future.
lemon poppy olive oil muffins
makes 18
2 cups (8.5 ounces) flour
1/2 cup (125ml) extra virgin olive oil or regular
1 (8 ounces) cup sugar
1 tablespoon (11 grams) baking powder
1 tablespoon (9 grams) poppy seeds
3 large eggs (200ml), at room temperature
Freshly squeezed juice of 1 lemon (50ml)
Freshly grated zest of 1 lemon
1/2 teaspoon (3 grams) coarse sea salt
1/2 cup (125ml) milk
Preheat oven to 350ºF. Line one 12-cup muffin tin and one 6-cup muffin tin with paper liners; set aside. Whisk flour, lemon zest, baking powder, salt and poppy seeds in a bowl; set aside.
In a separate bowl, whisk eggs, sugar, olive oil and lemon juice. Add flour mixture and pour in milk, stirring well with a wooden spoon to combine. Spoon batter into prepared muffin cups, filling 3/4 of the way. Bake for 23 to 25 minutes, until edges are golden and center springs back when gently touched (you can also use the good old skewer test for doneness).
p.s. I didn't forget about the gnocchi recipe I promised last post—it'll be up some time next week!