smoky cannellini bean & red kale soup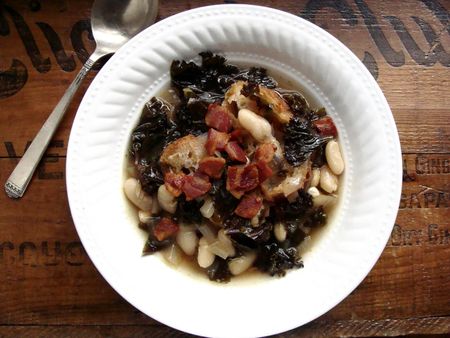 I must confess, I'm going a bit bonkers. Today will be the fourth day in a row I have not cooked. It is not out of choice. I'm away for work at the 44th Pillsbury Bake Off. Today, as contestants literally march into the cooking area— apparently there is a parade that kicks the whole thing off later this morning, I will have to suppress the urge to push someone aside and commander their stove.
I'm having a great time catching up with some wonderful friends and meeting some lovely new ones. I even brought Carol muffins and bacon parmesan olive oil scones (the recipe is still in development). And when we were served a fun tasting during a session with Karen Page and Andrew Dornenburg on flavor pairings, I tweeted I could've brought some homemade ricotta to go on the crostini they used to illustrate their point.
I'm not a crazy woman.
I'm not trying to be a show off.
Somewhere during the last year, I've fallen in love with cooking all over again. Crazy, as it sounds, something magical happened. Since I've started making ingredients from scratch, whether it's ricotta or homemade bouillon, my bond with being in the kitchen has grown deeper than I could've ever imagined.
I go to bed thinking about what I will make the next day.
I wake up excited for the day holds, whether it's trying a new recipe or making an old favorite.
Isabella has also come into her own this year, in terms of eating. She's shedding her fussy palate and gets excited about tasting new things. And Virginia, well, she's just happy to follow her sister to the ends of the earth, and is taking it all in too, one bite at a time.
So, while I've enjoyed the prosecco at every doorway, sleeping uninterrupted and not fighting for the bathroom in the morning, I am ready to go home.
I miss my girls.
I miss the Mr.
I miss cooking.
I miss the fragrant smell of garlic sauteeing in olive oil.
I miss creaming butter and sugar.
I miss crushing San Marzano tomatoes by hand.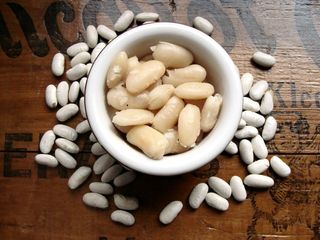 Tomorrow, if you hear a squeal around 1:00pm, that will be me as I start preparing popette d'uova from Mardi. Until then, can you do me a favor? Go buy the ingredients to make this comforting soup. I'd love a bowl of it right about now. It'll be a breeze if you've got some bouillon in the fridge. I prepared my cannellini beans from scratch, using some bouillon, bay leaves, salt and pepper. No soaking overnight. I cooked mine a few minutes too long because I was multi-tasking too much, but they were still tastier than anything you'd get from a can. And, you can totally use canned if that's more convenient—I'm not judging. I'm just urging. Whatever you do, this soup is a must-make, so go get cooking.
smoky cannellini beans & red kale soup
makes 8 servings
If you can't find red kale, the curly green variety will work fine. Feel free to skip the pancetta all-together for a vegetarian version of this soup, and just swap in 1 tablespoon of olive oil in place of the pan drippings to saute the onions and boullion.
4 ounces 1/4-inch thick sliced pancetta, diced
1 medium onion, diced
4 teaspoons vegetable boullion
2 cups, tightly packed sliced red kale, ribs removed
6 cups boiling water, plus more as needed
One 1-inch by 1/2-inch Parmesan cheese rind
Freshly ground pepper, to taste
1 1/2 cups cooked cannellini beans (white kidney beans)
Eight 1-inch thick slices of stale country bread or baguette
Heat a stock pot over medium flame. Add pancetta and saute until crisp. Using a slotted spoon, remove the pancetta and transfer to a small bowl; set aside.
Add the onion to the pancetta grease (that's what is folks, no nice way to say it), and saute over medium heat until golden and fragrant, 1 to 2 minutes. Add the bouillon and saute until fragrant. Stir in the kale, and saute until slightly wilted, about 2 minutes (you should have enough pancetta fat still, but if not, add a teaspoon of olive oil to the pot).
Slowly pour in the boiling water, stirring to mix all the ingredients very well. Add the Parmesan rind, season with pepper and bring to a boil. Reduce to a simmer and cook until the kale is very tender, about 20 minutes, adding more water as needed to thin out the soup. Add beans and cook until they are heated through, about 2 more minutes.
To serve, place one slice of stale country bread into center of a deep bowl. Ladle soup over bread and serve immediately. May be refrigerated for up to 3 days.