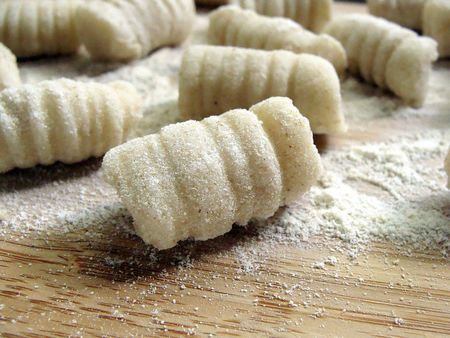 I've been promising this recipe for some time, and you've all been so patient. It just wasn't 100% until today.
Just about an hour ago, in fact.
I finally got these exactly how I wanted them. The taste had always been there, but getting those darn grooves had proved challenging. Since I don't like one-trick pony kitchen gadgets, buying a wooden
gnocchi board wasn't on my list of things to do.
Alas, I had resigned myself to the imperfect look but still wanted to get a good beauty shot of these babies. So back to the test kitchen I went. That's when my Eureka moment happened. I had shaped, rolled and cut the gnocchi. I was going to leave them as-is because that fork groove just wasn't yielding the look I wanted. Then, on a whim, I whipped out my pastry blender, placed a gnocchi in the center of my palm and very gently rolled the grooves over it. Voila! Aren't they lovely? See, in truth those grooves are what make gnocchi so endearing. They give them character and collect little bits of sauce.
There's also a lot of symbolism and meaning in these gnocchi. The Mr. gave me a very special cookbook last October for our wedding anniversary. From the moment I opened Classic Italian Jewish Cooking by Edda Servi Machlin, I was swept away. Her words convey a sensibility we seem to have lost about cooking. The ease and joy with which meals were meant to be prepared and shared. In connecting my Italian heritage with his Jewish roots, the Mr. gave me the loveliest gift ever.
I curled up with my new cookbook every night and read the stories about Ms. Machlin's family and the Tuscan village she grew up in. I marveled at the illustrations of the kosher oven built underground and the stories of the Jewish families cleaning it before Passover to prepare matzoh. My heart dropped when I found out that of the 30 families living there when Ms. Machlin grew up in the 1920's, there was only one woman left…and her daughter had married a Catholic man. Machlin's own family had escaped Italy during World War II and made their way to New York City.
Her story illustrates what I have always said—food isn't just about sustenance. Every meal is a connection to one our ancestors ate. Growing up Italian American, our cuisine may be different from back in the homeland, but it doesn't make it any less authentic. The authenticity comes from the generations with which it has been handed down to us. If we forget how to cook, we are losing an important piece of our past.
I also think of Rebecca every time I make these gnocchi. One tweet led to another, and it turns out she had visited the very same town I'd been reading about in Ms. Machlin's cookbook. Her post and pictures about her visit to Pitigliano brought the stories in the book to life. We live in the same city, but with me in Brooklyn and Rebecca in Manhattan, we may as well be worlds apart. Without twitter, we would have never "met". Social media knows no boundaries and connects worlds, ideas and memories.
Now, there's nothing that should keep you and this gnocchi from becoming fast friends. And I'm not kidding when I say fast. I start off by microwaving my potatoes. Yes, my dear food friends. I own a microwave and I'm not ashamed to admit it. It is extremely handy for steaming veggies, melting chocolate and making "baked" potatoes which is the key ingredient for making gnocchi.
When I first came across this recipe, I re-read it a few times, certain there was a typo. It did not call for any eggs. I was convinced it was an error but went ahead with it. Not only are they light and airy—they also have the most intense potato flavor I've ever experienced in a gnocchi. That is likely because they are simply made from mostly potatoes with a touch of flour.
Machlin's original recipe was simply dressed with marinara sauce and a generous amount of freshly grated Parmesan cheese. I made a few changes as you'll see in the recipe below. Then I decided to really make it my own. I sauteed them in a brown butter sauce with some torn arugula from the Greenmarket and freshly grated lemon zest. Yes, it was as good as it looks.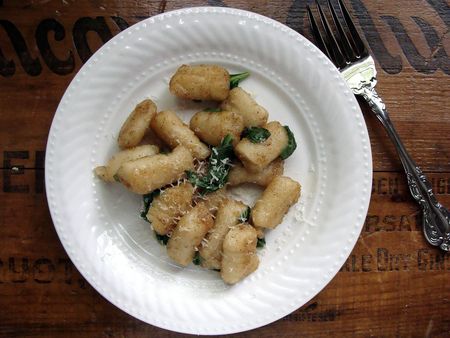 The nice thing about this preparation is you don't have to boil the gnocchi, making it an even faster meal to make. I winged the recipe, as you'll notice by the "generous handful of arugula leaves" listed, but man was it good. The peppery punch balanced with a bright lemon flavor for an elegant, yet budget conscience meal.
Another bonus is the uncooked gnocchi freeze very well. Just spread them out on a lightly floured tray and freeze until firm. Transfer them to a
tightly sealed plastic bag and store in the freezer until ready to use—no need to thaw, just add them to a pot of salted boiling water.
Fate, or perhaps destiny, also played a part in making these gnocchi. When I renovated my kitchen two years ago, I almost tossed my potato ricer. I bought it on a whim, and truth be told I barely ever used it. Some people swear by it for light and fluffy mashed potatoes—I much prefer my hand masher. Since I started making this recipe, it has gotten more use in one month that it did in the last 10 years. To think I almost got rid of it. Someone out there must have known it was just waiting for the right recipe.

Potato Gnocchi Alla Marinara
Serves 4
adapted from Classic Italian Jewish Cooking by Edda Servi Machlin
Ms. Machlin's original recipe called for simply tossing the gnocchi with butter and Parmesan and serving topped with marinara sauce. I decided to add the cheese as a topping and bake it so it would get all golden and bubbly.

1 1/2 pounds (about 3 to 4) baking potatoes, scrubbed clean
3/4 cup flour, plus more for kneading as necessary
Salt, to taste
1 tablespoon butter, cut into pieces
1/2 cup freshly grated Parmesan cheese
1 cup marinara sauce
Preheat your oven to 400ºF. Pierce potatoes with a fork a few times and place them on center rack of the oven. You can also use a rimmed pan if you prefer, and bake until very tender, about 50 to 60 minutes. Alternately, place pierced potatoes on a microwave-safe dish and cook on HIGH until very tender, about 10 to 12 minutes in my 1000 watt microwave. Remove from oven or microwave and let sit until cool enough to handle, about 5 minutes.
Using a paring knife or your fingers, peel skin off potatoes—it should pretty much fall off at this point; discard skins.Break cooked potatoes into cubes and place in a potato ricer. Press through into a deep bowl. Repeat with remaining potatoes.
Add flour and season with salt. Using your hands, gently knead mixture in the bowl to form a soft dough. Turn out onto a lightly floured surface and knead another minute until it forms a smooth ball.
Bring a large pot of water to a boil. Meanwhile, shape the gnocchi. Start by diving dough into 6 to 8 pieces. Roll each piece into a 3/4-inch thick rope. Cut off 1 1/2-inch pieces. Make grooves in the gnocchi by placing one at a time into the center of your palm and gently rolling over them with a pastry blender. You can alternately use the tines of a fork (see below), which is what I used to do until I had my eureka moment with the pastry blender. It may take a few tries to get it right, and if it doesn't work as desired, leave the gnocchi as is—they'll still taste as good without the grooves! Repeat with remaining dough.
Salt the boiling water. Add the shaped gnocchi and cook until they rise to the surface of the water, about three minutes. Remove with a slotted spoon and transfer to a deep bowl. Toss with the butter to coat well. Spoon into an oven-proof ceramic or glass baking dish (a pie plate works great). Evenly spoon marinara sauce on top and sprinkle with Parmesan cheese. Bake in a preheated 350ºF oven until golden and bubbly, about 10 to 12 minutes.
Brown Butter Gnocchi with Arugula & Lemon Zest
serves 2
2 tablespoons butter
1/2 batch of prepared uncooked gnocchi (see recipe above)
Generous handful of washed & dried arugula leaves, torn
Freshly grated zest of 1 lemon
Freshly squeezed juice of 1 lemon
Salt and freshly ground black pepper, to taste
Freshly grated Parmesan cheese, to taste
Melt the butter in a skillet over medium-high heat.Cook until butter is nutty and fragrant smelling but not burnt. Add the gnocchi and toss until well coated. Add the arugula, lemon zest and lemon juice. Season with salt and pepper. Toss vigorously and cook for 2 more minutes. Divide among two dishes and top with freshly grated Parmesan cheese to serve.