Growing up has its advantages. I can eat licorice whenever I want, and sip egg creams before bedtime should I choose. The downsides include nagging my seven-year old to do her homework. Another reality is that as your children take husbands and wives, their priorities change. Suddenly holidays become a jigsaw puzzle, and fitting the pieces together to make sure you see everyone you love feels like a feat of epic proportions.
For various reasons, some too complicated to go into here and now, my mom hasn't been at our Thanksgiving table the last few years. Neither has my sister. On Thursday, we will finally be together again.
This year, my sister and I are hosting a joint Thanksgiving at my house. A first for us. She came late to the cooking game, and her mashed potatoes were an on-going joke for many years. I hear she's a good cook now, but wouldn't know because our relationship has been an on-again, off-again one for the better part of our lives.
In spite of it all, this is shaping up to be the lowest-stress Thanksgiving (mother-in-law aside), and it has nothing to do with the menu. I'm practicing the art of letting go, and focusing on the important aspects of the day.

My 20's were about rebelling. Making the meal I wanted, and shunning the convenience foods we grew up on. A decade later, motherhood has mellowed me, a bit at least. And while I'm not breaking out any canned cranberry sauce, I realize what's the big deal if everyone one wants mashed potatoes, when all I really want to make is that heavenly light spoonbread from a few years back?
I cook every day, and can make my ideal Thanksgiving meal on any given Thursday.
This coming Thursday is not about preaching what to eat. Whenever you invite people into your home to break bread, assumptions and preaches should be checked at the door.
This Thursday we all have one common goal—being grateful for the food being served and the people sharing it with us.
I will keep this in mind as I peel five pounds of potatoes, maybe more if we want to ensure there are leftovers. The Mr. and my sister will both be bringing stuffing to the table, and I'm giddy at the thought of my brother-in-law's key lime pie. If memory serves correct from the slice I had umpteen years ago, it's the best I've ever tasted, made with fresh squeezed key limes.
And even when my mother-in-law has tried my last nerve, I will remind myself of this: the most important ingredients at your holiday table will be the people. You'd do yourself good to not lose site of that too, for it is so easy to in the heat of the moment, especially when someone is standing over your shoulder thinking "I don't make my gravy that way".
So what does this beef stew up there have to do with Thanksgiving? Nothing really, but I figured once Thursday passes, well maybe Saturday after the leftovers have been exhausted, you might want to go beyond mashed potatoes and turkey. In fact, the stew is secondary, and you'll have to wait until January for that recipe.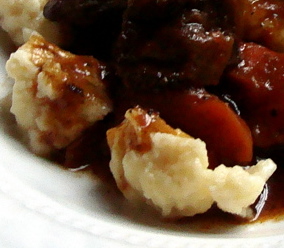 Today, I'm focusing on those ricotta spaetzle, a variation on a traditional German dumpling. The taste and toothy texture is reminiscent of al-dente pasta, yet there is no kneading or rolling of dough required.
I was compelled to make them after reading Mark Bittman's column a few weeks back. This isn't his recipe. Actually his column rather annoyed me because it dispelled the notion that homecooks can produce light and airy potato gnocchi worth the effort. Please ignore him, and go try to this recipe.
What he did suggest, though, were ricotta gnocchi. This got me thinking, and after a little browsing, I came across the recipe below from The Kitchn for ricotta spaetzle.
While nothing will ever deter me from making gnocchi, they are far too delicate for a hearty stew such as the one I was testing. A dish with such robust flavors and hunks of beef needs something sturdier to soak up the thick gravy-like sauce. These spaetzle are the perfect supporting character to complete the meal.
ricotta spaetzle
barely adapted from The Kitchn
serves four
The ingredients for this spaetzle are very similar to Bittman's ricotta gnocchi, minus the Parmesan cheese. Same goes for preparing the batter and the cooking method. The real difference lies in the size of the finished product. Ricotta gnocchi are rather large, while spaetzle are meant to be very small nubs. The traditional technique for forming them is to push bits of dough through a colander. I went with the suggestion on The Kitchn and used a spoon, but opted for a demitasse one, to keep them smaller and more uniform in size.
1/2 cup (120 grams) fresh ricotta
2 large eggs
pinch of salt
1 cup (150 grams) flour
Butter and fresh chopped herbs, optional
Bring a large pot of water to a boil.
In a medium bowl, whisk together the flour and salt. In a separate bowl, beat the eggs and ricotta together with a fork until combined. Pour the egg mixture over the flour and stir with a fork until just combined. It will form a thick, sticky batter.
Using the tip of an espresso spoon, scoop a bit of batter and use another spoon to push it off into the boiling water. Repeat, working quickly, until a layer of spaetzle bob up to the top of the top (you will need to do this in batches). Let the spaetzle cook for 2 to 3 minutes (remove one to taste test for doneness).
Toss with butter and fresh chopped herbs or serve as an accompaniment to stew.