parmesan & scallion boule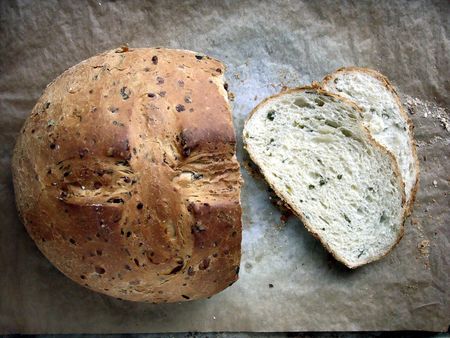 I don't usually do this. You know, post a recipe that's still in progress. Thing is right now it's pretty darn good. I just want to play around with shape, so I guess it really is ready to move from my kitchen to yours.
I've been making bread and the like for a few years now. Never anything fancy, and usually just baguettes and dinner rolls. A few weeks back, the theme over at Food 52 was for best savory yeast breads. It was the push I needed to get more creative.
My first thought was something with caramelized onions. I usually have some in the fridge…except on this day my stock had run out. I could've whipped some up, I suppose, but I'd just bought a lovely bunch of organic scallions from Bradley Farms at the Greenmarket and figured "why not?". Now, if I had cheddar cheese on hand, that would've been my cheese of choice.
But, I didn't.
Are you noticing a theme here?
Yes, even I run out of the very pantry staples I wax poetic about (well, I think it's poetic). But, there's always a backup plan, and in my book farm fresh scallions and Parmesan cheese are pretty good understudies.
Now, I like a recipe that's as efficient and versatile as me, and that's where my pizza dough recipe comes in handy. I use that as a springboard when making baguettes and it works nicely for this boule too. I've also stopped using my food processor and stand mixer for making dough. I find that mixing it in with a wooden spoon works great and really enjoy kneading in the last 1/2 cup or so of flour. But, I also like chopping vegetables, so clearly I'm not normal. Do not let me stop you from using your mixer and dough hook. I even wrote the recipe for Cuisinart, so take a peek if you want to see those directions.
Proofing the shaped boule: before and after.
As a boule, this bread was lovely. A crisp crust with an amazingly soft texture inside, flecked with bits of sauteed scallions and melted Parmesan cheese. I suspect this would make bake up lovely in a loaf pan too. And, imagine the oohs and ahhs if you shaped it into dinner rolls?
Yes, this bread has lots of potential. So, if you give one of them a try, please report back.
Unlike most breads, best eaten the same day they're baked, I loved this one the next day. The flavors intensified. It's also a great shortcut for making garlic bread. I toasted a few slices, rubbed with a clove of garlic and then spread a bit of butter on top while still warm—you can drizzle olive oil instead if you prefer. The next time I make this bread, I'll also be sure to cut a few slices into cubes and toast them for quick and easy croutons.
And then, there are the paninis I made. Breville kindly sent me a panini maker to test drive. It's just my thrift that has stopped me from buying one all these years. I mean, I have a perfectly fine cast iron skillet, and a huge dictionary that's great for pressing tortillas and panini (thankfully I didn't have to stand on the press too).I only wish I'd bought one myself years ago, so thank you Breville for the gift.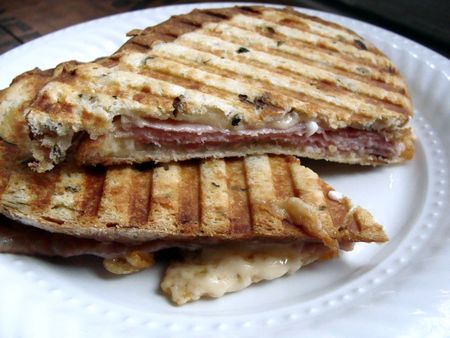 French Ham & Provolone Panini
Sauteed Spinach, Tomato Jam & Fresh Mozzarella
Now, it's time to leave you with a few last thoughts. Are you fans of Cara and Pheobe over at Big Girls, Small Kitchen. They're throwing a virtual bake sale for Baking for Good, and you actually get real, fresh baked in their own kitchen cookies. Every cookie sale will help support The Valerie Fund for children needing comprehensive healthcare for childhood cancers and blood disorders. Let's all show our support and satisfy out sweet tooths at the same time.
This Friday is also the last episode of Jaime Oliver's Food Revolution. I will miss it so, and am very worried the country has not seen enough to get people off the couch and into the kitchen. He has done an amazing job telling the story. Now it's up to us to keep spreading the word and demand real change. If you haven't already signed Jaime's petition, please go do so now. I thank you. My girls will thank you. And if we can get this nation back on the right food track, my future grandchildren will thank you too.
Parmesan & Scallion Boule
makes 1 loaf
A pizza stone is key in making this bread. I actually own two, since they're a big part in making the best homemade pizza too. You can order one the same one I use over at Amazon with free shipping.

3 Tablespoons extra virgin olive oil
1 cup sliced scallions
3 cups flour
1 cup freshly shredded Parmesan cheese
1 teaspoon salt
1 teaspoon active dry yeast
1 cup warm water
Heat 2 teaspoons of the olive oil in a small skillet. Add the scallions and saute until fragrant and slightly softened, about 3 minutes. Remove from heat and let cool.
Add 2 cups of flour, cheese, salt and yeast to a deep bowl. Whisk to combine. Add the cooled scallions, warm water and 2 tablespoons of olive oil. Stir with a wooden spoon to combine. Gradually stir in an additional 1/2 cup of flour, until it begins to form a soft dough (it will still be slightly sticky, and that's okay).
Sprinkle remaining flour onto a clean counter. Dump dough onto the surface and knead in as much of the remaining flour as necessary to form a smooth ball. Place dough in a lightly oiled bowl, cover tightly with plastic wrap and let sit in a warm place until doubled in volume.
Once dough has doubled, turn out onto a lightly floured surface and punch down. Knead 1 minute, then shape into a round loaf called a boule. Brush top of loaf with remaining 1 teaspoon of olive oil. Cut a 1/4-inch deep "X" into the top of the loaf using a sharp knife. Cover with a slightly damp clean kitchen towel and let rest until the boule has doubled in size.
While the dough is resting, place the oven rack into the center position. Place a pizza stone on the rack and preheat oven to 550ºF. When loaf has doubled in size, reduce oven to 450ºF, and, using a pizza peel, or the back of a sheet pan lined with lightly floured parchment, slide the loaf onto the stone. Bake for 25 to 27 minutes, until very nicely browned and hollow sounding when tapped.