14 of my best soup recipes
Update: You can now listen to my posts! I'm working on figuring out how to make them into a podcast, but in the meantime, just click below.
I'm a soup fiend, as you'll see on reading the stories that go with my best soup recipes below. My love affair with them has nothing to do with the weather, either. Hearty soups, filled with pasta, veggies, maybe some beans are the ultimate one-bowl meal in my book. For some, my Mikey included, a bowl of tomato soup and a gooey, grilled cheese sandwich is as comforting as a hug when you're not feeling well. And then there are the soups that bring us back to your childhood, like one I recently made from Rachel (see the pasta & potato soup). While the soup of my childhood wasn't exactly the same, her recipe, and more importantly, the way she wrote about it, reminded me of the pastina and broth I used to love.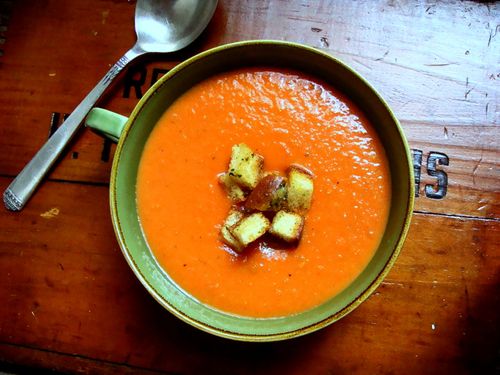 There are two more favorites that are not on the blog: my Ribollita and Carrot -Fennel. If you have Homemade with Love, where the recipes reside, you don't want to miss them. The Carrot-Fennel is a particular favorite because most recipes pair carrots and ginger. I don't care for those flavors together as a soup, though they make for a rocking' dressing on salads. In my recipe, I chose to pair carrots with fennel, and it was a real eye opener. Fennel comes off as an assertive flavor, and it is in raw form. Once sautéed, and cooked down, the normally strong black licorice flavor mellows into a subtle sweetness that blends beautifully with the carrots.
As for the links below, these are mostly recipes of mine that you'll find on the blog, with the exception of one I adapted from Marcella Hazan, and a link to the soup I made just yesterday from Rachel. I'll be sharing my notes on Rachel's recipe tomorrow in my Thankful Thursdays post. As-is, her recipe is lovely. I made a few notes about what I did to tailor it to my personal tastes. And if you prefer to keep these all organized in one place, I created a Pinterest board for them, too. Click here to follow the board, and see what other yummy, soothing and sensational soups I add this winter (let's hope yesterday was the coldest day of the year. Period. Please.)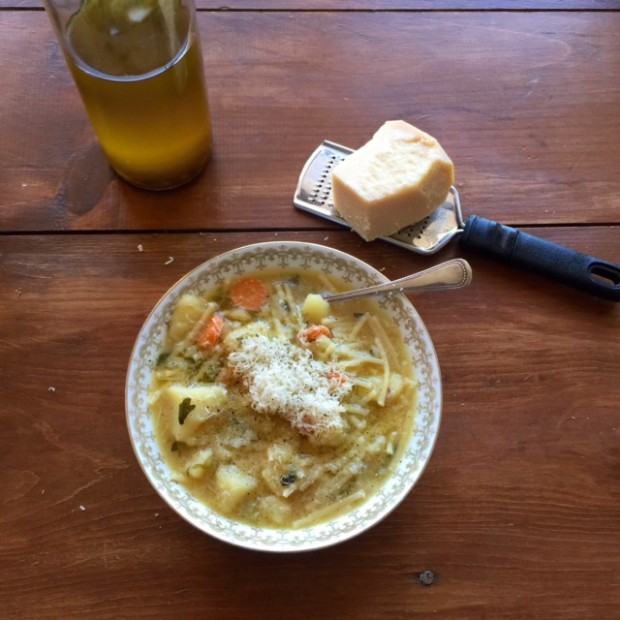 Kale, White Bean & Ravioli Soup
10-Minute Pressure Cooker Lentil Soup (plus a video!)
Almond, Coconut & Butternut Squash Soup
Marcella's Rice Smothered Cabbage Soup
Smoky Cannellini Bean & Red Kale Soup
Some more soup-spiration from my friends at the Food Network, as part of their #ComfortFoodFeast this week!
The Lemon Bowl: Slow Cooker Posole Rojo
Creative Culinary: Split Pea Soup with Carrots and Ham
Homemade Delish: Italian Cioppino Soup
Taste with the Eyes: Wintery French Lentil Soup with Beef, Carrots, Sherry Vinegar
Elephants and the Coconut Trees: Tomato Soup
Dishing with Divya: Roasted Cauliflower and Carrot Creamy Vegetable Soup
From My Corner of Saratoga: Pressure Cooker Chicken Tortilla Soup
Napa Farmhouse 1885: Roasted Red Bell Pepper Soup (in a slow cooker)
Red or Green: New Mexican Green Chile, Turkey & Posole Soup
The Heritage Cook: Creamy Cheesy Potato Soup (Gluten-Free)
Big Girls Small Kitchen: Winter Squash & Chickpea Ribollita
The Mediterranean Dish: Mediterranean Spicy Spinach Lentil Soup
The Mom 100: Spicy Thai Chicken and Rice Noodle Soup
Healthy Eats: 5 No-Brainers for Improving Chicken Soup
FN Dish: Soup's On! 5 Warming Must-Make Bowls