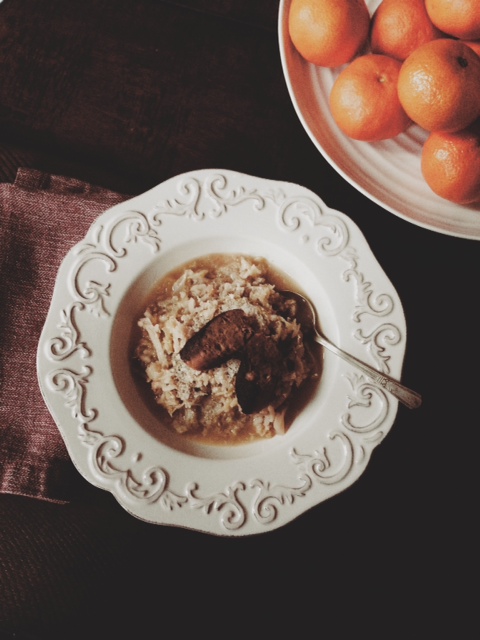 This soup doesn't look like much in the bowl, but I promise you eyebrows will raise once you taste it. It first caught my attention while reading Orangette a few weeks ago. Laid up with a sinus infection, that manifested into strep throat, left me with time to catch up on blog reading. The timing wasn't ideal, just one week before Christmas, but one must make the best of a bad situation, right?
So, after I dropped the girls off at school one morning, I popped into the market and picked up a head of Savoy cabbage, and got to work slicing it paper thin when I got back home. The recipe is from Marcella Hazan's Essentials of Italian Cooking. I must confess that I didn't own one of her cookbooks until just a few weeks ago. After cooking up this very humble cabbage dish, the fire was fueled, and two days later the book arrived at my house. I instantly became smitten with it, but also realized the reason I had yet to add one of her books to my collection. Partly, I prefer to collect vintage, hard-to-find, cookbooks. There's only so much book real estate one can allocate in a NYC apartment.
Hazan was a cook to whom we owe much in terms of preserving old Italian recipes, and methods. Her tone, though, is rather contrary to my approach. My feeling when sharing recipes is to encourage people to get into the kitchen, and I believe that was her goal, too. Still, you have to read the introduction to Essentials of Italian Cooking with confidence in your skills. For instance, when she discusses basil in the Fundamentals section (pages 7 to 52), she says "Do not ever use dried or powdered basil. Many people freeze or preserve basil. I'd rather use it fresh and, if it isn't available, wait until it is in season".
It is a well-intentioned point of view, and I agree fresh basil offers the most true flavor. The reality is that most people do not use a whole bunch of basil before it goes bad. Preserving is a very thrifty way to manage your budget, and still enjoy a basil-flecked marinara sauce year-round. I appreciate her conviction, but cooking isn't one size fits all, and I prefer to write in a way that welcomes the reader to try recipes with less rigidity.
Alas, I've gone off topic, in a way, so let us make our way back to the soup. As the smothered cabbage, the base for the recipe, wilted away on the stove top, I began to get excited. The smell was intoxicating. I stayed true to her recipe, for the most part, with one very liberal change. The soup, as Molly describes it, is supposed to be a loose kind of risotto, meaning on the thicker-bodied side. The intent to heal my cold left me wanting a soup with more broth to slurp, so I doubled the amount of stock. It was still incredibly thick, so don't let this sway you. I'm including the original measurements, so you can decide which version you want to go with. I also used Pecorino-Locatelli cheese to add a sharper edge to my soup. Hazan's original recipe calls for Parmigiano-Reggiano, which has a nuttier, aged flavor (a favorite of mine, too).
The last time I made this soup, just a few days ago, in fact, I had run out of chicken stock in the freezer. Sadly, I came home to find my last jar had cracked (yes, it almost made me cry). I was also out of my homemade vegetable bouillon—it's bare bones around here, I tell you, so I swapped in plain old cold water. I'll be honest, it is a more substantial tasting soup, if you have chicken stock on hand. In a pinch, though, the water worked just fine, and a little extra Pecorino sprinkled on top gave it the necessary oomph. A couple of slices of this apple-sage vegan sausage on top made it extra hearty. Don't worry about serving it alone, though, it is sure to leave a last impression.
Last night I fell asleep with Hazan's book by my side, a number of pages now dog-eared. Her spell has been cast on me, and the respect to which she pays to food, coaxing flavors from simple ingredients, makes me wish I wasn't so late in picking up her cookbook. The saying goes "better late than never", though, and I hope to have a few more decades of cooking left. I plan to hand her book down to my girls one day, splattered with memories of the many meals to come.
Rice and Smothered Cabbage Soup
Music Pairing: I'm Living in a Great Big Way by Louis Prima
slightly adapted from Essentials of Italian Cooking by Marcella Hazan
Serves 6
Hazan notes in her recipe that you can use regular green, red or Savoy cabbage. I've only made it with Savoy, but am eager to try it with red cabbage next. I imagine it will be a nice contrast of color with the rice.
One batch of smothered cabbage (recipe here)
6 cups (1.5 L) chicken or vegetable stock (the original recipe only uses 3 cups/750 ml)
2/3 cup (140 grams) arborio, carnaroli or vialone nano rice
2 tablespoons (28 grams) butter
1/2 cup (56 grams) freshly grated Pecorino-Locatelli cheese, plus more for garnishing
Sea salt and freshly ground black pepper, to taste
Add the cabbage and stock to a deep 6-quart pot. Bring to a boil. Add the rice, and cook until it is tender, 20 to 25 minutes. Remove from the heat, and stir in the butter and cheese. Season with pepper, and taste, adjusting for salt, and more pepper, as needed. The soup will last, stored in a covered container in the fridge, for up to one week.