slow roasted chicken soup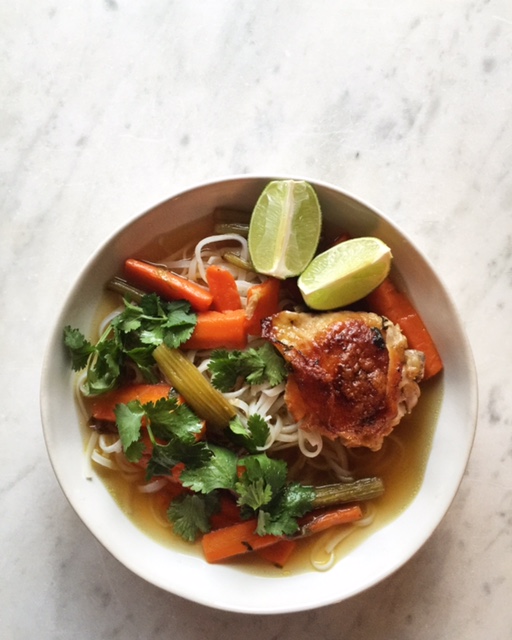 I know. You're not sure it's soup weather exactly. My little one wore shorts to school yesterday, but don't count winter out yet. Spring doesn't officially arrive until March 20th, and as past years have proven, even that isn't a definitive when it comes to temperatures. Besides, we've already discussed my love for soup. It's a meal that knows no seasonal boundaries as far as I'm concerned.
This Slow Roasted Chicken Soup is so good, it'll leave you craving a bowl in the middle of August (I'm souper serious here, folks).
A pho craving kicked in a few weeks ago. I wanted a hearty, rich stock, to slurp up with rice noodles. Rather than mess up the stove top with grease splatter to make my regular stock, I decided to take my stock to oven. Now, let's just get this out of the way before you begin (and not at all to discourage you). The first hour or so, is a bit all hands on deck. This is because we're building the flavors, and that means adding ingredients in stages, so be patient. Trust me on this one. I promise the resulting soup/stock/broth will make your knees weak. Once you get it going, you can walk away from the stove, and let the stock do it's thing.
I started off dry roasting the chicken with the aromatics (chef speak for onions and garlic), salt, and pepper. My goal was to dry out the skin a bit to start that browning process, hence the blast of heat at 475ºF (250ºC). After a 15 minute stint, you'll add the carrots, celery, season again with salt and pepper, and give everything a drizzle of olive oil. Fifteen minutes later, in goes the parsley and water. You let that go for 30 minutes, then turn the oven down to 275ºF (135ºC). From this point on, the day is yours to do what you'd like. The soup is ready (and better than any chicken soup you've ever tasted) within two hours, but if you want a more intensely flavored soup, the magic number is six. After six hours, you'll consider forsaking all your worldly possessions for just one more bowlful.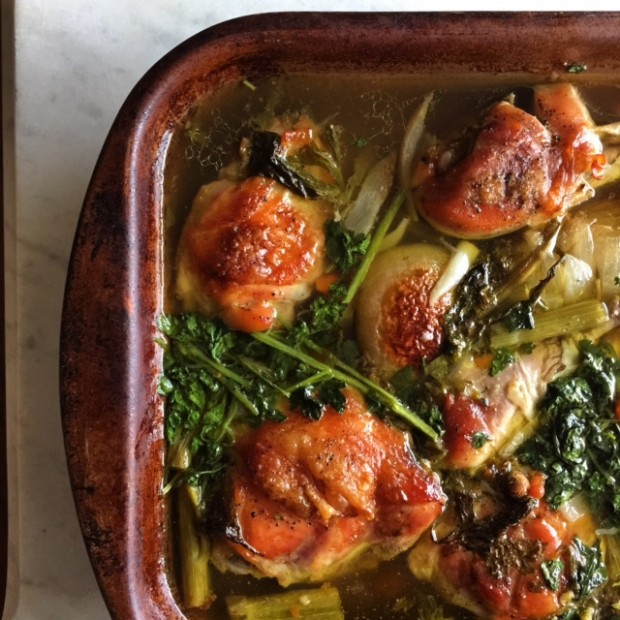 Here's some more souper recipes to dive into: 14 of My Best Soup Recipes
Video of the Week: How to Quick-Ripen Bananas
Slow Roasted Chicken Soup
Serves 4 to 6
A word about the veggies. By cutting them up into large pieces, as we're doing here, the vegetables retain their structure during this rather long roast. They're still going to be mashably soft, and I like that. One bite, and they surrender, giving themselves up to you.
Regarding the chicken, you can shred the meat from the bones, if you prefer—actually, it'll fall right off the bones. I like the rustic feel of adding a whole piece to the bowl.
Let's talk about the roasting time. As mentioned, you can stop at 2 hours, but 6 is optimal. You don't have to stop at 6, you can keep going even longer, and cross the boundary into bone-broth territory if you want to let it go over night. If so, remember to keep an eye on the water level, adding more water as needed. And if you do decide to let it go overnight, then you can reduce the oven temp even further to 250ºF, just be sure to refill the water before tucking in, and check in on it as soon as you wake up. The vegetables might be too mushy to eat at this point, but you'll be rewarded with an incredible homemade bone broth (and you can then say you cooked it in your sleep!).
The garnishes I've listed here for serving give the soup a decidedly Asian twist. I could eat it like this every.single.day. Go with what you love best, adding some, all, or none of them to your bowl before serving. Any remaining soup should be strained to remove the onion, garlic, and parsley. Let it cool completely before storing in the fridge for up to 3 days, or the freezer for up to 2 months.
4 chicken legs, skin on & bone-in
3 chicken thighs, skin on & bone-in
1 large yellow onion, peeled & cut in half
3 garlic cloves, peeled & smashed
Sea salt & freshly ground black pepper
6 carrots, peeled & cut into 4-inch (10-cm) pieces
4 ribs of celery, cut into 2-inch (2-cm) pieces
Extra virgin olive oil, for drizzling
Handful of fresh, flat-leaf Italian parsley
Rice noodles or spaghetti, cooked according to package directions (optional)
Fresh cilantro, to serve (optional)
Fresh cut lime wedges, to serve (optional)
Preheat your oven to 475°F (250ºC), with the rack adjusted to the upper center position.
Arrange the chicken pieces, onion, and garlic in a 9-inch x 13-inch (22 cm x 33 cm) roasting pan. Season with the salt and pepper. Roast for 15 minutes.
Scatter the carrots and celery in the pan, tucking them into the corners around the chicken. Season with more salt and pepper. Drizzle everything with a bit of olive oil. Roast for 15 more minutes.
Add the parsley, and pour 6 cups of water into the pan. Roast for 30 more minutes.
Reduce the oven temperature to 275°F (135ºC). Roast for at least 3 hours, and up to 6 hours, adding more water to the pan as needed to keep the chicken covered by about two-thirds. You want the tops to get nicely browned (see the photo), but keep them mostly submerged so the meat braises. Taste the broth as it cooks, and add more salt, as needed, according to your tastes.
When ready to serve, arrange a piece of chicken in a bowl. Add some rice noodles or pasta, if desired. Spoon some carrots and celery on top. Add a handful of fresh cilantro, if using. Ladle some broth over the noodles. Squeeze a wedge of lime over the whole bowl, if desired, and enjoy!