slow roasted chicken soup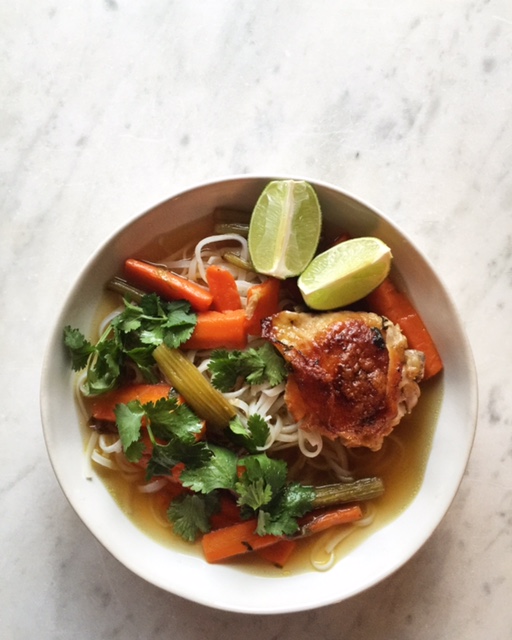 I know. You're not sure it's soup weather exactly. My little one wore shorts to school yesterday, but don't count winter out yet. Spring doesn't officially arrive until March 20th, and as past years have proven, even that isn't a definitive when it comes to temperatures. Besides, we've already discussed my love for soup. It's a meal that knows no seasonal boundaries as far as I'm concerned.
This Slow Roasted Chicken Soup is so good, it'll leave you craving a bowl in the middle of August (I'm souper serious here, folks).
A pho craving kicked in a few weeks ago. I wanted a hearty, rich stock, to slurp up with rice noodles. Rather than mess up the stove top with grease splatter to make my regular stock, I decided to take my stock to oven. Now, let's just get this out of the way before you begin (and not at all to discourage you). The first hour or so, is a bit all hands on deck. This is because we're building the flavors, and that means adding ingredients in stages, so be patient. Trust me on this one. I promise the resulting soup/stock/broth will make your knees weak. Once you get it going, you can walk away from the stove, and let the stock do it's thing.
I started off dry roasting the chicken with the aromatics (chef speak for onions and garlic), salt, and pepper. My goal was to dry out the skin a bit to start that browning process, hence the blast of heat at 475ºF (250ºC). After a 15 minute stint, you'll add the carrots, celery, season again with salt and pepper, and give everything a drizzle of olive oil. Fifteen minutes later, in goes the parsley and water. You let that go for 30 minutes, then turn the oven down to 275ºF (135ºC). From this point on, the day is yours to do what you'd like. The soup is ready (and better than any chicken soup you've ever tasted) within two hours, but if you want a more intensely flavored soup, the magic number is six. After six hours, you'll consider forsaking all your worldly possessions for just one more bowlful.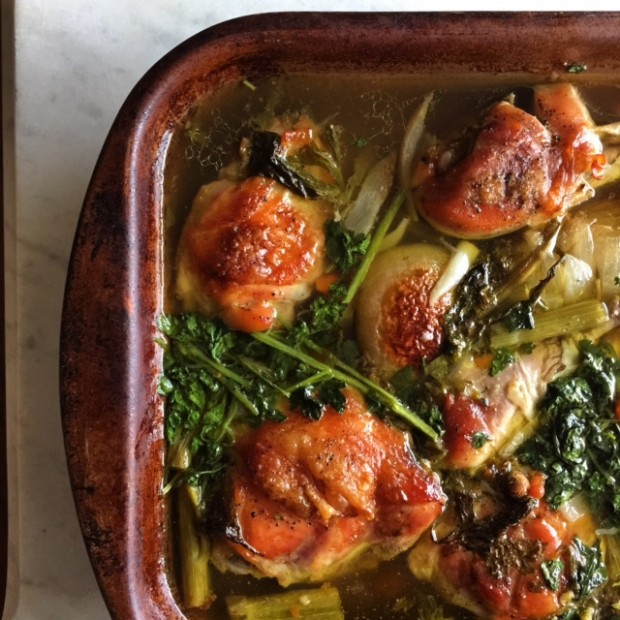 Here's some more souper recipes to dive into: 14 of My Best Soup Recipes
Video of the Week: How to Quick-Ripen Bananas
This recipe is now part of my new site, Simmering. It can be found here.