Favorite Fall Soup Recipes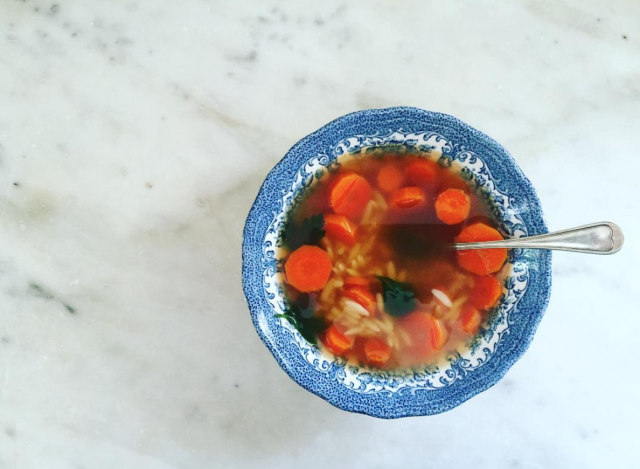 I'm crossing my fingers the recent dip in temperatures means fall is really here to stay. While it's not quite time to switch the central system to heat, I'm declaring it officially soup season. Given the choice, I'd eat soup year-round.
Some days I even eat it for breakfast, finding it more filling than standard breakfast food. Bread Alone in Woodstock makes an amazing Thai Red Lentil Curry soup, and it's been on my list of things to figure out how to make on my own since last fall.
It's so easy to get stuck in cooking ruts, so I figured this would be a good time to dig through the archives to remind myself (and all of of you) of some of my favorite soups over the years. There's this Pasta & Potato Soup that's so simple, so filling, and so comforting—it's like donning a snuggly sweater. I tend to never wait long enough for a spoonful to cool, and manage to burn my tongue with every first slurp.
This Slow Roasted Chicken Soup is another winner, a true one-bowl meal because it's served with whole chicken thighs that have braised slowly in the oven. The meat is meltingly tender, and the broth deep and flavorful.
Lentil-centric soups are always a favorite, for me at least, the kids not always. I only cook one meal, though, so they tolerate them at the very least, and sometimes even love them. There's this slow cooker lentil soup, which I happen to be making tonight, and this pressure cooker version of it—yes, I'm sure it'll work fine in your Instant pot, too. Oh, and this Quinoa, Lentil & Mushroom Soup is divine.
There's also  this French Onion Soup,with a twist, a delicately filling Roasted Cauliflower & Pear Soup, Slow Roasted Tomato Soup (a Mikey Favorite), Roasted Butternut Squash Soup, Chicken & Tortellini Soup, Kale, White Bean & Ravioli Soup, and my Asian Vegetable Noodle Soup.
I know the saying goes TGIF, but today I'm thankful it's Thursday because the week has felt like one long never ending Monday. Why is it that four day weeks after a three day holiday weekend always seem to feel like this? Is it just me?
SaveSaveSaveSaveSaveSave
SaveSave