9 Favorite Recipes for Soup Lovers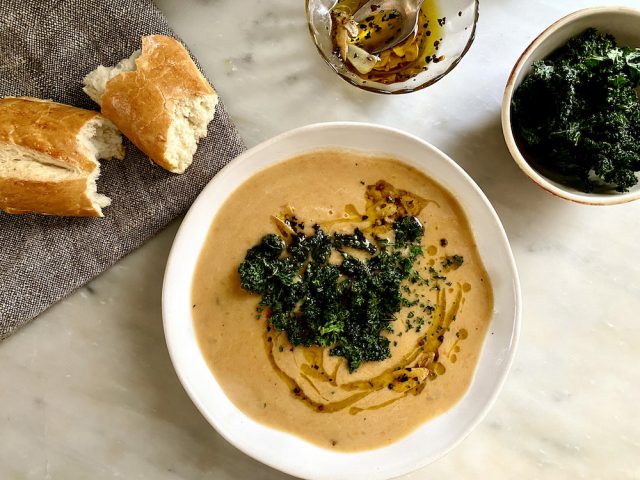 I'd be hard-pressed to choose a favorite when it comes to soups. I love them all, and any time of year, too. Surely I can't be the only person who'd gladly slurp a bowl on a hot summer day? So, while for most of you the cooler temperatures signal soup season, for me it's a year-round affair.
Recently, I made a creamy white bean soup and took a different approach to adding greens to the soup. Instead of just sauteeing them which is fine enough, I coaxed some depth from a bunch of kale by roasting it into crispy chips, and then stirring generous handfuls of the chips into the soup. The kale wilts within seconds of hitting the bowl but retaining its crispness wasn't the point.
Roasting the kale beforehand reduced excess moisture and concentrated the flavor. It had an umami kind of effect, and added a rugged contrast to the velvety soup. I realize it sounds a bit odd to use the phrase "rugged contrast" in a soup but go ahead and make the soup, and you'll see what I mean. You'll find the soup for that recipe here, on my other site (for reference, the soup mentioned is the photo above).
You'll find lots of other favorite soup recipes in the archives, just type soup into the search bar in the upper right-hand corner of your screen. Below are some highlights of soups that tend to be on repeat in my kitchen regardless of the season, but that I find especially comforting as the days grow colder, stealing precious daylight hours in the process.
Speaking of shortening daylight hours, soup is one of those foods that's always good (sometimes even better!) the next day or day after, so it's great to have on the menu if you like to do meal planning. Cook a pot whenever time allows, and it'll reward you with an easy reheat dinner when you need a break from cooking.