Quinoa, Lentil & Mushroom Soup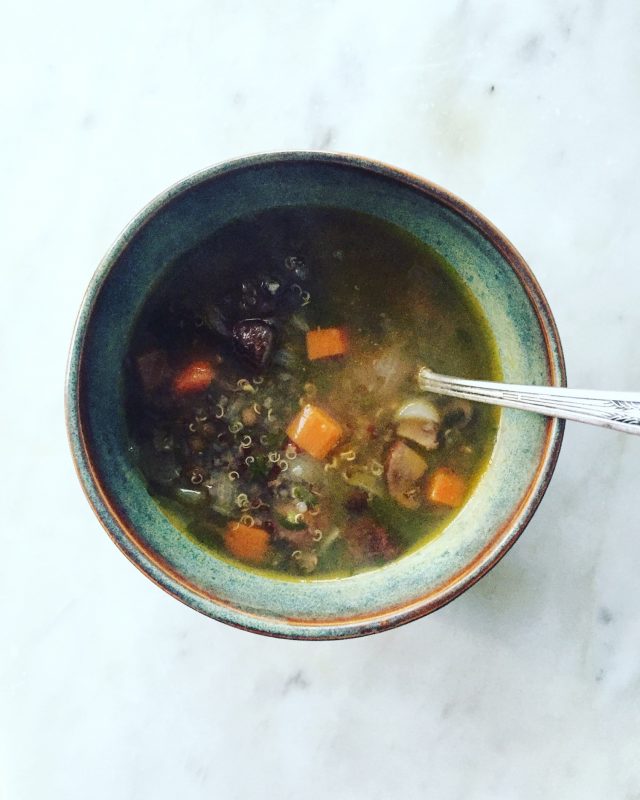 Last weekend we went to Brooklyn to see one of my dearest friends. It was a journey, and one I hoped would give the girls a bit of a trial run for the trip we're about to embark on in five days. Instead of dealing with weekend holiday traffic, I decided to take Amtrak from upstate. Once arriving at Penn Station, we had to take two more trains, and then walk 14 blocks. I told you, it was a journey, indeed.
By time we arrived at Marina's house (yes, of French Chocolate Cake fame), we were all ready to relax and unwind. Marina's husband, Francis, took to the task of cooking dinner for us that evening. All sorts of comforting scents wafted through their 4 story house. It felt like a home I never wanted to leave. Our time together is never long enough, and less than 24 hours after we arrived, we were leaving for Penn Station to make our way back home.
We made the most of those 21 hours together, fitting in a little bit of sleep in between. Saturday night was spent slurping soup, nibbling on roasted fennel, carrots, and a bountiful winter salad. And then there was dessert. I packed a gingerbread loaf cake in my travel bag (way better than sachets for a lingerie drawer in my opinion). Francis had made vanilla ice cream. At the end of the evening, Marina made a simple infusion of hot water and fresh thyme. The perfect digestive to end an evening that saw two bottles of wine go from full to not a drop left between the three of us.
When I got home Francis soup was still on my mind. Marina knew I've been eating in a very mindful way, refraining from wheat, meat, dairy, and well, I gave alcohol a special dispensation for the night. Unbeknownst to me, she told Francis, and he kept that in mind as he planned dinner. I felt guilty when I found out, and told Marina she really shouldn't have done that. I would've enjoyed whatever they decided to make for dinner. But, I was also incredibly touched. I rarely have anyone cook for me, so the act in itself is a special gift.
The soup doesn't sound like much, but let me tell you—it was the best bowl of soup I've had in recent memory. And knowing it was filled with ingredients that would also nourish my body was an extra victory. As day turned to dusk that following Monday, I decided to put my own twist on the soup Francis made.
I took a handful of chopped onions from the freezer, diced some carrots, and cut up some mushrooms. Francis used shiitakes for their healing benefits; I only had crimini in the crisper bin of the fridge. A handful or two of both dried quinoa and lentils added some sustenance and protein. The lentils were my addition, and I omitted tomatoes because I try to limit nightshade vegetables to just once or twice a week.
A few spoons of my homemade bouillon dissolved into boiling water provided a vegan broth. You can swap in chicken or beef broth if you prefer. Even water will get the job done here.
I've enjoyed this soup three times since, and am sad to report the last bit of it was eaten for lunch yesterday. That will surely leave me in a predicament for today's midday meal. I posted this recipe on Instagram the day I made it, so you'll notice it's written rather informally below. I think this gives it all the more character, and shows this is an instance where we need not take ourselves too seriously. Amidst the indulgence of the holidays, this is one meal that comes with no guilt (and justifies an extra cookie, or two, if I do say so myself).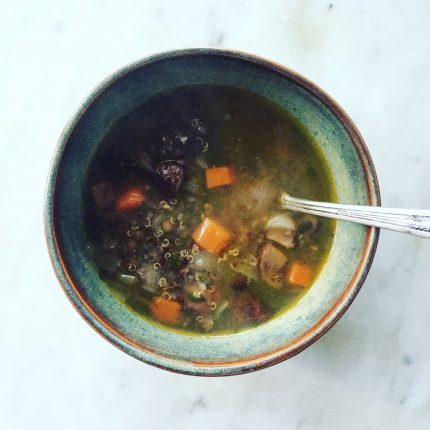 Quinoa, Lentil & Mushroom Soup
I used what I had in the crisper bin to pull this very comforting soup together. This soup can probably be set up in a slow cooker, too, so do let me know if you give it a try that way.
Ingredients
Chopped onion

about 1/2 of a medium one

Carrots

2 diced

Mushroom

2 handfuls, quartered (I used crimini but shiitakes would've been my first choice)

Sea salt

Quinoa

uncooked, a handful or two

Dry lentil

a handful or two

1

bay leaf

Handful of fresh parsley

if you have any on hand

Broth or water

4 cups, plus more as needed
Instructions
Sauté some chopped onion, diced carrots & quartered mushrooms in olive oil in a deep pot. Be sure to salt them. Add a handful or two of dry quinoa & dry lentils. A bayleaf is great, too, if you have one, as well as a healthy handful of chopped fresh parsley. Stir in 4 cups of liquid (water or broth of choice). Bring it to a boil, then let simmer until lentils & carrots are tender, adding more liquid as needed if the soup gets too thick. Whole things cooks up in about 40 minutes.