Delicata Squash, Shiitake, Kale & Quinoa Salad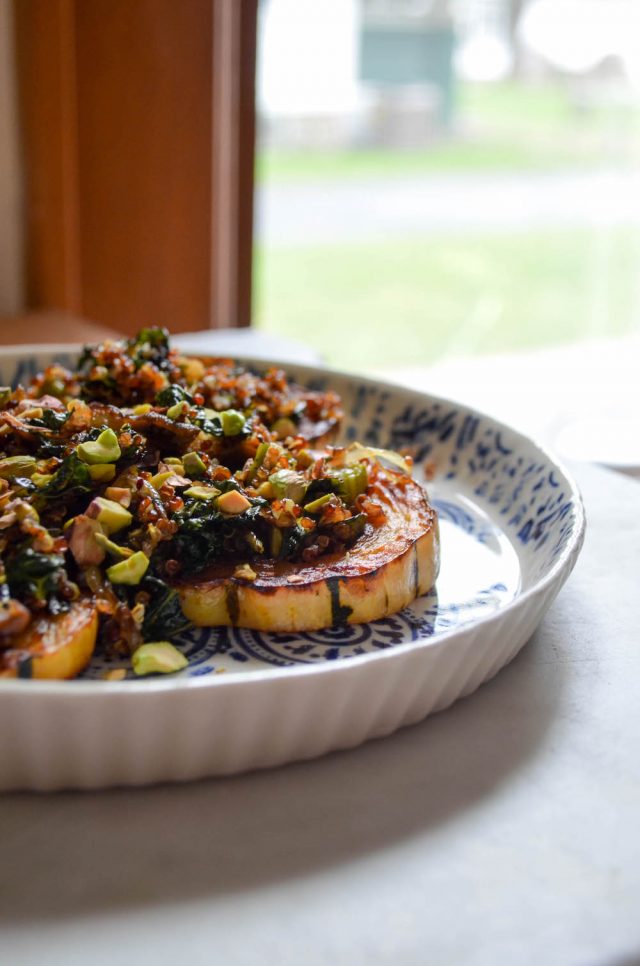 Last week I was at the farmers' market in Woodstock, and came across some delicata squash at one of the stands. This particular squash brings back fond memories. It was one of Virginia's first foods, and also one of her first favorites. I decided to pick some up to make a recipe I'd been writing in my mind—this Delicata Squash, Shiitake, Kale & Quinoa Salad.
I've been focusing on mindful eating for two weeks now. I prefer to call it that than a cleanse or a diet. Frankly, I've not followed the cleanse to the "T", and I dislike the negative connotations associated with the word diet. Eating mindfully is also more of a sustainable lifestyle, and while I miss all the foods I've (mostly) abstained from eating, it was important for me to strip them away in an effort to develop a healthy relationship with them again.
I spoke at a conference last week, and once it was over, the girls and I were famished. Isabella was craving pizza, and we were close to Joe's near Union Square. I hesitated momentarily, and then told myself it was okay to have one slice of pizza. Damn was it delicious! Within 30 minutes, though, the light feeling I'd been walking around with the entire week became weighed down, and a headache started creeping up. It was absolutely foolish of me to add three foods I'd been avoiding  into my stomach at once—wheat, dairy, and a nightshade vegetable.
The feeling wasn't unbearable, but now that I know how my body feels when I give better thought to what I eat, the headache and bloated feeling wasn't worth it for a quick meal on the go. This is what I mean by mindful eating. It doesn't mean I'll never eat those foods again. It just means I'll choose more wisely, and really think about when it's worth feeling anything less than amazing.
That evening, once we settled into our Airbnb apartment in Brooklyn, I opted for a kale & quinoa bowl when we ordered a dinner delivery (the app Caviar is amazing, and Blue Ribbon did a fantastic job with packing the food!). The rest of the weekend was jam-packed with Saturday spent in temple for a Bat Mitzvah followed by a party that evening, and then a wedding in New Jersey the next day.
Again, mindfulness was always the way I approached my food choices, even if I didn't strictly stick to the foods I'd banished to the outlawed list (for now, at least). I loaded up on vegetables and had some Israeli couscous, and enjoyed a glass of wine (why do servers always automatically refill without asking?). At the wedding I indulged in a caprese salad with some fresh mozzarella cheese and tomato (raw tomatoes seem to agree with me more than cooked). By Monday afternoon, though, I was so happy to get on our way home, back to the comfort of my own bed, and kitchen.
That's when I decided to finally put this mental recipe for Delicata Squash, Shiitake, Kale & Quinoa Salad to the test.
I chose shiitakes and quinoa for their superfood status. I never thought I'd say this, but I'm beginning to love quinoa. I always have kale in the house, and added that in to boost the green factor of this dish. This salad screams fall, and I squealed with delight knowing I was filling my body with something so good, that also tasted so great.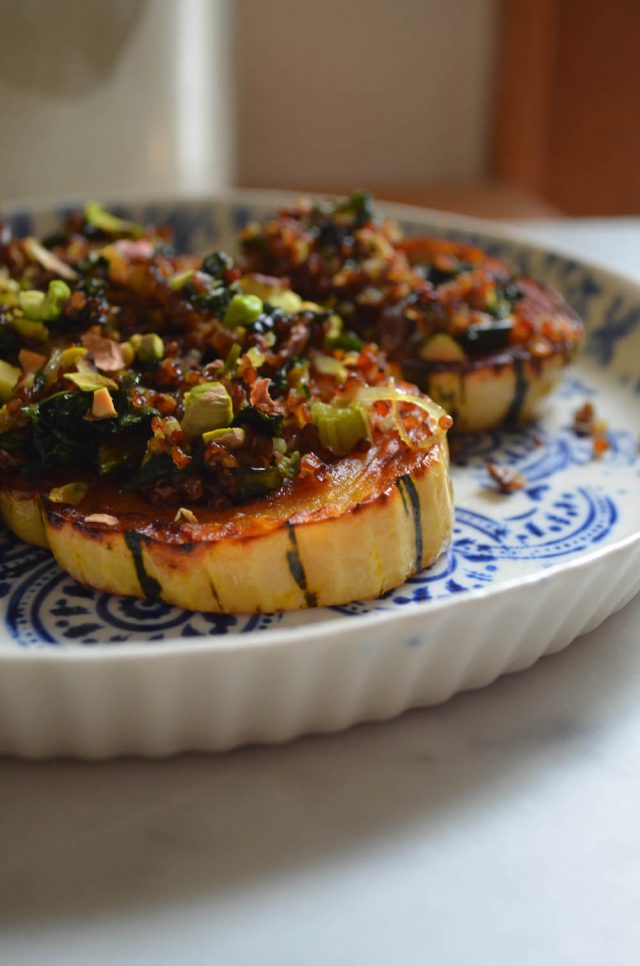 Seven Years Ago: Brown Butter Bourbon Banana Bread
Six Years Ago: Chestnut Orange Crisps
Five Years Ago: Love is Strange
Four Years Ago: Roasted Red Pepper Salad
Three Years Ago: Spinach & Pecorino Latkes
Two Years Ago: Black & White Cookies
One Year Ago: Wilted Kale Salad & Warm Shallot Vinaigrette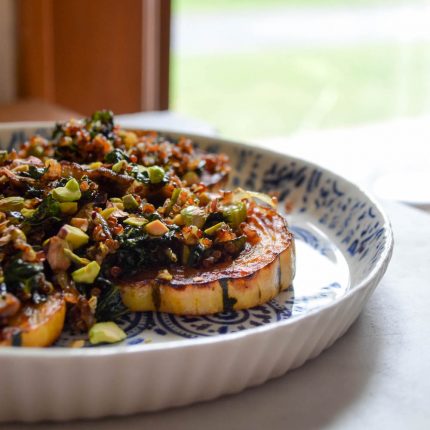 Delicata Squash, Shiitake, Kale & Quinoa Salad
Ingredients
Extra virgin olive oil

1

delicate squash

1.25 lbs / 560 grams cut into 1/2-inch thick rings

Sea salt & freshly ground black pepper

1

celery stalk

with leafy top, chopped

1

shallot

thinly sliced

10

shiitake mushrooms

caps only, sliced (save stems in vegetable trimming bag)

Half bunch of Tuscan kale

ribs removed & leaves sliced into ribbons

3/4

cup

cooked

leftover quinoa

Small handful toasted pistachios

chopped
Instructions
Preheat the oven 400ºF (200ºC).

Drizzle some olive oil on a rimmed baking sheet, just enough to coat the bottom of the pan. Arrange the squash slices in a single layer. Season with the salt & pepper. Bake for 30 minutes, turning halfway through, until lightly browned on both sides.

Meanwhile, add a swirl of oil to a skillet. Heat over medium flame until shimmering. Add the celery, shallots, shiitake mushrooms, and kale. Season with the salt & pepper. Cook until the vegetables are wilted, and slightly softened. Remove from the heat.

Stir in the quinoa—the heat from the vegetables will warm it through.

Arrange the squash slices on a serving platter. Spoon the quinoa mixture over the squash. Scatter the pistachios on top & serve.

Make Ahead: Both the squash and the filling can be prepared in advance. You can assemble the salad, and serve it cold, if you like. To heat, add the squash to a nonstick skillet, and warm over medium-low heat. Transfer to a serving platter. Add the filling to the same skillet, and heat until warm throughout, then spoon over the squash. Sprinkle the pistachios on top.