Lemon Thyme Roasted Butternut Squash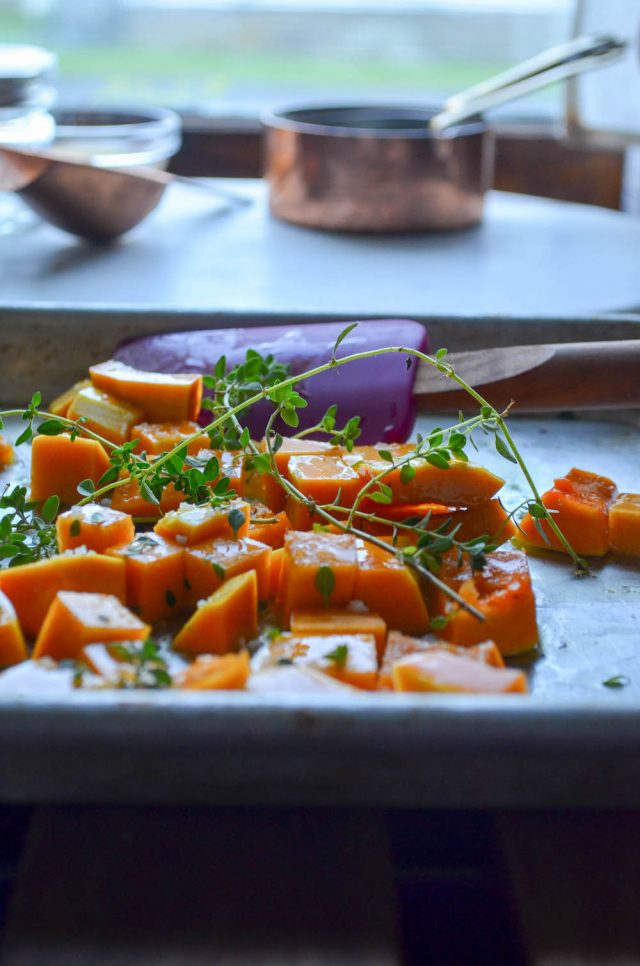 I love butternut squash, but not necessarily cooking it. Call me crazy, considering all the things I make from scratch, but peeling the skin, and cutting it up often feels like too fussy an affair. I know, it doesn't compute to me either. One great benefit of my mindful eating journey is that it's breaking me out of a food rut, pushing me to explore foods that are naturally dairy-free, wheat-free, egg-free, and meat-free, so that's how this Lemon Thyme Roasted Butternut Squash came to be.
I'm going to side step one moment, confessing, and in fact stressing that I'm not vegan. While I eat mostly vegan, I'm undoubtedly an omnivore. Perhaps an omnivore with vegan tendencies is how can you think of it. For me, veganism is more than a lifestyle. It's a mindset, and a very conscious effort to live a life without intentionally harming animals. A true vegan adheres to this principle beyond the plate (think about the clothing, shoes, make up, etc.). That is simply not me, and I don't want to sell myself as something I'm not.
I've chosen this practice of mindful eating because it makes my body feel great. I never imagined a life where cheese and pasta would play guest stars. I grew up with them being the leads. My body felt fine eating that way for a long time. And then one day it just didn't. Of course it wasn't just one day. It wasn't just one thing, as I often say about so many things in life. It was a series of events, that when coupled together, made a bigger statement.
This past weekend was my 12th wedding anniversary. Of course I missed Mikey, but it was mostly a peaceful missing, recalling the happiest day of my life, not a sad, why did this have to happen to him kind of missing (although there's more to elaborate on this, but that's for another post). And that's when I realized another great benefit of mindful eating, for me at least. Less mood swings, and an overall more positive outlook. Glimmers of the old me.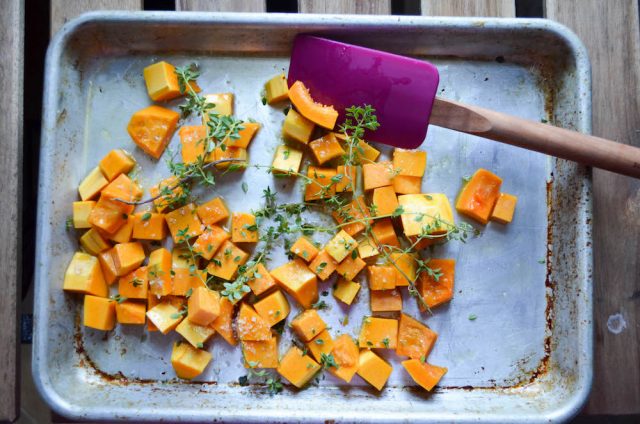 I'm sure this isn't completely connected to what I'm eating. I'm content right now in a way I haven't been in a very long time. So, the energies of positive power are radiating from way beyond my plate. Still, there's no doubt that adding and removing certain foods from your diet affect your moods.
So much thought for what's really a simple recipe for Lemon Thyme Roasted Butternut Squash, I know.
The squash I used here was a smaller variety, called a honey nut squash. Same family, just a runt of the litter in size. The skin is a golden, orangey brown color, and if you haven't already guessed it, they're small in size.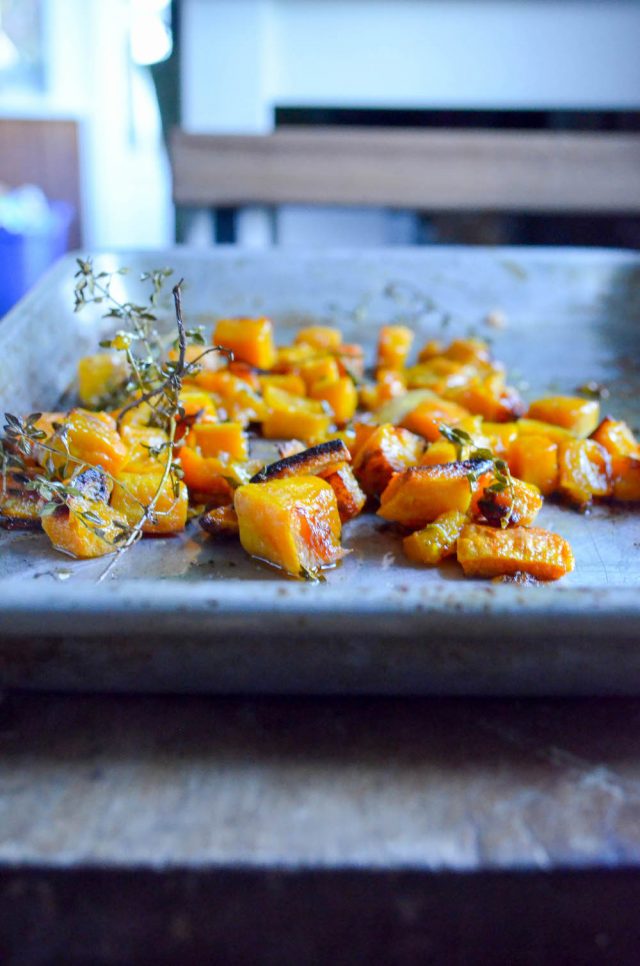 I've been into making quinoa bowls lately, and when I saw these honey nut squash their size felt doable, in terms of having to prep them. I gave them a high-heat roast with some olive oil, lemon thyme, and sea salt, then added them to the most amazing salad, ever. Virginia loved it so much, she asked for it the next night. It was a combination of lentils, crispy kale chips, quinoa, and this butternut squash. The cooking liquid from the lentils served as a dressing of sorts. I'll try to recreate the recipe, and share it here soon. Until then, give this Lemon Thyme Roasted Butternut Squash a go.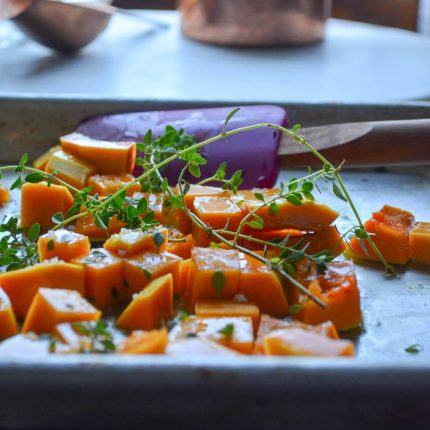 Lemon Thyme Roasted Butternut Squash
Ingredients
1

small butternut squash

I used a honey nut squash, which is a mini variety

Extra virgin olive oil

Few sprigs of lemon thyme

Flaky sea salt

like Maldon
Instructions
Preheat the oven to 425ºF.

Peel the squash, cut in half, and scoop out the seeds. Then cut it into 1/2-inch cubes.

Arrange the cubes single layer on a rimmed sheet pan. Drizzle with some oil. Scatter the thyme on top, pulling off some of the leaves with your fingertips. Season with the salt.

Bake for 20 minutes, turning once or twice, until the squash is golden all over, and tender when pierced with a fork.